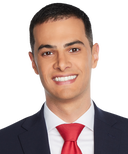 Ian Oliver
FOX Weather Meteorologist
Ian Oliver joined FOX Weather in 2021 where he currently serves as a meteorologist and host on the ad-supported streaming weather service.
Prior to joining FOX Weather, Oliver served as the weekend evening and midweek daytime meteorologist for WFLA-TV where he covered numerous severe weather systems during his four-year tenure with the Tampa Bay NBC affiliate, including Hurricanes Irma (2017) and Matthew (2016). During Hurricane Dorian, he flew with the NOAA Hurricane Hunters to provide an in-depth look at the 2019 storm.  He also served as the station's space reporter covering the rocket launch of SpaceX Falcon Heavy in February 2018, among other events. While in Tampa Bay, he was a recipient of the 43rd Suncoast Regional Emmy Awards for Surviving The Storm: Hurricane Hunters in 2019. Prior to that he was a weekday meteorologist at the NBC affiliate WLEX-TV in Lexington, KY from 2012-2016.
He began his career in meteorology at the CBS affiliated station WCAX-TV in Burlington, VT.  He graduated with honors from Lyndon State College in Lyndonville, Vermont with a Bachelor's degree in Meteorology with a Broadcast Concentration.