'Dangerous and dire' fire weather conditions continue in the Southwest, Plains
NOAA's Storm Prediction Center has highlighted an area of northeastern New Mexico, southern Colorado and parts of the Texas and Oklahoma panhandles where fire weather conditions will be extreme
Extremely dry and windy conditions are expected to develop across the Southwest and southern High Plains on Monday, setting the stage for "dangerous and dire" fire weather conditions across the region.
HOW TO WATCH FOX WEATHER ON TV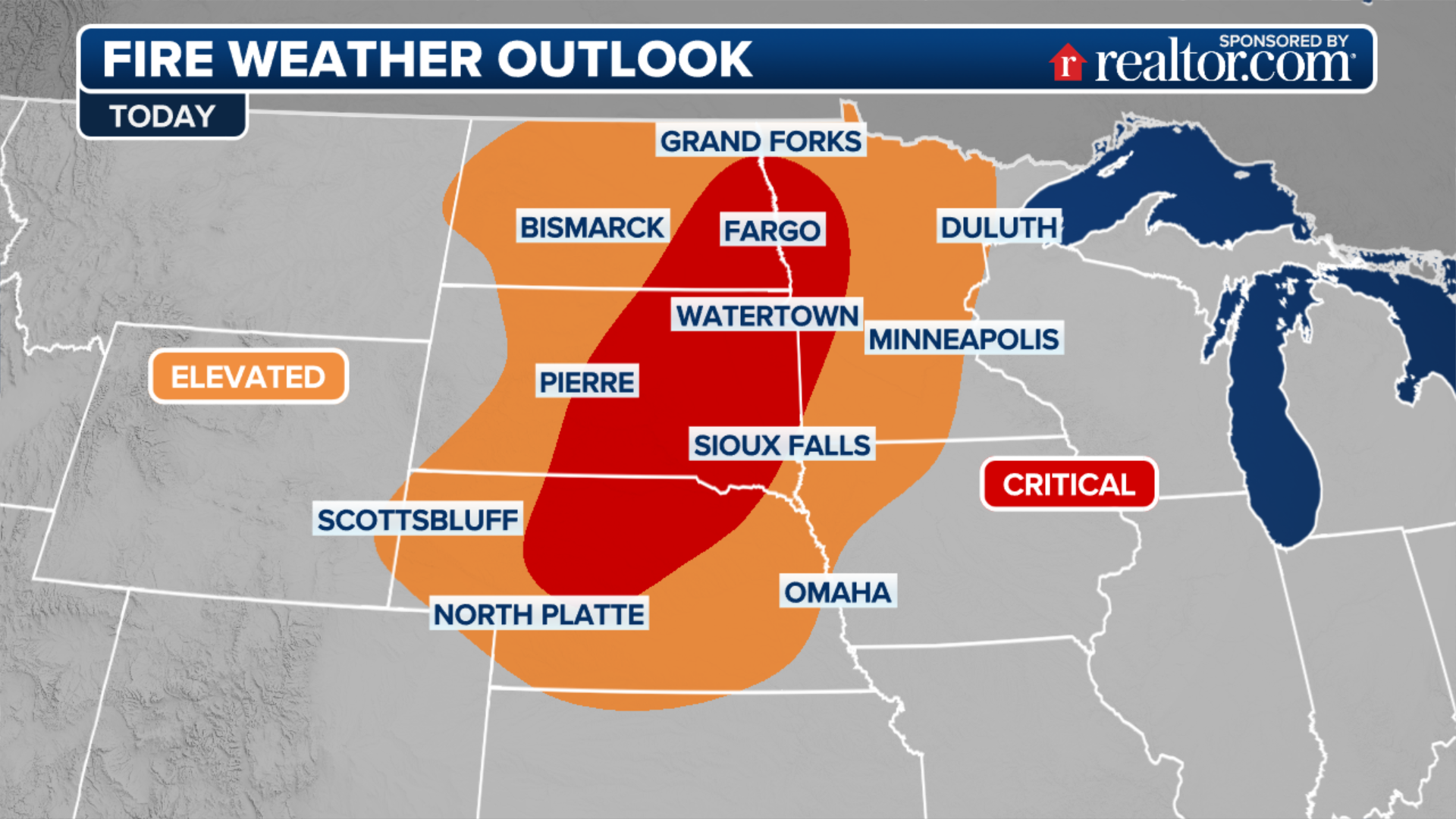 NOAA's Storm Prediction Center has highlighted an area of northeastern New Mexico, southern Colorado and parts of the Texas and Oklahoma panhandles where fire weather conditions will be extreme.
More than 230,000 Americans, including in the cities of Pueblo and Trinidad in Colorado and Las Vegas, Raton and Tucumcari in New Mexico, will be most at risk for wildfires.
A larger area that extends from the Southwest into the southern High Plains, including the communities of Albuquerque and Las Cruces in New Mexico, Colorado Springs in Colorado, and Lubbock and Amarillo in Texas, are included in areas where fire weather conditions are critical.
MAKING SENSE OF WILDFIRE JARGON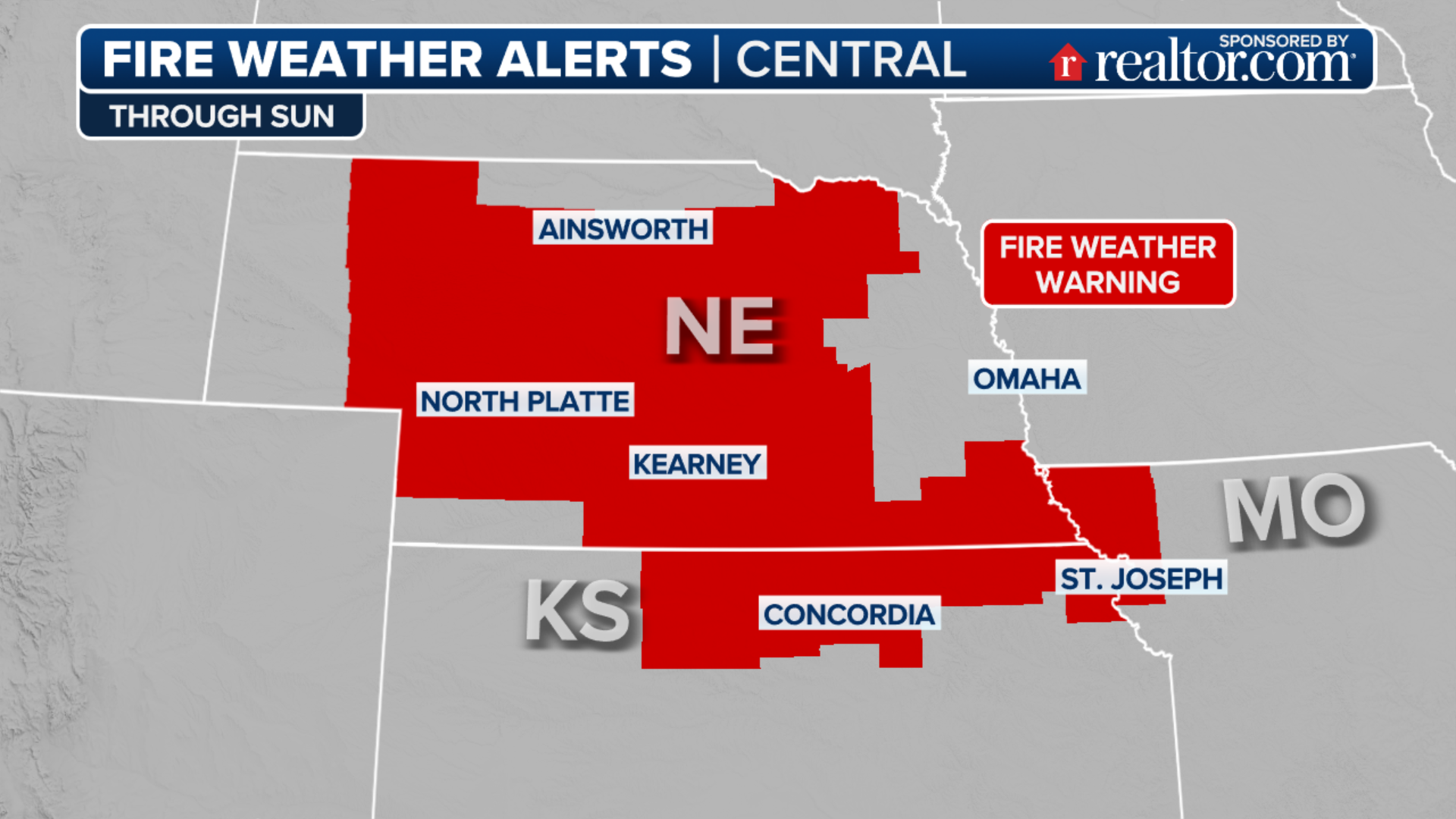 Because of the dangerous conditions, millions of Americans are now under Fire Weather Watches and Warnings.
The Fire Weather Warnings are in effect through at least Tuesday from Las Vegas, Nevada, and northern and eastern Arizona and across New Mexico, southern Colorado, North and West Texas, western Oklahoma and southern and western Kansas.
A small area north of Denver is under a Fire Weather Watch.
HOW WILDFIRE BURN SCARS COULD HAVE LASTING IMPACTS
The National Weather Service in Albuquerque, New Mexico, said the dangerous and dire fire weather conditions would remain in place for several days because of the low relative humidity, strong winds and above-average warmth.
"All of these conditions will combine to create critical fire weather with the potential for any fires to grow and spread rapidly with catastrophic destruction possible," the NWS said in its update.
HOW THE LAY OF THE LAND AFFECTS WILDFIRE BEHAVIOR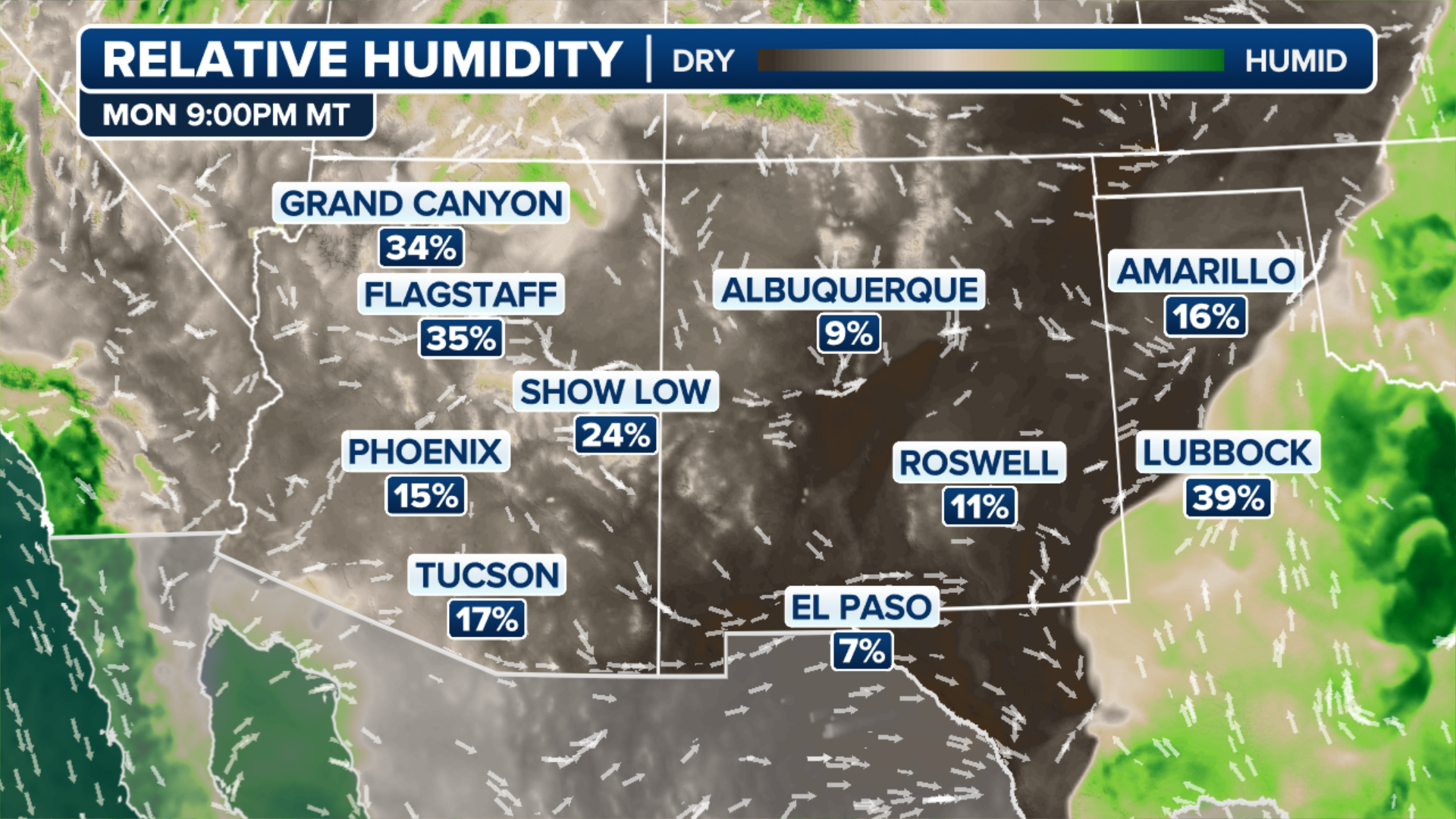 The Southwest and Plains have been extremely dry, and relative humidity levels on Monday afternoon will remain in the single digits and teens across the region.
From Las Vegas to Moab, Utah, levels will remain below 10% by the afternoon. The same conditions are expected in southern Arizona through New Mexico and into Texas, Oklahoma and Kansas.
While levels will be above 10% in northern New Mexico, Arizona and Colorado, it will still be extremely dry.
Winds will be strong, with gusts higher than 50 mph expected in some areas, like Arizona.
In general, winds will gust to around 30 mph in Las Vegas and Tucson, Arizona. To the north in Flagstaff, Arizona, winds could gust to between 40 and 50 mph.
Elsewhere, from the central Rockies to the Southwest and southern High Plains, winds are expected to gust to 30 to 40 mph.
CLICK HERE TO GET THE FOX WEATHER UPDATE PODCAST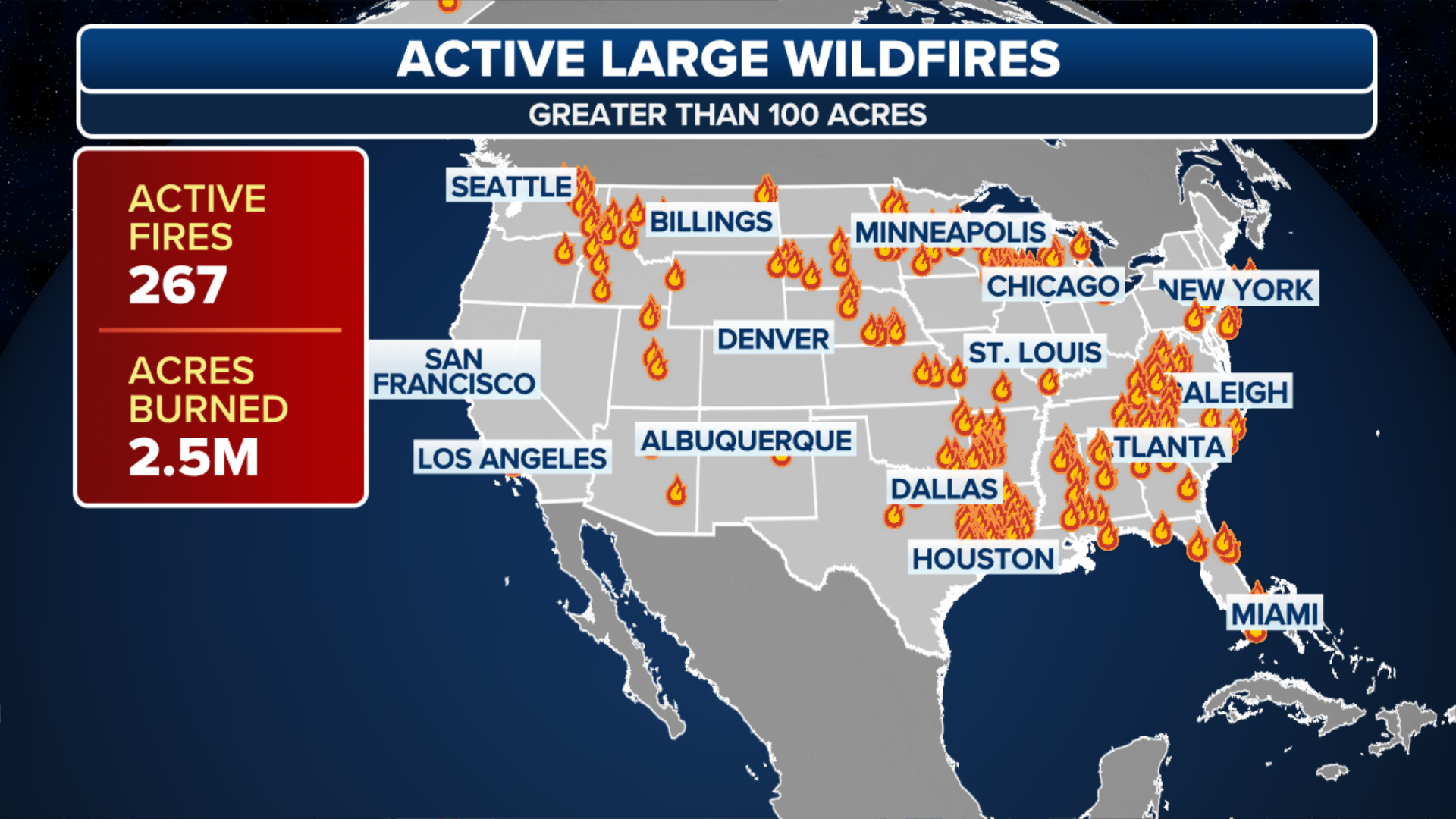 Nearly three-dozen wildfires are actively burning across the country, burning a combined total of almost 400,000 acres of land.
Several fires are burning in the Southeast and mid-Atlantic, but most have been burning in the Southwest and Plains, where conditions have been driest.