The Daily Weather Update from FOX Weather: Severe weather targets Denver once again Thursday
Start your day with the latest weather news – Severe weather is once again targeting Denver as relentless heat bakes the Sunshine State. Plus, could we be in for vivid auroras?
Welcome to the Daily Weather Update from FOX Weather. It's Thursday, July 6, 2023. Start your day the right way with everything you need to know about today's weather. You can also get a quick briefing of national, regional and local weather whenever you like with the FOX Weather Update podcast.
Denver under the gun for severe weather again
Severe weather is once again targeting Denver on Thursday. 
NOAA's Storm Prediction Center highlighted Denver and eastern Colorado to western Kansas and northwestern Oklahoma for a level 3 out of 5 on the severe thunderstorm risk scale.
Any severe storms that develop will be capable of producing large hail, damaging wind gusts and a couple of tornadoes.
The severe storm threat on Thursday, July 6, 2023.
(FOX Weather)
---
Florida scorcher continues
Millions in Florida are once again sweating under heat alerts as a summer hot spell bakes the Sunshine State in a heat-and-humidity combo that makes it feel like it's as hot as 110 degrees or more.
While high temperatures will be in the 90s, the feels-like temperatures will climb well into the triple digits. 
Heat Advisories are in effect for portions of Florida on Thursday, July 6, 2023.
(FOX Weather)
---
Two solar flares are headed toward Earth
Two strong solar flares are racing toward Earth, which could create power grid fluctuations and produce dazzling auroras.
A Geomagnetic Storm Watch was issued after NASA's Solar Dynamics Observatory recorded an X1.0 solar flare and a second one on Independence Day. 
The NOAA Space Weather Prediction Center forecasts the solar flares to reach Earth's atmosphere by late Thursday or early Friday, leading to potential auroras and weak power grid fluctuations.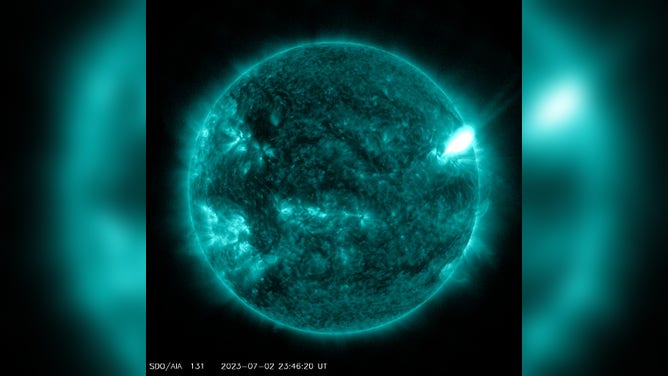 Bonus reads
Before you go, here are a couple of stories we think you might enjoy.
Need more weather? Check your local forecast plus 3D radar in the FOX Weather app. You can also watch FOX Weather wherever you go using the FOX Weather app at foxweather.com/live or on your favorite streaming service. 
You can share your weather pictures and videos with us anytime, anywhere, by emailing them to weather@fox.com or by adding the hashtag #FOXWeather to your post on your favorite social media platform.