The Daily Weather Update from FOX Weather: Idalia eyes Florida with life-threatening storm surge
Start your day with the latest weather news – All eyes are on Idalia as the tropical storm is expected to strengthen into a major hurricane and make landfall along Florida's Gulf Coast later this week.
Welcome to the Daily Weather Update from FOX Weather. It's Monday, Aug. 28, 2023. Start your day with everything you need to know about today's weather. You can also get a quick briefing of national, regional and local weather whenever you like with the FOX Weather Update podcast.
Hurricane HQ: All eyes are on Idalia as storm aims for Florida
Hurricane, Tropical Storm and Storm Surge Watches have been issued for parts of Florida as the state prepares for potential landfall of Idalia. 
Idalia is expected to continue intensifying and make landfall as a major hurricane along Florida's Gulf Coast later this week.
Current watches/warnings for Tropical Storm Idalia.
(FOX Weather)
---
Gov. Ron DeSantis declared a state of emergency for 33 counties to ensure communities have the resources they need ahead of the storm's arrival.
The forecast cone for Idalia.
(FOX Weather)
---
Track Idalia live with FOX Weather
FOX Weather has put together a live tracker of the latest data on Idalia as it churns toward Florida here. 
The latest on Idalia.
(FOX Weather)
---
Do you know where to go should you have to evacuate?
With Idalia threatening, millions of people in Florida could be asked by local governments to head to higher ground and evacuate ahead of the potential hurricane. 
Check here for an interactive map where you can type in an address to see if your home or business falls in an evacuation zone and find the nearest exit route.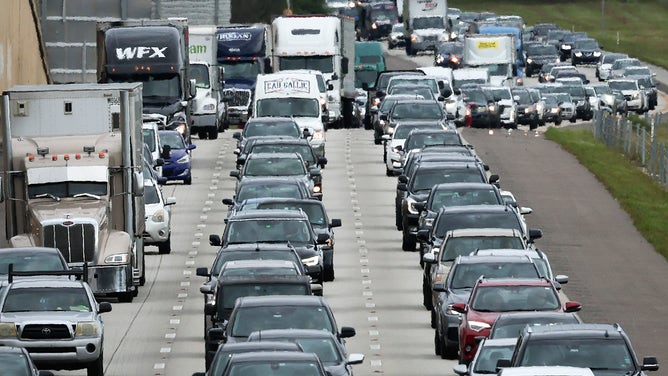 Franklin becomes season's first major hurricane
Hurricane Franklin continues to churn across the Atlantic and has become the season's first major hurricane. 
Franklin strengthened into a Category 3 hurricane early Monday morning and will pass several hundred miles off the mid-Atlantic coast.
The FOX Forecast Center says the Southeast and mid-Atlantic coasts will likely experience big swells and rip currents through the Labor Day weekend, but the forecast remains that the storm will not make landfall in the U.S.
Franklin's forecast track.
(FOX Weather)
---
Before you go
Here are a few other stories you might have missed over the weekend: 
Need more weather? Check your local forecast plus 3D radar in the FOX Weather app. You can also watch FOX Weather wherever you go using the FOX Weather app at foxweather.com/live or on your favorite streaming service. 
You can share your weather pictures and videos with us anytime, anywhere, by emailing them to weather@fox.com or by adding the hashtag #FOXWeather to your post on your favorite social media platform.