Critical fire threat stretches Central Plains to the Southwest Sunday
The Storm Prediction Center said critical fire weather conditions exist from Montana to New Mexico
The combination of gusty winds, low relative humidity and dry vegetation creates the perfect combination for fires to quickly spread Sunday from the Central High Plains along the lee of the Rockies. 
The Storm Prediction Center said critical fire weather conditions exist from Montana to New Mexico.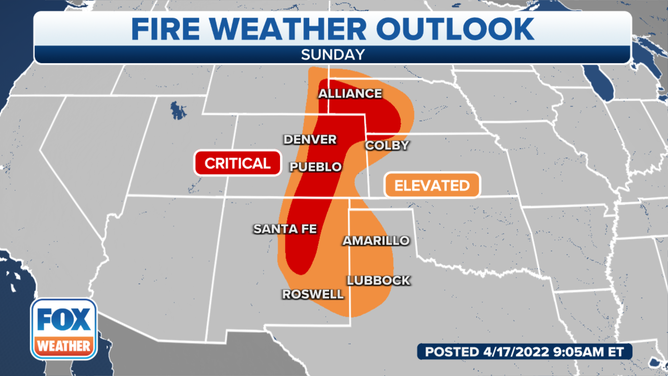 Wind gusts could top 65 mph, and humidity levels could drop below 15%. 
The National Weather Service has issued Fire Weather Alerts and High Wind Warnings through Sunday evening.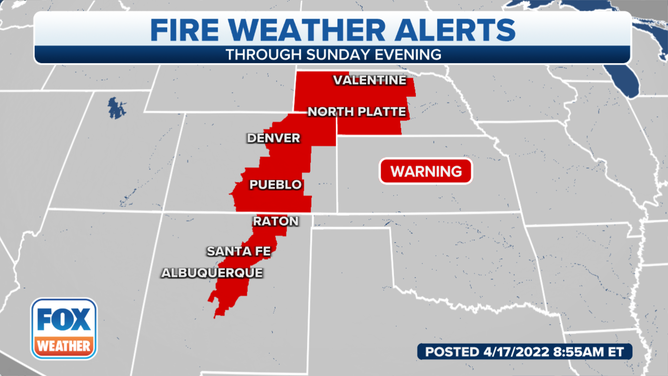 Given the ongoing extreme to exceptional drought in place and lack of recent meaningful rainfall, authorities warn residents against performing burns.
HOW TO WATCH FOX WEATHER ON TV
Two people were killed in New Mexico's McBride Fire earlier this week. The wildfire overtook their home while they were trying to evacuate the area.
The McBride Fire has burned more than 6,200 acres and remains 0% contained. 
The National Interagency Fire Center reports that the U.S. has already seen around 20% more acres burned than during the 10-year average.
Climate outlooks indicate the dry weather will continue through April and could last into the summer because of La Niña.
The National Significant Wildland Fire Potential Outlook shows areas under the threat of significant wildfires expanding in coverage through the summer.