Critical fire danger for Southern Plains Sunday
Fire weather warnings were issued from New Mexico to Kansas through Sunday.
Low humidity, warm temperatures and gusty winds create a fire danger for parts of the Southern Plains on Sunday.
Fire weather warnings were issued from New Mexico to West Texas through Sunday evening.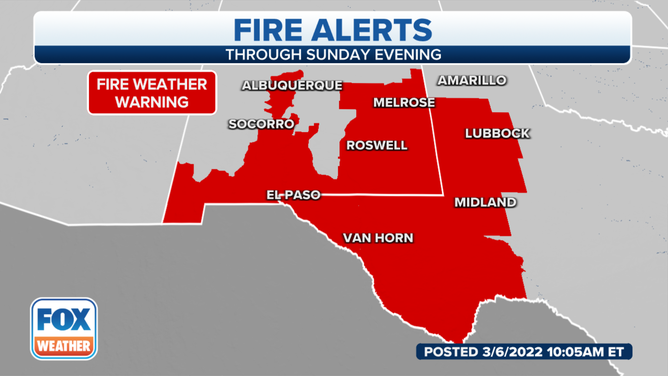 Along with high winds, warm temperatures and low humidity will further enhance the threat of fires.
Fire weather has been an issue for all parts of the country this weekend. 
Homes destroyed, evacuations ordered as wildfires burn out of control in Florida Panhandle
Firefighters are still battling two fires that have already destroyed homes and burned more than nearly 10,000 acres combined. 
Kansas Governor Laura Kelly issued a declaration of disaster emergency this week for the potential of fires in the state on Saturday. The declaration will allow the state to preposition aerial firefighting assets from the Kansas Forest Service for a quicker response to any fires that may begin.
"I urge all Kansans to be vigilant," said Kelly. "Even a single spark is enough to touch off a fire that can spread rapidly and destroy farmland, homes and public infrastructure."
In Texas, more than 600 acres burned Friday in wildfires across the state. Officials say they are prepared for the wildfire dangers again Saturday. 
"Any ignition source could cause a wildfire that will grow rapidly and burn aggressively. Help your local firefighters by checking and rechecking previously completed brush piles to make sure they are completely extinguished," said Mark Neely, Fire Management Officer for Kansas Forest Service.