Homes destroyed, evacuations ordered as wildfires burn out of control in Florida Panhandle

PANAMA CITY, Fla. – Crews are working to contain two large wildfires burning out of control between Panama City and Tallahassee that forced evacuations of communities in Bay County and have burned nearly 10,000 acres combined. 
Officials believe the combination of dead vegetation left behind by Hurricane Michael and gusty winds helped the fires grow rapidly.
At last report, the Adkins Avenue in Bay County fired burned more than 841 acres, destroying two structures and damaging around a dozen others. The fire is only 35% contained as of Sunday morning. 
The FFS said more than 600 homes in the eastern part of the county were evacuated because of the proximity to the flames. Officials say that two homes have been destroyed and 12 more damaged.
Officials reported at least 200 firefighters were working to try to contain the wildfire with resources on the ground and in the air.
Fortunately for crews, the Big Bertha Swamp Fire burning in nearby Gulf County is not threatening homes but burning mostly in swampland.
At last report, the fire had burned more than 8,000 acres and firefighters had around 10% of the fire contained. Crews say they have 17 dozers and several helicopters trying to fight this fire.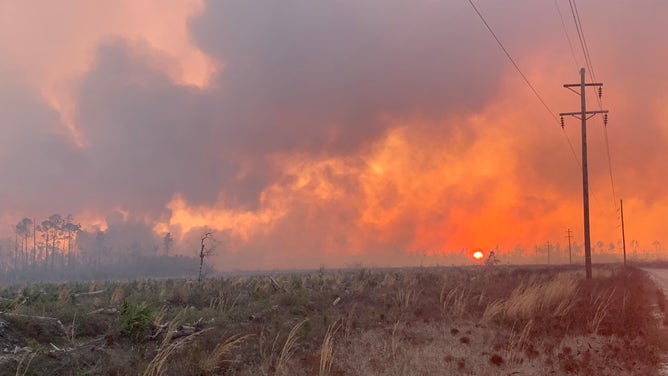 "Fire danger levels are elevated statewide," Erin Albury, State Forester and Director of the Florida Forest Service, said in a statement. "It is important for residents to use extreme caution and remain aware of current wildfire activity."
The National Weather Service in Tallahassee warned dry conditions and the elevated fire risk would continue into the weekend. The next chance of rain is not expected to approach the area until Tuesday.
Firefighters are still working to determine the cause of the flames.