Over 300,000 lose power in Great Lakes as severe thunderstorms push toward Northeast
The line of storms was still active into Saturday morning, sweeping across Ohio as dawn neared and triggering numerous Severe Thunderstorms Warnings. 
CHICAGO – A ferocious line of thunderstorms swept through the Great Lakes area Friday night into Saturday morning with reported gusts over 60-80 mph, toppling trees and knocking out power to hundreds of thousands.
The line of storms was still active into Saturday morning, sweeping across Ohio as dawn neared, triggering numerous Severe Thunderstorms Warnings. 
The storms pushed into western Pennsylvania and weakened after sunrise, but were expected to reenergize later Saturday, refueling from daytime heating with their eyes eventually on the I-95 corridor.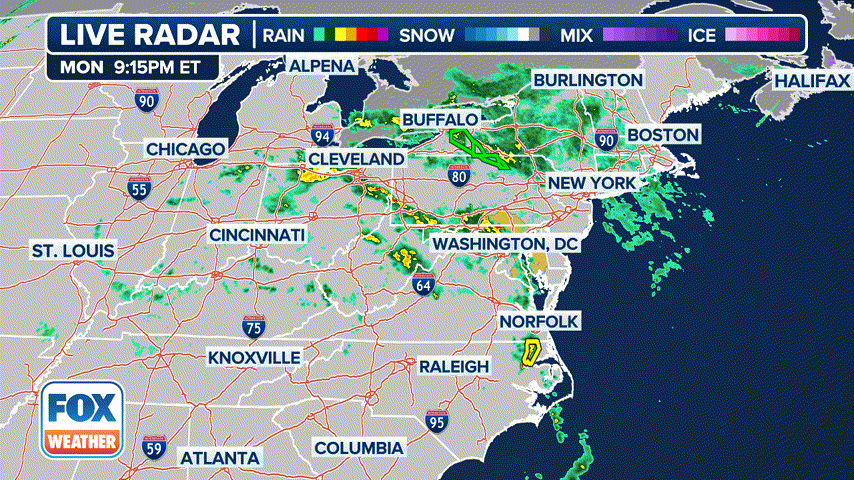 A three-hour radar loop showing where showers and thunderstorms are ongoing. Severe Thunderstorm Warnings are indicated in yellow. Tornado Warnings are indicated in red, while Tornado Warnings with a confirmed tornado are indicated in purple. Flash Flood Warnings are indicated in green, while Flash Flood Emergencies are indicated in pink.
(FOX Weather)
---
Over 300,000 left without power Saturday morning
The storms formed in Iowa earlier Friday evening with several wind gusts clocked a over 70-80 mph. A spotter reported an unofficial gust of 95 mph in Martelle, Iowa while Cedar Rapids hit a gust of 80 mph, according to the National Weather Service. One spotter reported a possible tornado in Franklin County – one of three reported tornadoes. 
Spotters witnessed damaged shingles on roof in Park View, Iowa while an entire roof was blown off just across the Illinois border in the town of Red Oak.
The storms continued their march through the Chicago area Friday night with gusts of 40-60 mph. Downed trees were reported in Momence, Illinois and a gust reached 60 mph in Mount Prospect.
VIDEOS SHOW TORNADOES MARCHING ACROSS NORTHERN ILLINOIS, CHICAGO METRO
Thunderstorms trekked into Indiana and Ohio with a gust to 79 mph reported in Lowell, Indiana and a 74 mph gust registered at Grissom Air Force Base. A home suffered tree damage as the storms crossed into the Ohio town of Hicksville, as wind gusts hit 62 mph.
Current Power Outages
(FOX Weather)
---
At the storm's peak, over 300,000 people lost power in the Great Lakes area as of early Saturday morning, according to PowerOutgage.us, but that number had dropped to about 250,000 bypass 9:30 a.m. CT. 
So far there are no reports of any injuries.
HOW TO WATCH FOX WEATHER ON TV
Severe weather risk shifts into mid-Atlantic, Northeast Saturday
As the storms continue their eastward trek a much quieter Saturday is expected around the Great Lakes as the severe threat shifts to the mid-Atlantic and Northeast.
The SPC has placed around 50 million people from the Appalachian Mountains to New England under a level 2 out of 5 on its severe weather risk scale on Saturday.
Communities under the heightened threat include Washington, D.C., Baltimore, New York and Boston.
THE 5-POINT SEVERE THUNDERSTORM RISK CATEGORY SCALE EXPLAINED
Current Severe Weather Forecast for Saturday
(FOX Weather)
---
Hail and tornadoes reported in Iowa and Nebraska on Friday
On Friday afternoon, hail the size of baseballs was reported to have fallen outside of Omaha, Nebraska. The hail was estimated to be just shy of 3" in diameter and was one of several reports across the state.
The SPC also received at least three reports of twisters across the Hawkeye State on Friday. One of the tornadoes was caught on video moving through fields in Franklin County, Iowa.

PowerOutage.US reported over 150,000 outages across half a dozen states, with many a result of gusty winds downing trees and power lines.