Drivers warned to stay off roads after torrential rain leads to flash flooding in Alabama
Emergency officials in Birmingham say they've conducted 40 water rescues so far
BIRMINGHAM, Ala. - Torrential rain has been reported across central and northern Alabama, leading to flash flooding and a warning from officials for drivers to stay off the roads until the water recedes.
As heavy rain and thunderstorms moved into the Birmingham area, water quickly began to flood roads, leading to several Flash Flood Warnings being issued. Forecasters warn more rain and thunderstorms, some of which could be severe, are possible on Wednesday.
The Birmingham Fire and Rescue Service said they have conducted at least 40 water rescues so far, but no injuries have been reported.
Those emergency crews are still responded to calls for help, according to emergency officials.
HOW TO WATCH FOX WEATHER ON TV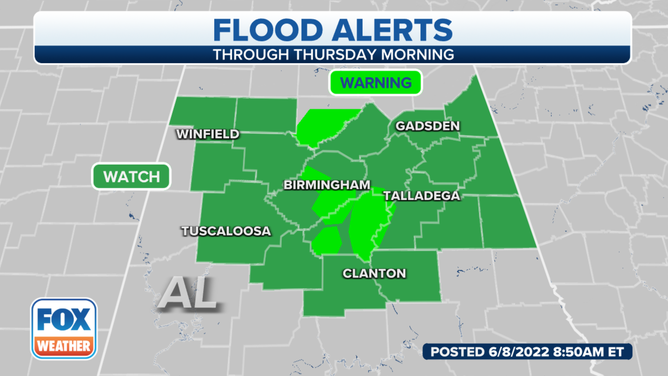 In addition to the Flash Flood Warnings that are in effect, the National Weather Service has also issued a Flash Flood Watch for several counties, including cities like Tuscaloosa, Birmingham, Talladega and Gadsden.
EXPLAINING FLOOD ALERTS ISSUED BY NATIONAL WEATHER SERVICE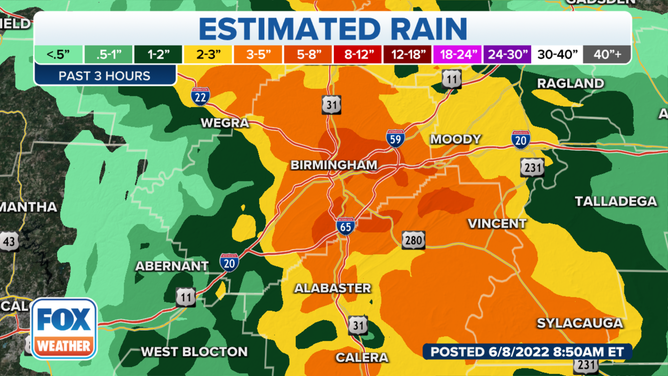 Several inches of rain have already fallen across the region, with more expected to fall during the day on Wednesday.
Some communities in the Birmingham area have picked up 5 to 8 inches of rain in a matter of hours, which led to flash flooding in several areas.
7 FACTS YOU SHOULD KNOW ABOUT FLASH FLOODS
Twitter user Hallianne Hobson posted photos to the social media platform that showed major flooding at the Grand Highlands apartment complex in Cahaba Heights, which is to the southeast of downtown Birmingham.
Flooding was also reported in Gadsden in Etowah County, where the Emergency Management Agency said roads had been closed indefinitely due to a washout.
HERE'S WHAT TO DO AFTER YOUR CAR IS FLOODED
In the city of Homewood, which is to the south of downtown Birmingham, the fire department is warning drivers to stay home and off the roadways as the water continued to rise.
Images posted to Twitter show high water in parking lots and stranding cars that were parked in the parking lot.
FOX 6 in Birmingham reported emergency crews have been busy rescuing stranded drivers and residents as the floodwaters rose early Wednesday morning.
Photos and video sent to the newsroom showed high water along 5th St. SW and crews performing water rescues.
CLICK HERE TO GET THE FOX WEATHER UPDATE PODCAST
According to the NWS, most flood-related deaths are due to flash floods. Nearly half of flood deaths are vehicle-related, according to the NWS.
You've probably heard officials warn, "turn around, don't drown." The saying applies to all flooding situations. Don't drive on flooded streets or highways. If you can't see the road, it's not a good idea to continue.
If your vehicle stalls in water, abandon it and seek higher ground. Rising water can quickly sweep away a vehicle.