Back-to-back storm systems with snow, severe weather and flooding to impact central, eastern US next week
Snow and ice are possible on the colder side of the storms, with severe weather and flooding on the warmer side
FOX Weather meteorologists are monitoring back-to-back storm systems that will impact the central and eastern United States next week.
A southward dip in the jet stream will punch out of the West and into the Rockies early in the week, then continue to swing eastward across the eastern half of the nation through midweek.
When this type of pattern sets up in late winter, it's a good indication that active weather is expected for a large portion of the U.S.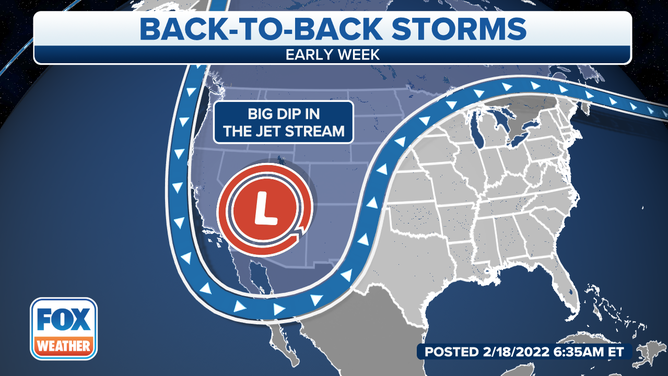 An area of low pressure will develop near the Texas and Oklahoma panhandles by Monday night. That system will tap into warm, humid air from the Gulf of Mexico, triggering the development of showers and thunderstorms from the South to parts of the Midwest and Northeast through Wednesday.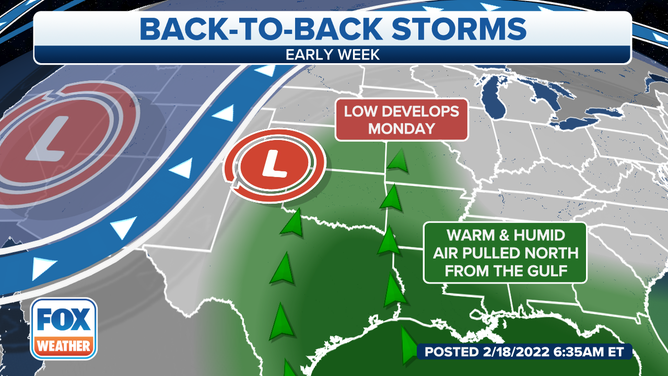 Confidence is high in some flash flooding, particularly from portions of the lower Mississippi Valley into the Tennessee Valley, where 2 to 4 inches of rain is expected between Monday and Wednesday. Localized rainfall amounts as high as 6 inches are possible.
7 FACTS YOU SHOULD KNOW ABOUT FLASH FLOODS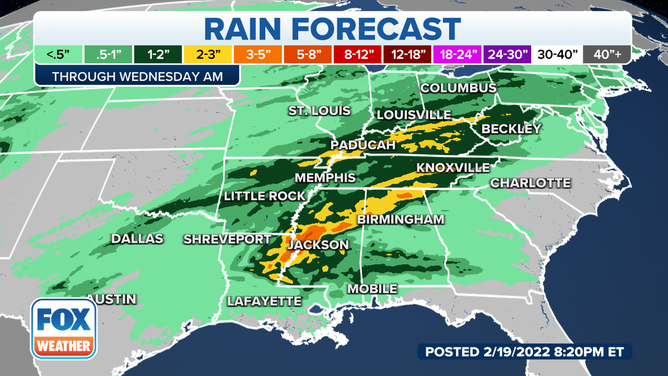 Severe thunderstorms are also possible Monday from Texas into southeastern Oklahoma, much of Arkansas and northern Louisiana.
THE 5-POINT SEVERE THUNDERSTORM RISK CATEGORY SCALE EXPLAINED
Storms are also possible in parts of southern Missouri, western Tennessee and Mississippi.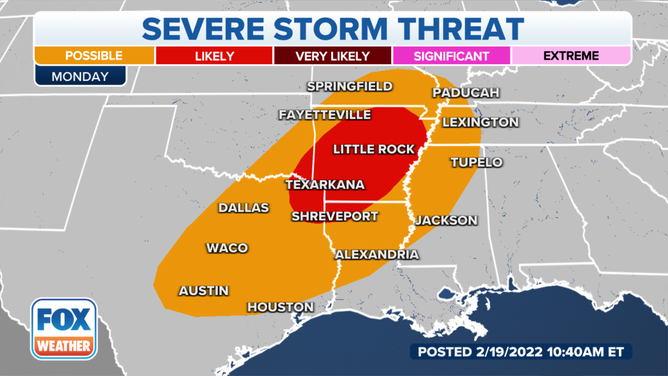 On the storm's cold side, confidence is increasing that an area of moderate to heavy snow will stretch from the Northern Plains into the upper Midwest and Great Lakes on from Monday through early Wednesday.
WARMER-THAN-AVERAGE SPRING PREDICTED FOR MUCH OF U.S., BUT MOST WIDESPREAD DROUGHT IN 9 YEARS FORECAST TO EXPAND
Then, an even more robust storm system is expected to traverse the country later next week.
This second system will develop over the Southwest on Wednesday, bringing some rain to Southern California and more snow to the Four Corners region.
From there, it will emerge in the Plains on Thursday and spread toward the East through the end of the workweek.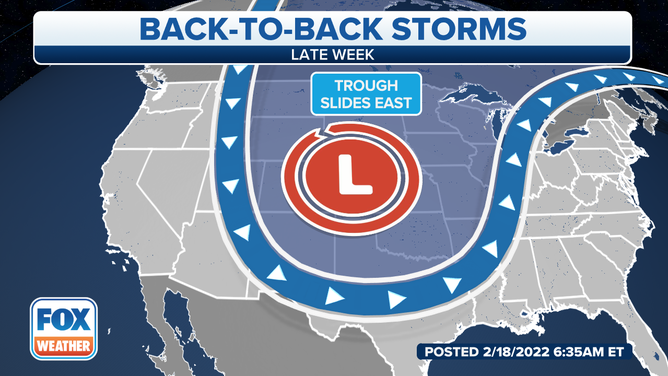 Snow, sleet, freezing rain, plain rain and severe thunderstorms are all possible impacts along the path of the storm. How much cold air is in place over the central and eastern U.S. and how far south it penetrates will determine which locations could see wintry weather and who might see heavy rain and severe thunderstorms.
More details on the placement and timing of these threats will become clearer as the event draws closer next week.
Be sure to download the FOX Weather app for the latest forecast and weather alerts for your exact location, plus our channel's 24/7 livestream.