Storms race East Monday after severe weather threatened millions from Ohio Valley to Southeast on Sunday
Damaging winds are expected to be the greatest concern, but an isolated hail and tornado threat cannot be ruled out. Any thunderstorm is capable of producing lightning and heavy rainfall that can lead to flooding.
A multi-day severe weather threat continues Sunday with tens of millions at risk from the Ohio and Tennessee valleys into the Southeast, with even more people at risk at the start of the workweek along the Eastern Seaboard from the Philadelphia area through Baltimore, Washington and stretching as far south as Atlanta.
HOW TO WATCH FOX WEATHER ON TV
Tornado, Severe Thunderstorm Watches issued Sunday
A three-hour radar loop showing where showers and thunderstorms are ongoing. Severe Thunderstorm Warnings are indicated in yellow. Tornado Warnings are indicated in red, while Tornado Warnings with a confirmed tornado are indicated in purple. Flash Flood Warnings are indicated in green, while Flash Flood Emergencies are indicated in pink.
(FOX Weather)
---
A Tornado Watch was issued for Illinois, parts of Missouri and Iowa until 10 p.m. CT.
In the Southeast, Severe Thunderstorm Watches were issued for parts of Alabama, Georgia, and Tennessee into the evening hours. 
Active Severe Thunderstorm Watches.
(FOX Weather)
---
Several tornadoes were spotted in Central Illinois Sunday evening, while areas under a Severe Thunderstorm Watch saw a couple dozen wind reports across the Southeast. 
Tornadoes reported in Colorado, Iowa on Saturday 
Some of the first thunderstorms that developed on Saturday afternoon produced tornadoes in Colorado and Iowa. The SPC received at least half a dozen witness reports from the two states of twisters briefly on the ground.
STRENGTHENING EL NINO LEADS TO 'LARGE UNCERTAINTY' WITH HURRICANE SEASON OUTLOOK

Vanessa Ribeiro-Lawton took photos of one of the tornadoes around Black Forest, Colorado, north of Colorado Springs.
There were no initial reports of widespread damage in any of the areas impacted by the tornadoes.
Sunday's severe weather threat: Ohio & Tennessee Valleys, Southeast
Here's a look at Sunday's severe weather threat.
(FOX Weather)
---
The potent storm system is now tracking eastward across the Mississippi Valley and into the Ohio and Tennessee Valleys and portions of the Southeast.
More than 30 million Americans in 11 states are under a level 2 out of 5 on the Storm Prediction Center's thunderstorm risk scale, with major cities such as Indianapolis, St. Louis, Louisville, Nashville, Atlanta and Montgomery, Alabama, seeing an increased risk of experiencing severe thunderstorms capable of producing large hail and damaging wind gusts.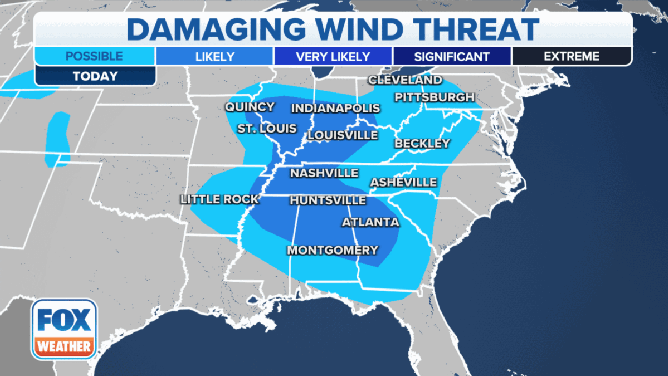 Those aren't the only severe weather threats, however.
There is a risk of tornadoes across portions of extreme southeastern Iowa, northeastern Missouri, including St. Louis, southern Illinois, southern Indiana, including Indianapolis, and northern Kentucky, including Louisville.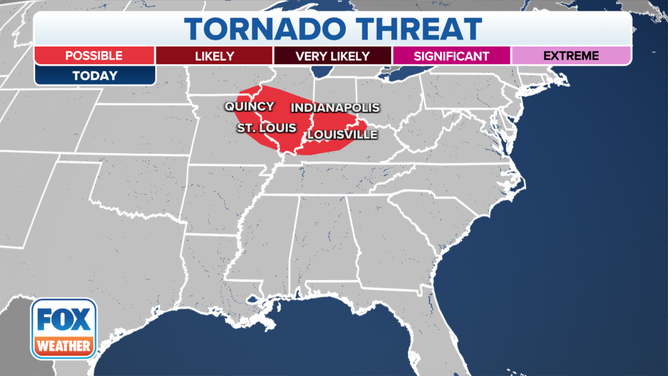 US SEVERE THUNDERSTORM WARNING MAP
Monday's severe weather threat: Northeast to Southeast
As we close out the weekend, the severe weather threat will shift farther to the east on Monday, bringing the risk to the Eastern Seaboard from the Northeast through the mid-Atlantic and into the Southeast.
The SPC has placed millions of people in the eastern half of the U.S. under a level 3 out of 5 on its thunderstorm risk scale.
Cities in the heightened risk area include more than 24 million people in Baltimore and Washington, as well as through places like Roanoke in Virginia, Greensboro and Charlotte in North Carolina, Knoxville in Tennessee, and Greenville in South Carolina.
Here's a look at Monday's severe weather threat.
(FOX Weather)
---
Like with the severe weather threats on Sunday, millions of people on Monday will be at risk of seeing damaging wind gusts, large hail and possible tornadoes. 
The tornado threat encompasses a large area of the Eastern Seaboard stretching from south-central New York State through Pennsylvania, Virginia and West Virginia, western areas of the Carolinas and into portions of the Southeast.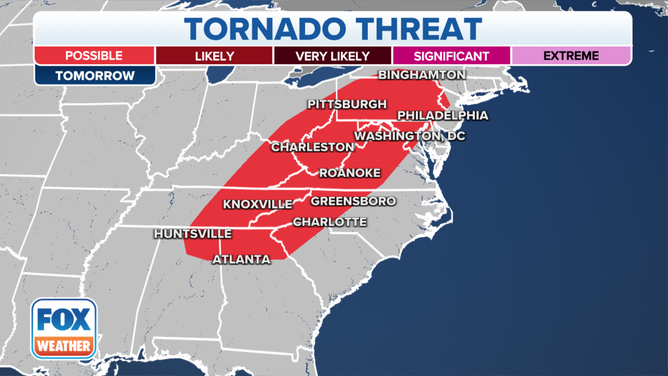 Major cities are in the tornado threat, including Pittsburgh and Philadelphia, Baltimore and Washington, Greensboro and Charlotte and Atlanta.
While the Eastern Seaboard will see the greatest threat of severe weather on Monday, other strong storms could develop farther off to the west.
The SPC has highlighted an area of the Central Plains and Rockies as a level 2 out of 5 on the thunderstorm risk scale.
The area of greatest concern will be in northeastern Colorado, southwestern Nebraska and northwestern Kansas.
Large hail and damaging wind gusts will be the primary threats, but forecasters warn a tornado or two will also be possible in those areas.