Tropical boost fuels highest flood threat of monsoon season in Arizona, New Mexico
Phoenix and Tucson are among the Southwest cities facing a significant threat of flooding through Saturday.
The most significant flood threat of an already-active Southwest monsoon season is expected to develop Friday and Saturday across parts of Arizona and New Mexico.
A tropical disturbance that drenched South Texas earlier this week, which has now transitioned to a subtropical low-pressure system, will provide an injection of tropical moisture and boost the monsoonal moisture already in place across the Southwest.
This setup will result in a concentrated rain-focused area across mainly southern Arizona and southwestern New Mexico through Saturday. The rain will also expand north into the rest of Arizona and New Mexico, as well as portions of Utah and Colorado.
FOX Weather FutureTrack for Friday, Aug. 19, 2022.
(FOX Weather)
---
"After lunchtime, be on the lookout," said FOX Weather meteorologist Britta Merwin. "The heaviest rain potential around the evening commute and lasting just after sunset."
Flood Watches have been issued by the National Weather Service through late Saturday for much of Arizona and New Mexico, as well as far West Texas.
Flood Watches are in effect across the Southwest.
(FOX Weather)
---
HOW TO WATCH FOX WEATHER ON TV
The highest risk of dangerous flooding Friday and Saturday will most likely be focused across southern Arizona and southwestern New Mexico, which are shaded in yellow on the map below. This includes the Phoenix and Tucson metro areas.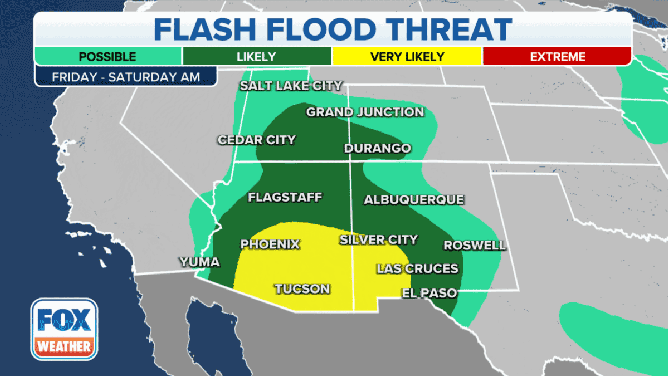 In addition to flash flooding, which is a flood that develops quickly due to heavy rain, the widespread nature of the rain could also cause flooding concerns to linger well after the rain ends as all the water funnels into rivers, streams and washes across the region.
Flooding will be possible on these streams and washes starting Friday and continuing through the weekend, and some rivers could have flooding concerns develop by Saturday that may linger into next week as the water flows farther downstream.
Travel might be impacted in southern Arizona and southwestern New Mexico as low-water crossings over normally dry washes will likely become impassable until the water recedes.
"If you hear a Flash Flood Warning, you want to get off the roads immediately. It happens extremely quickly," Merwin said. "Within 15 minutes, you can find yourself with about 6 inches to 12 inches of rushing water around you. So if you live in these areas, you want to make sure that your notifications are turned on, and you're listening to those warnings later today."
7 FACTS YOU SHOULD KNOW ABOUT FLASH FLOODS
Widespread rainfall totals between 2 and 5 inches are expected from southern Arizona into southern New Mexico through late Saturday, with 1 to 2 inches of rain predicted in central and northern portions of the states. Less than an inch is forecast to the north in Utah and Colorado.
The heavy rain and flash flooding threats will then shift into parts of the Texas Panhandle, North Texas and southern Oklahoma from Sunday into early next week.
Rainfall forecast for the Southwest.
(FOX Weather)
---
The 2022 Southwest monsoon season has been a busy one, with more than double the average number of Flash Flood Warnings issued this season to date.
And while this rain will be beneficial, it will not suddenly erase decades of declining water levels in the West nor put things back on track for reservoirs like Lake Mead and Lake Powell.
Rainfall forecast for the Lake Mead watershed.
(FOX Weather)
---