Arctic invasion brings coldest air in 3 years to Northeast
For many locations, this is the coldest air since mid- to late January 2019
Bitterly cold arctic air has invaded the Northeast early this week, sending temperatures and wind chills to dangerous levels on Tuesday.
The National Weather Service has issued Wind Chill Warnings and Advisories from northeastern Pennsylvania and upstate New York into central and northern New England, where exposed skin could get frostbite in as little as 10 minutes.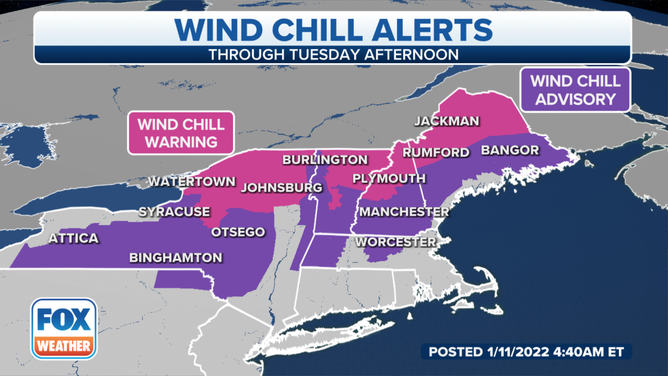 NOAA's HYSPLIT trajectory model shows this frigid air mass has truly come from the Arctic.
For example, the cold air over Philadelphia can be traced back some 2,500 miles to the northernmost community of mainland Canada – Taloyoak, in the Nunavut territory – located within the Arctic Circle.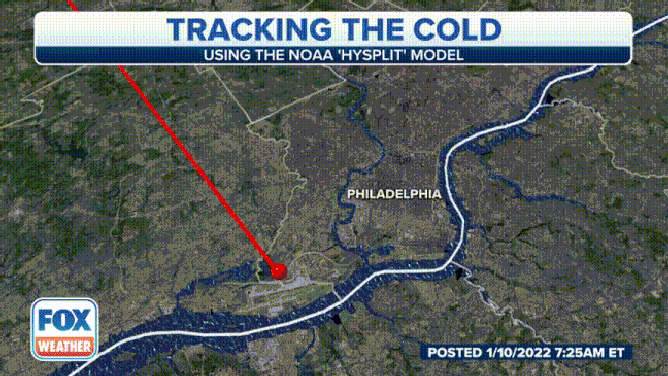 Wind chills Tuesday morning ranged from minus 20 to minus 35 degrees in parts of upstate New York and northern New England. Some portions of northern Maine, including Presque Isle, even recorded actual air temperatures as low as minus 20 degrees.
Single-digit wind chills were reported as far south as the New York City tri-state area and the Philadelphia metro area. Baltimore and Washington had wind chills in the teens Tuesday morning.
WHAT DOES THE WIND CHILL MEAN?
Tuesday afternoon won't offer much improvement, either.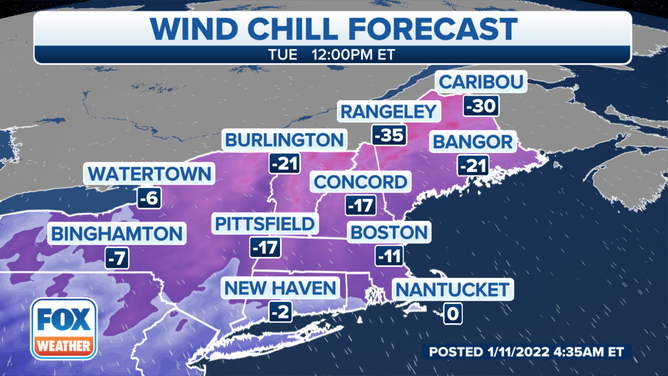 High temperatures will likely be stuck in the single digits Tuesday across upstate New York and northern New England. Boston won't make it out of the lower teens, while New York City struggles to reach 20 degrees. Philadelphia should manage the lower to mid-20s on Tuesday, with a high in the upper 20s expected in Washington.
For many locations, this is the coldest air in about three years, since mid- to late January 2019.
WHEN IS THE COLDEST TIME OF YEAR?
Another bitterly cold morning is likely Wednesday, as many residents of the Northeast will wake up to temperatures in the single digits and teens.
Lows could slip below zero once again in parts of the Adirondacks and northern New England on Wednesday morning.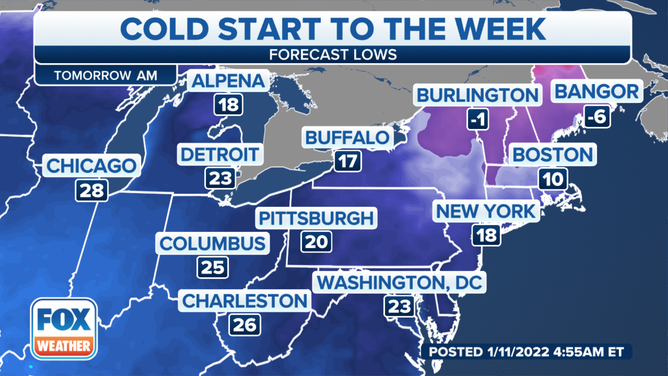 However, this arctic blast will be short-lived because temperatures will return to seasonal averages by Wednesday afternoon.
Highs will rise into the 30s and 40s for much of the Northeast, which is typical for the middle of January. Even if temperatures hold in the 20s in portions of northern New England on Wednesday, it would be right around average for this time of year.
HOW COLD CAN TEMPERATURES GET DURING THE COLDEST TIME OF YEAR?