Major winter storm pounds California's Sierra Nevada with 5 feet of snow and 165 mph wind gust
Wind-whipped snow led to frequent whiteout conditions along major cross-mountain highways in California's Sierra Nevada, shutting the roads down for hours and knocking out power to thousands in the region. Meanwhile, streets flooded amid heavy rains across many areas in the California lowlands.
SOUTH LAKE TAHOE, Calif. – A massive winter storm blasted the Sierra Nevada mountains over the weekend with nearly 6 feet of snow and wind gusts along ridgetops reaching triple-digit speeds that would match major hurricanes.
Wind-whipped snow led to frequent whiteout conditions along major cross-mountain highways, shutting the roads down for hours and knocking out power to thousands in the region.

HOW TO DRIVE IN ICY CONDITIONS
CalTrans closed a 50-mile stretch of Interstate 80 across the Sierra Saturday into Sunday as conditions were too dangerous for travel with whiteout conditions reported at Donner Summit.
Snow totals ranged from 2 to 4 feet across the area, with Sierra at Tahoe reporting a storm total of 70 inches and Boreal Mountain ski resort reporting a whopping 60 inches of snow – 5 feet – within 48 hours.  
 Even the popular South Lake Tahoe area was slammed, reporting 30 to 36 inches during the storm, according to city officials.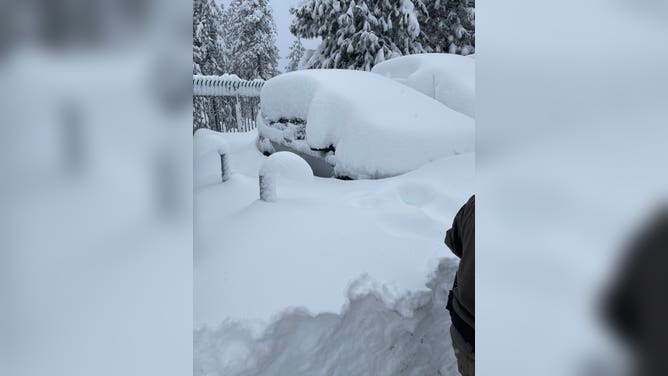 The weight of the heavy snow led to power outages.
YOU WERE JUST INVOLVED IN A WEATHER-RELATED CRASH - NOW WHAT?
"Many downed wires through several neighborhoods," the city of South Lake Tahoe tweeted. Wind gusts reached 49 mph. 
Gusts reached over 50 mph in other towns along the Sierra, including a 59-mph gust at Truckee, California. But gusts hit well over triple digits across some of the mountain ridgetops.
Ward Mountain recorded a gust of 165 mph, which is a wind speed more associated with a Category 5 hurricane. Big Pines hit a gust of 88 mph. 
California Top Wind Gusts
(FOX Weather)
---
The University of California Berkeley's Central Sierra Snow Lab reported 37.8 inches in 24 hours, with snow falling at rates of 4 to 5 inches per hour.
They received nearly 4 feet of snow in 48 hours.
The heavy snows have sent snowpacks in California to mind-boggling totals. Snowfall in the Sierra was measured at 153.7 inches, which is nearly three times the average amount for mid-December. The eastern Sierra Tahoe Basin has already received about 40% of its average annual snowfall – sitting with an amount of snow that would be expected around Jan. 9.
Heavy rains lead to flooding, water rescue
In the California lowlands, heavy rains led to localized flooding issues. About 1 to 1.5 inches fell across the Bay Area and Sacramento Valley, with rainfall totals reaching 4 to 6 inches along the Central California coast – locally 8 inches just south of Big Sur in the Santa Lucia Mountains.
A 30-mile stretch of California's Highway 1 was closed just south of Big Sur due to rocks and debris on the roadway.
The National Weather Service took dozens of reports of flooded roadways across the region, with water covering parts of Interstate 5 north of Coalinga in the San Joaquin Valley.
Heavy rains stretched into Southern California with over an inch reported in many parts of the Los Angeles metro area, with 2 to 5 inches or more of rain measured in the Southern California hills.
One man was hospitalized after being caught in the swollen Santa Ana River at Garden Grove Blvd. in Santa Ana, the NWS reported. His condition has not been released.
The storm has moved off to the east, where it is expected to wreak havoc with the rest of the nation as it sweeps across the country, with blizzard conditions expected in the North and a likely severe weather outbreak across parts of the South.
Meanwhile, calmer, drier weather is expected to settle in across the entire West Coast for the rest of the week.