US struck by 194 million bolts of lightning last year, led by Texas' 42 million strikes
The flash of lightning and the rumble of thunder are already a staple of the nation's climate, but 2021 saw a big increase in the number of lightning strikes in the United States.
LOUISVILLE, Colo. – The flash of lightning and the rumble of thunder are already a staple of the nation's climate, but 2021 saw a considerable increase in the number of lightning strikes in the United States according to a new report by lightning research firm Vaisala.
Their national and global lightning detection system measured just over 194 million lightning strikes in the U.S. this past year -- 24 million more strikes than were recorded in 2020.
Part of the surge can be attributed to the significant severe weather outbreaks in December -- a time when thunderstorms aren't usually as common. But this December, more than 1 million lightning strikes were recorded amid the record-breaking storms that spread across the U.S., first as a tornado outbreak across the Mid-South on Dec. 10-11, then a second tornado outbreak amid a derecho and hurricane-force winds on Dec. 15.
In the West, more than 2 million acres burned due to lighting-triggered wildfires, the report concluded. That includes Oregon's Bootleg Fire that burned 400,000 acres in 40 days.
An active Desert Monsoon season in the southwest also contributed to the greater lightning count.  Nevada, Utah and Arizona all reported higher-than-average lightning strikes in 2021. Tucson recorded their third-wettest monsoon season on record.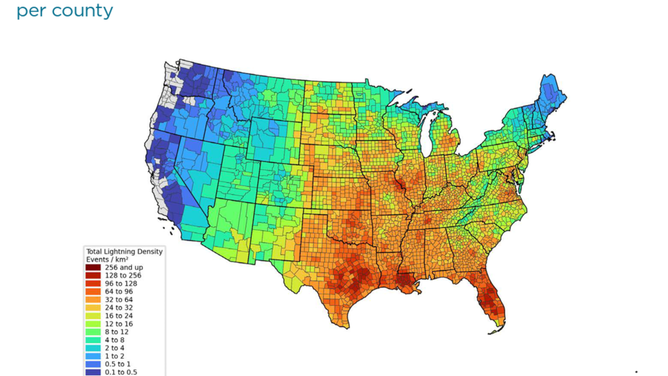 Texas reigned supreme in the lighting county department again with nearly 42 million lightning strikes. Texas usually tops the charts due to its size and location. Florida is a distant second at 14.6 million strikes (with Louisiana, Oklahoma and Missouri rounding out the Top 5). Still, Florida has the most lightning strikes per square mile of any state at 223. Louisiana, Texas, Mississippi and Oklahoma round out the Top 5 by density, with the District of Columbia ranking sixth.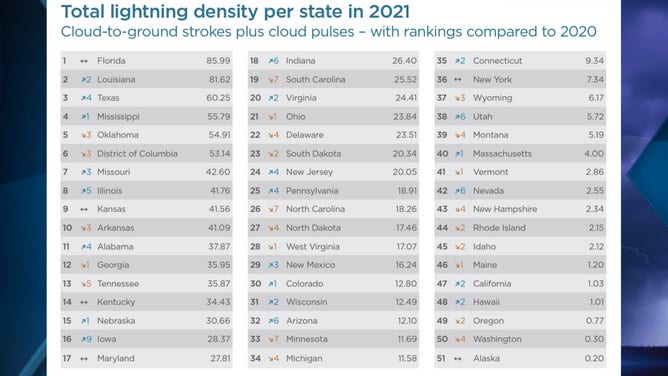 On the other hand, the West continues to be best for avoiding lightning as the cooling influence of the Pacific Ocean keeps thunderstorms at bay. Alaska ranked as the fewest lightning strikes per square mile at 0.52. Washington State (0.78), Oregon (2.0), Hawaii (2.62) and California (2.67) round out the bottom five. 
LEARN: Why are thunderstorms so rare along the West Coast
May 2 severe outbreak had the most lightning strikes in a day
Vaisala found that the significant severe weather outbreak on May 2 generated the most lightning strikes in one day across the nation, at 4.43 million strikes.
Between the 2nd and 3rd, 88 tornadoes were reported in the United States.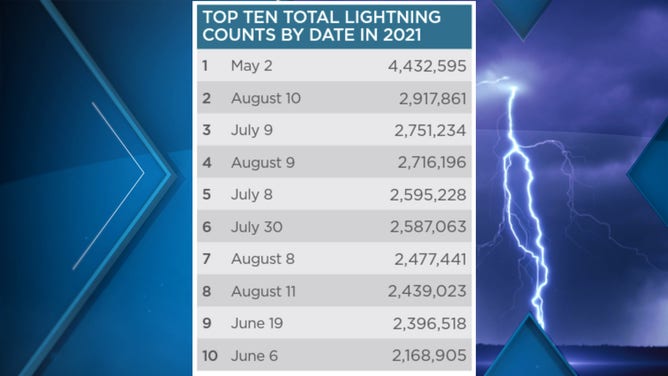 The date was well ahead of second-place August 10 at 2.91 million though the four-day stretch between Aug. 8-11 ranked in the top 8 days with most lightning strikes.
Chicago proves lightning can strike the same place twice… or 200 times…
If you ever needed proof that despite the old saying, lightning CAN strike the same place twice, just take a peek at this data…
Vaisala used their national and global lightning detection networks to determine some structures that are struck by multiple to dozens (to hundreds!) of lightning strikes.
The leader was Chicago's Willis Tower at 216 lightning hits over the 5-year period between 2016 and 2021, with the neighboring John Hancock Center at 159 times. New York City skyscrapers One World Trade Center at 109 times edged Trump International Hotel tower at 103 and the Empire State Building at 25 times. 
MORE: Backwards Bolt: Watch as Lightning Heads Skyward from NYC's World Trade Center
Vaisala notes that thunderstorms are more common in Chicago than New York, leading to the inflated totals.
But even just a few strikes can be damaging. Vaisala noted that the Washington Monument is hit only about twice a year on average. Still, one strike on Aug. 15 knocked the monument out of service for a few weeks for needed repairs to electrical access systems. 
It's not just skyscrapers feeling nature's wrath
Three National Weather Service radars were knocked offline by lightning strikes in 2021: Grand Rapids, Michigan, Las Vegas, Nevada and Tulsa, Oklahoma.
But Vaisala's research shows those three were not even in the most lightning-prone areas.
Between 2016-2021, they found that Reno, Nevada had 61 lightning strikes at or within 450 feet of the radar dome, with Little Rock, Arkansas a distant second at 19.  Though Vagasky points out Reno's numbers were inflated from a thunderstorm on May 5, 2016, that brought 46 lightning strikes near the radar tower.
We're No. 2…
While the U.S. gets its share of lightning, Brazil holds claim to the most lightning-struck nation on the planet, with just over 225 million lightning strikes in 2021.
The U.S. comes in second, with the Democratic Republic of Congo third, then Australia and China round out the Top 5.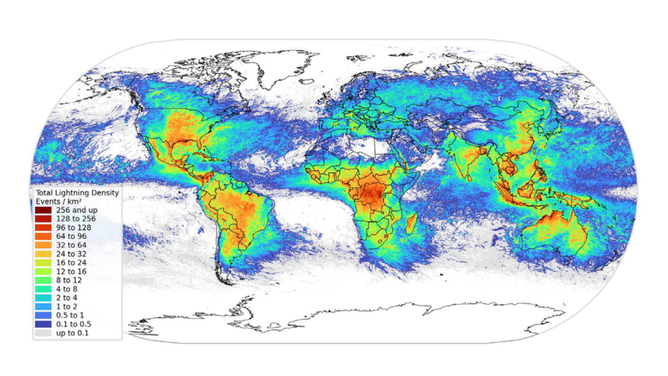 But by lightning density, the U.S. doesn't even rank in the Top 50, according to Vaisala. Singapore gets 422 lightning strikes per square mile. The U.S. comes in at 46.6 per square mile.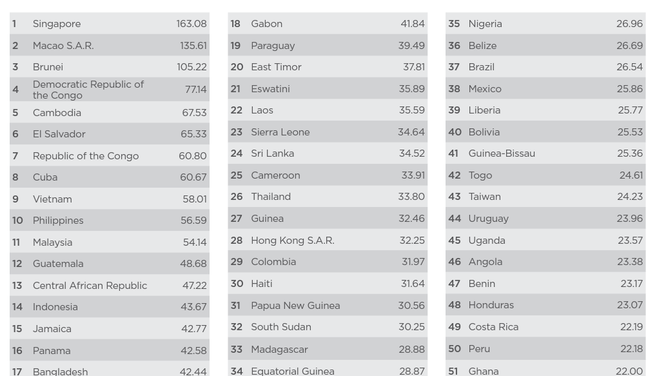 Though if you want to nearly guarantee to spot a thunderstorm, head to Lake Maracaibo in Venezuela, which averages 300 days a year with recording at least one lightning shot.
"Warm water temperatures, favorable winds, and its location in the tropics create prime conditions for thunderstorms to develop and make Lake Maracaibo the lightning capital of the world," Vaisala's report stated.
Even the Arctic is getting hit more
Usually, thunderstorms are hard to find in the frozen Arctic, but 2021 saw a dramatic surge in lightning near the North Pole, Vaisala reported.  The 7,278 strikes detected above 80 degrees North was nearly double the amount observed in the previous nine years combined.
"Lightning in the Arctic region is an important indicator for the potential impacts of climate change because it identifies intrusions of warm, high-humidity air," the report stated.
Vaisala counts any cloud-to-cloud or cloud-to-ground strike in their data. They say using more than three decades of data history, detection accuracy and analytical capabilities, their 2021 report is their most comprehensive lightning report to date.