At least 94 dead, 60 missing after powerful tornadoes rip through heartland
NWS crews still investigating tornado damage in several states
MAYFIELD, Ky. -- Dozens of people were killed and neighborhoods were reduced to rubble after several powerful tornadoes ripped across the nation's heartland Friday night and Saturday morning.
The largest death toll is in Kentucky, which suffered significant tornado damage across 19 counties. On Saturday, Gov. Andy Beshear said at least 70 people died, but the count could eventually exceed 100 by the end of the day.
Local reports say the death toll was currently at 80.
"This has been one of the toughest nights in Kentucky history, and some areas have been hit in ways that are hard to put into words," Beshear said.
Graves County was hit the hardest, as a tornado tore through the town of Mayfield, destroying several homes. At least 100 people were reported trapped in a Candle Factory that was in the direct path.
According to reports, officials said 40 people had been rescued from the candle factory and 60 remain missing.
"A roof collapse at a candle factory has resulted in mass casualties," Beshear said.
A tornado estimated to be at least EF-3 strength struck Bowling Green, Kentucky, later in the evening, causing significant damage and killing at least 11 people, according to the Warren County Coroner.
Additional media reports Sunday say the number of deaths in Bowling Green had risen to at least 12.
Beshear declared a state of emergency and activated the National Guard.
7 VIDEOS THAT TELL THE STORY OF THE TORNADO OUTBREAK IN THE NATION'S HEARTLAND
The primary tornado was on the ground continuously for more than 270 miles in the state, the governor said.
"Something we have never seen before," Beshear said.
6 dead as Amazon warehouse struck by tornado
In Illinois, just across the river from St. Louis, six people were killed when a tornado struck an Amazon warehouse facility, according to Illinois Governor JB Pritzker.
As many as 100 people were trapped in the building after the twister, with about 30 people who were able to make it out on their own. Authorities said Saturday night that they do not know how many employees at an Amazon distribution are missing.
National Weather Service meteorologists estimated at least EF-3 damage but warn the tornado could still get a higher rating.
Another person was killed and two more were injured when tornadoes hit the town of Defiance in St. Charles County, just west of St. Louis. Local media reports a second person had been killed, but no other information was available.
Deaths reported in 3 other states
The tornado outbreak began in northeastern Arkansas on Friday evening. Officials said one person was killed and five were injured when a tornado hit Monette Manor, an 86-bed nursing home on the town's north side.
Monette resident Bertha Ray told FOX Weather's Hunter Davis her uncle was in the nursing home when the storm hit. He's expected to be OK and is in the hospital for observation.
"I ran out to the storm cellar," Ray said. "I was praying and praying."
Pictures from nearby Leachville, Arkansas, show much of the same devastation impacting businesses, including a Dollar General.
One other person was killed and seven others were injured in the storm.
The storms moved into Tennessee, where four people were killed on the western side of the state. The state Department of Health said the deaths were reported in Lake, Obion and Shelby counties.
Powerful straight-line winds accompanied the storm as it swept into Nashville with dozens of reports of toppled trees and power lines, with significant damage to some homes and businesses. The airport registered a gust of 78 mph -- the third-highest gust in the airport's history.
Downed trees and power lines have been reported in Decatur, Gibson, Henderson and Madison counties with storm damage observed in 12 other Tennessee counties.
Over 250,000 people lost power in the storms across the mid-South, as the supercell amid the storm system swept across 550 miles.   
So far, at least 33 tornadoes were reported across six states, including Arkansas, Missouri, Illinois, Kentucky, Tennessee and Mississippi. The National Weather Service issued 149 tornado warnings through the night.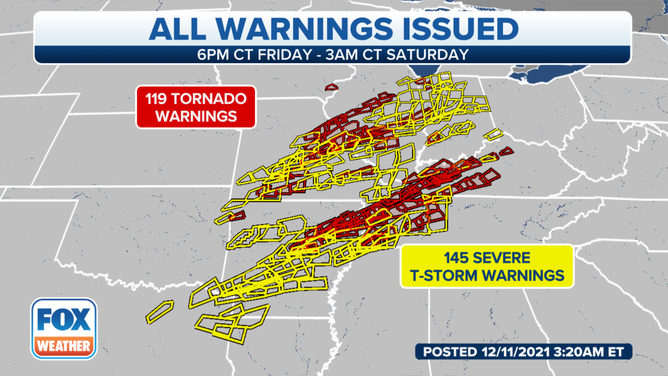 HOW THE NATIONAL WEATHER SERVICE DETERMINES A TORNADO IS TO BLAME FOR STORM DAMAGE
FedEx faces national shipping delays after 'substantial disruptions' at Memphis hub
FedEx said it experienced substantial disruptions at its Memphis, Tennessee, hub Friday night due to severe thunderstorms.
"Potential delays are possible for package deliveries across the U.S. with a delivery commitment of December 11, 2021," the company said. "FedEx is committed to provide service to the best of our ability."
Rare December tornado outbreak
The 33 reports of tornadoes so far ranks Dec. 10th as the 7th most active tornado day of the year in the nation, according to FOX Weather meteorologist and Senior Weather Data Specialist Shane Brown. The United States averages one tornado report in December.

Brown says eight Tornado Emergencies -- the most life-threatening and extreme tornado warning -- were issued Friday. Before the outbreak, there had only been seven such warnings issued in December combined since 1999.
"We will make it through this," Gov. Beshear said. "We will rebuild. We are strong, resilient people. And we're going to be there every step of the way."