Rain, snow could create holiday travel headaches this weekend for some
Delta Airlines expects Sunday could be one of the busiest travel days for the company
As millions of Americans flock to the roads and the skies for their trip home after Thanksgiving, FOX Weather is tracking rain and snow that could create holiday travel headaches in the East, South and Northwest this weekend.
Airports have been gearing up for the anticipated return rush, and travel experts believe the weekend travel scene could be busy. Delta Airlines expects Sunday could be one of the busiest days for the company. The airline says more than 500,000 passengers will use its services to get to their destination.
Let's take a closer look at the forecast for each day through this weekend.
8 WORST U.S. AIRPORTS FOR FLIGHT DELAYS
Saturday
Lingering snow showers are possible over parts of northern New England on Saturday as an area of low pressure drifts across southern Québec, Canada. Lake-effect snow showers will also remain possible off lakes Erie and Ontario in portions of western and central New York. However, outside of a stray flurry or two, this should not affect any of the major Northeast hubs.
Another storm system will crash ashore in the Pacific Northwest on Saturday, with rain likely triggering some flight delays in Seattle and Portland, Oregon.
TIPS TO PREPARE FOR BUSY THANKSGIVING TRAVEL AT AIRPORTS
Rain showers are expected Saturday over much of Texas, which may result in more numerous delays at major hubs such as Dallas and Houston. This system could produce locally heavy rain along the Interstate 10 corridor from Houston to areas west of New Orleans.
Some light snow could also glide across parts of the upper Midwest and Great Lakes, so those flying into or out of Detroit may encounter a few snow-related delays on Saturday.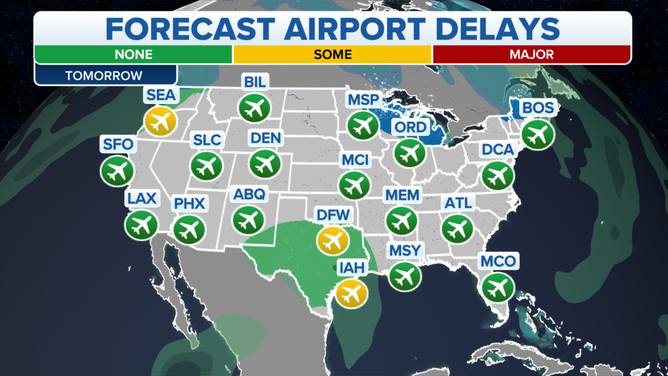 Sunday
An Alberta Clipper could spread some light snow from Wisconsin and Michigan to parts of Pennsylvania and upstate New York on Sunday, though this is not expected to affect any of the major Northeast hubs along the Interstate 95 corridor.
NATIONAL MENORAH LIGHTING CEREMONY FORECAST
A few lingering rain showers are possible along the northern Gulf Coast, but Texas is expected to dry out after Saturday's numerous showers.
Rain showers will also remain a threat in the Pacific Northwest and northern Great Basin, with some additional delays possible in Seattle.
Much of the West, Plains, Midwest, South and immediate East Coast will have no weather concerns for the trip back home on Sunday.