Winter Storm Warnings issued for northern New England as first widespread snow of season arrives
Winter Weather Advisories and Winter Storm Warnings are in effect for portions of the region where 8-12" of snow could fall through Saturday
In New England, cold air and lingering moisture will combine to produce heavy snow in portions of Upstate New York, New Hampshire, and Vermont.
Winter Weather Advisories and Winter Storm Warnings are in effect for portions of the region where 8-12" of snow could fall through Saturday. Wind gusts up to 40 mph will also trigger areas of blowing and drifting snow.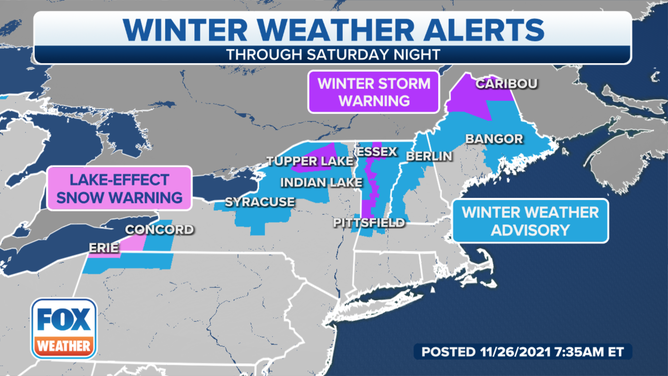 The heaviest snow is expected to fall in northern Maine, northern New Hampshire, the White Mountains of Vermont and the Adirondacks of New York.
THANKSGIVING TRAVEL FORECAST: WHERE HOLIDAY TRAVELERS CAN EXPECT FLIGHT DELAYS FOR TRIP HOME THIS WEEKEND
Between 5 and 12 inches of snow is forecast for most of these areas. Locations in southwestern Vermont above 1,500 feet in elevation could receive upwards of 8 to 16 inches of snow through Saturday.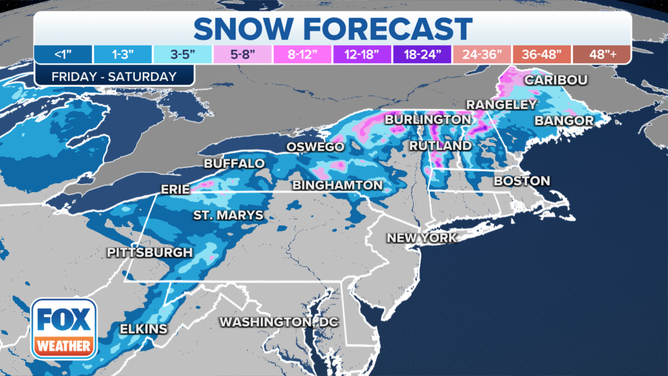 Cold and blustery conditions will catch some holiday shoppers off guard. The strongest winds will be over the higher terrain and along the coast, where gusts up to 40 mph are expected. At lower elevations, wind gusts between 20 and 30 mph are predicted.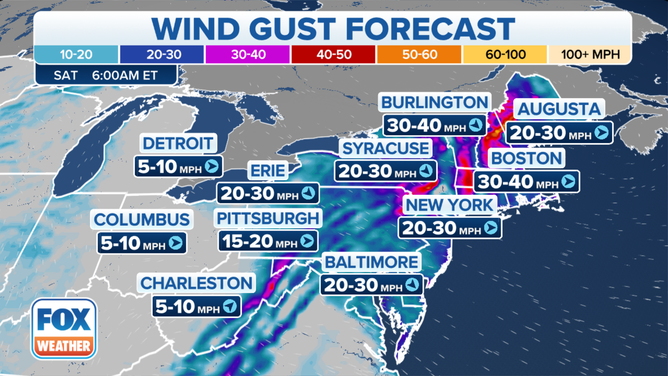 Following on the heels of this system, an Alberta Clipper is forecast to arrive in the upper Great Lakes by Saturday night before moving toward the interior Northeast on Sunday, bringing with it the risk for some light snow from Wisconsin and Michigan to parts of Pennsylvania and upstate New York. Only minor accumulations are expected.