Gulf of Mexico low to spread rain across Texas, Louisiana this weekend
The rain could slow down travel along the Interstate 10 corridor from Houston to areas west of New Orleans
A low-pressure system in the Gulf of Mexico will bring rain to Texas and Louisiana beginning on Saturday.
Numerous showers and a few thunderstorms will develop over western and southern Texas Saturday morning, then spread northeastward into eastern and northern Texas during the afternoon.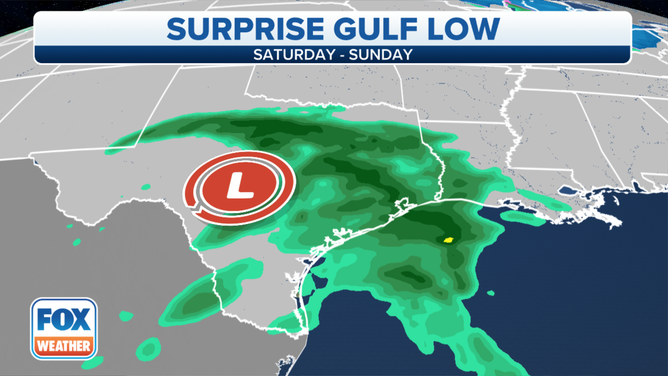 Locally heavy rain is possible Saturday night across southeastern Texas, including the Houston metro area. Showers will also spread eastward into Louisiana on Saturday night.
The rain could slow down travel along the Interstate 10 corridor from Houston to areas west of New Orleans.
THANKSGIVING TRAVEL FORECAST: WHERE HOLIDAY TRAVELERS CAN EXPECT FLIGHT DELAYS FOR TRIP HOME THIS WEEKEND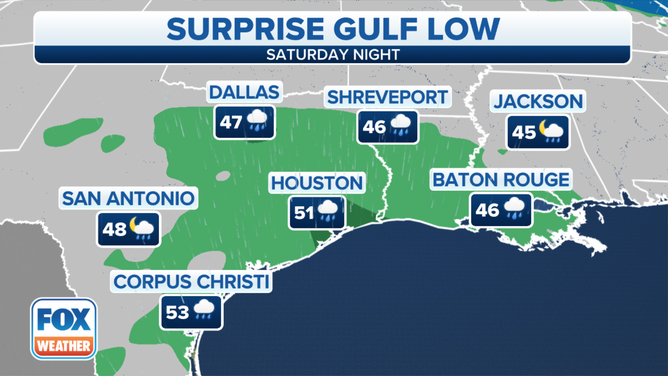 Showers will gradually taper off through the day Sunday, ending first in southeastern Texas in the morning, then in Louisiana during the afternoon.
An inch or two of rain is expected through the weekend, with the highest amounts from near the Houston metro area eastward into southwestern Louisiana.