Major theme park operator announces new extreme weather policy
Central Florida sees more than 80 days with thunderstorms annually and is usually impacted a couple of times a season by tropical cyclones. More than 70 million people visit Central Florida every year, with many that attend theme parks operated by Disney, Universal and SeaWorld.
ORLANDO – SeaWorld has announced a new weather policy for visitors that officials said is the most generous in the theme park industry and is meant to provide relief to guests during times of extreme rainfall, lightning, heat, wind, snow, hail or hurricanes.
SeaWorld Parks & Entertainment operates three parks in the U.S. and a facility in Abu Dhabi which are subject to extreme weather events.
According to the Weather-or-Not Assurance policy, if forces of Mother Nature impact park operations or air travel, guests will be allowed to rebook theme park tickets within the next year at no extra cost. Company officials said the policy will become effective when rides are closed for at least an hour or if the heat index reaches 110 degrees or above.
HOW WEATHER (PARTIALLY) LED WALT DISNEY TO CHOOSE ORLANDO FOR MAGIC KINGDOM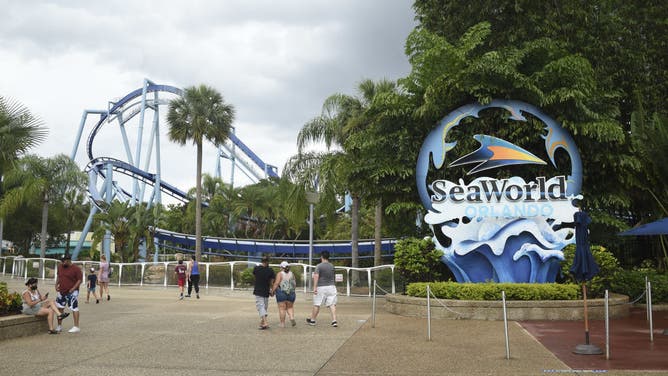 "In introducing Weather-or-Not Assurance, we are proud to note this is the most generous inclement weather policy in the industry," Marisa Thalberg, chief marketing and communications officer of SeaWorld Parks and Entertainment, said in a statement.
The announcement of the new policy came after a blistering summer for theme parks in Texas and Florida and a hurricane threat in California.
During a recent earnings call, Jim Forrester, the company's chief financial officer, said park attendance has been down as much as 2%, with the weather playing a big role.
"The decrease in attendance was primarily due to significantly adverse weather including some combination of unusually hot and cold weather, rain and or the fallout from Canadian wildfires across most of our markets, including during peak visitation periods," Forrester stated.
VIDEO: VISITORS SEEK SHELTER AFTER FUNNEL CLOUD SPOTTED FROM DISNEY WORLD
Disney weather policy
Disney, the world's largest operator of amusement parks, has a weather policy that is a bit more measured when compared to SeaWorld's.
On its website, the company states: "If a hurricane warning is issued by the National Hurricane Center for the Orlando area—or for your place of residence—within 7 days of your scheduled arrival date, you may reschedule or cancel your Walt Disney Travel Company Disney Resort hotel packages and most room only reservations (booked directly with Disney) without any cancellation or change fees imposed by Disney."
For other weather events, a Disney panelist suggests packing rain ponchos, an umbrella and a pair of dry socks and warns Walt Disney World Resort does not usually refund tickets because of inclement weather outside of tropical weather threats.
Certain rides such as the Haunted Mansion, It's a Small World and Peter Pan's Flight provide shelter and brief relief from the heat at the Magic Kingdom if you don't mind waiting in usually long queues.