How weather (partially) led Walt Disney to choose Orlando for Magic Kingdom
Magic Kingdom has only closed for hurricanes 7 times in 50 years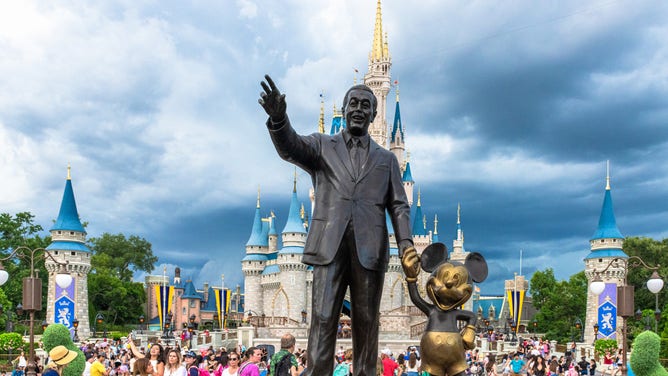 ORANGE COUNTY, Fla. – Magic Kingdom's opening 50 years ago this October forever changed a once-sleepy farm town turning Orange County into a top tourism destination. Like everything Walt Disney did, he picked the swath of land southwest of Orlando for his second theme park with good reason. 
After Disneyland's successful opening in California in 1955, Disney began eyeing other states for his next big project. At the time, Florida was known for its rocket launches, citrus groves, wildlands and not much else.
One thing Central Florida did have was a budding interstate system. Interstate 4 was under construction, as was the Florida Turnpike. Disney looked at the access the roadways would soon create and saw potential in the alligator-infested swampland.
In his essay "The Tourist City," Rollins College professor emeritus Richard Foglesong writes that Disney tried to keep his next project's location a secret by buying 27,500 acres under different company names. Still, the Orlando Sentinel soon figured it out and word quickly spread.
According to Foglesong, St. Louis, Upstate New York and Virginia were also considered for what would be known as "Project X." Niagara Falls was a top contender but was cut from the shortlist because of its winter weather, Foglesong writes.
"Walt Disney wanted the best experience for his guests, and Walt Disney World is in a prime place for a nice getaway any time of year," FOX Weather meteorologist Mike Rawlins said. "While summers are often uncomfortably hot and humid, winter remains mild and quite pleasant for people trying to escape the cold and snow."
Disney needed land, lots of it, and good weather. 
Central Florida is also a prime location because of how the sea breezes move storms quickly across the area, explained FOX Weather meteorologist Stephen McCloud.
"Meaning it may rain for 20-30 minutes, then sunshine," McCloud said. "Central parts of Florida get warmer during the daylight hours and remains warm because of the proximity to the water around it."
Disney considered areas near Miami and Ormond Beach but by keeping the park nestled in the center of the Sunshine state, it has avoided a direct hit by hurricanes in its 50-year history.
"There would most certainly be a greater threat to Walt Disney World if it were located closer to either coast," Rawlins said. "Storm surge and destructive winds would be a greater concern for the parks, and park leaders would need to consider closing the parks more often."
Since its grand opening in 1971, Magic Kingdom has only closed for hurricanes seven times, most recently for Hurricane Dorian in 2019. Three of those closures happened in 2004.
In 2004, Hurricane Charley was one of the strongest hurricanes to move across Central Florida. 
While it's not uncommon for Florida to experience tropical systems coming onshore, Rawlins said that they typically don't remain major hurricanes after landfall.
"Once a storm moves ashore, it's immediately robbed of its fuel: warm water. So, tropical systems begin to lose strength just as soon as they make landfall, but their impacts can be far-reaching and inland areas are at risk of significant rain and wind, too," Rawlins explained. "It's also not uncommon for a tropical system to make landfall on Florida's peninsula, weaken a bit, and regain strength after moving back into open water of the Gulf of Mexico or the Atlantic Ocean."
Below is a list of the hurricanes responsible for closing Disney World through the years:
1999 Hurricane Floyd
2004 Hurricane Charley
2004 Hurricane Frances
2004 Hurricane Jeanne
2016 Hurricane Matthew
2017 Hurricane Irma
2019 Hurricane Dorian