Preparing with porpoise: How SeaWorld protects marine life, guests from severe weather thrills
Potentially dangerous weather conditions can impact not only their guests but also their animals
ORLANDO, Fla. – It's a year-round process at SeaWorld in Orlando as they prepare for hurricanes.
Potentially dangerous weather conditions can impact not only their guests but also their animals. That's why as soon as a storm starts to show up radar, the park enacts its hurricane plans, according to John Peterson, vice president of zoological operations and head of SeaWorld Rescue.
However, hurricanes are just one part of Orlando's weather. Coast-to-coast thunderstorms roll through in the summer months, sometimes creating severe weather.
HOW TO WATCH FOX WEATHER ON TV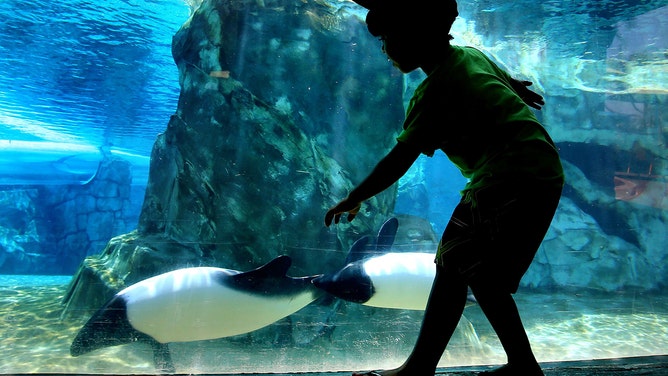 "Part of our policies and part of our commitment is to make sure that our guests and our animals are safe at all times," Peterson said.
The park's procedures let guests know when there's bad weather. For their animals, they built their facilities to keep them safe and weather the storm.
Marine animal rescue, rehabilitation and return 
SeaWorld Orlando has rescued and cared for over 40,000 marine animals over more than 50 years. Their rescue teams take part in helping animals across the country. 
When Hurricane Ida slammed Louisiana last year, a dolphin was displaced and found in a shallow 9-foot pond of water in Slidell, Louisiana. The SeaWorld Rescue team stepped in to help.
"After natural disasters, SeaWorld is called a lot of times for animals out of habitat," said Peterson who joined a team of rescue experts in Slidell to rescue the displaced dolphin and safely transported it back into the Gulf of Mexico.
The park's rescue operations run yearlong, 24 hours a day, seven days a week. After storms hit, they will get a phone call after an animal gets out of its habitat due to flooding water from a surge.
"Locals will call and say they need help. So we come and help. That is what SeaWorld does," Peterson said. "That is how storms work for wild animals."
SEAWORLD SUCCESSFULLY RETURNS 10 ENDANGERED SEA TURTLES BACK TO THE OCEAN
When the call comes, sometimes it's one of SeaWorld's Florida neighbors needing to evacuate their animals off the coast and come to their park.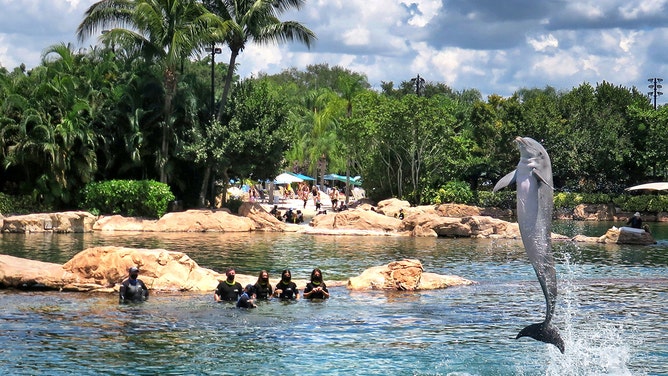 When Hurricane Irma made landfall in 2017, SeaWorld helped rescued seven manatees and three birds due directly to the Category 4 storm. They also served as a temporary home to five bottlenose dolphins that evacuated Dolphin Connection in the Florida Keys.
SEAWORLD VETS SAVING MARINE SPECIES ONE ANIMAL AT A TIME
"We actually are a facility in Florida that's considered a hurricane weather-in facility. And we will have animals come into our park and hold them while a storm goes through to help out other facilities," Peterson said.
When the show can't go on
Florida weather can sometimes put a damper on the fun in the park.
If lightning gets to within 3-4 miles of the park, weather codes are issued and ambassadors are able to inform guests of the open water areas that are closed for their safety.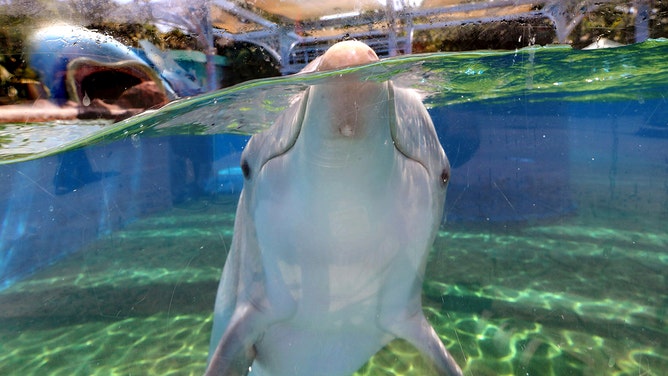 "If we've got severe weather coming, we have a procedure that we can tell guests to go inside facilities throughout the park," Peterson said. "We want to make sure that every guest that comes here gets to enjoy our animals, our atmosphere and their families."
No matter how much rain falls -- from small showers to mighty monsoons -- guests can receive a complimentary return visit to the park to be used within one year of their initial visit. 
CLICK HERE TO GET THE FOX WEATHER UPDATE PODCAST
Track the storms in your area with the FOX Weather app. The free FOX Weather livestream is also available 24/7 on the website and app and on your favorite streaming platform. The FOX Weather Update podcast also provides weather information for the entire country.