Great Smoky Mountains National Park offers unique experiences making it America's most visited national park
In 2022, nearly 13 million people visited the Smokies to see plants and wildlife they may not find anywhere else in the world.
GREAT SMOKY MOUNTAINS NATIONAL PARK, Tenn. – The Great Smoky Mountains National Park spans more than 500,000 acres along the border of Tennessee and North Carolina, and the signs of spring are starting to bloom as visitors flock to the park.
Wildflowers have begun to line the roads and trails up and down the vast mountain range nestled between Tennessee and North Carolina.
New, bright green leaves fill the space between Earth and the sky within the Great Smoky Mountains National Park, which is a place millions of people have at the top of their bucket lists to visit, hoping to immerse themselves in the beauty of its environment at least once before they die.
"I kind of call nature my church," said park visitor Mary Versteraete. "You just go out and just enjoy the peace and quiet of all the wonderful things God made. And it just kind of reinvigorates you and that makes me happy."
When she spoke with FOX Weather correspondent Nicole Valdes, it had been her third time visiting the Great Smoky Mountains National Park.
"This has got a little bit of everything," Versteraete added.
She said she's taken up photography recently, and the picturesque landscape of the mountain ranges is arguably her favorite backdrop.
HOW TO CELEBRATE NATIONAL PARK WEEK 2023
"I'm always fascinated by that smoky nature, the fact that there's always that haze out there that you're looking at," she said.
But there are countless reasons to love and visit the national park. One of the most biodiverse in the world and is filled with American history.
"The Great Smoky Mountains themselves are part of the Appalachian Mountains," said U.S. National Park Service's Emily Davis. "It's one of the oldest mountain ranges in the country, made up of some of the oldest rocks that you'll find anywhere on the planet. It is just a special place to so many people."
HERE ARE THE MOST POPULAR NATIONAL PARKS FOR BIRDWATCHING THIS SPRING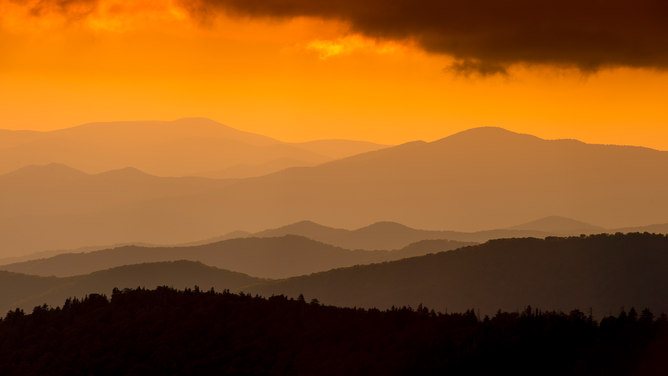 In 2022, nearly 13 million people visited the Smokies to see plants and wildlife they may not find anywhere else in the world.
The Smokies are home to more than 100 species of native trees and more than 1,000 types of wildflowers. And it's also a place where you'll find black bears, elk and wild turkeys.
It's even the salamander capital of the world.
The biodiversity doesn't just draw tourists in once – it keeps bringing them back, whether you're a nature enthusiast or looking to take your journey to new heights and get lost in the beauty as you venture up and down the park's mountain ranges.
"Most of the trails follow some kind of river or stream, and it's just so rejuvenating," said park visitor Melissa Hofmann. "Forest bathing, that's what I feel like I'm doing out here is taking a break from work and forest bathing."
THESE ARE THE DAYS NATIONAL PARKS WILL HAVE FREE ADMISSION IN 2023

It's one of the reasons why people flock to the Smokies. With more than 150 trails spanning 800 miles within the park, you'll experience a range of elevations, sometimes several thousand feet up. Things can sometimes get a little bit dangerous when the weather can change on you in just minutes.
"We want people to understand that what they'll experience on their mountain adventure at the bottom is not the same as what they'll experience at the top of the mountains," Davis said.
For example, driving from Gatlinburg, Tennessee, on an April day, it could be more than 80 degrees. But as you head up to Clemens Dome, the tallest peak in the park at more than 6,000 feet, that temperature can drop 20 degrees or more.
"There could be wind. There could be rain up there. And then, of course, throughout the winter and even into spring, there might be some snow," Davis added.
Knowing to pack layers, rain gear and understanding the right time of day or year to make that trek is essential.
THE MOST POPULAR NATIONAL PARK SITES VISITED DURING THE SPRING
"If you're not a national park fan or you're not someone who goes hiking, you're probably not going to think about that," said park visitor Sheryl Shaupel. "'I just want to go,' and then you get there, and you're like, 'Oh, I didn't realize.' We've been to, I can't tell you how many national parks and monuments or state parks. So, we kind of know."
As the weather changes, storms, part of the draw and what keeps the Smokies beautiful, can make the park dangerous.
Last July, there were significant rainstorms that, over the course of several days, dumped a lot of water in the area and washed out not only a road to the Greenbrier area, but some parts of the trails as well and made them unsafe to hikers.
Fire weather alerts have already been issued inside the park, warning tourists that strong winds could turn one spark into an all-out blaze.
7 WEATHER EXTREMES EXPERIENCED AT NATIONAL PARKS
"It's vital to have prescribed fires in the park to help maintain a healthy landscape," Davis said. "If the underbrush gets too overgrown, for example, we could potentially have a catastrophic wildfire. So, prescribed fires are a helpful tool for us to help maintain the natural ecosystem of certain places in the park."
While those natural threats exist almost daily, the Great Smoky Mountains National Park remains a wonder.
With so much to see, do and feel, it's no wonder the Great Smoky Mountains National Park is America's most-visited national park.