What is an urban heat island?
Urban heat islands were discovered in the 1800s but research into them only started in earnest a couple of decades ago.
Urban heat islands are a phenomenon that was first discovered in the 1800s, but it wasn't until the past couple of decades that research into the occurrence began in earnest. This has led to a much better understanding of what causes them, how they affect people and how to mitigate them.
A brief history of heat islands
Luke Howard, the amateur English meteorologist most famous for developing a nomenclature for clouds, is credited as being the first person to investigate the temperature differential between urban London and the rural areas surrounding the city. He didn't use the term "heat island" to describe his observations. That wouldn't happen until the 1950s when British climatologist Gordon Manley used "heat island" in a research paper about snowfall in urban centers of England.
HOW TO WATCH FOX WEATHER ON YOUR TV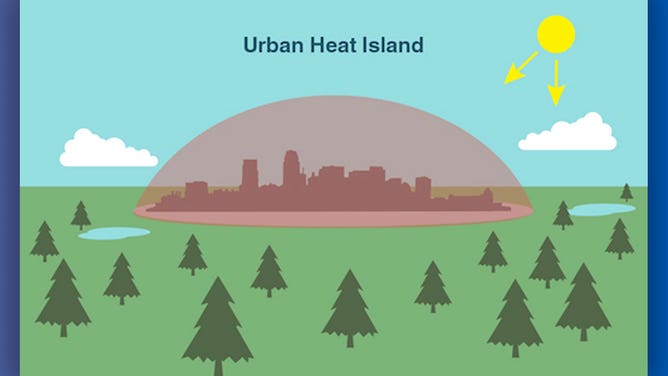 What is an urban heat island?
Urban heat island is used to refer to the phenomenon of urbanized areas being warmer than the outlying areas. This happens when things like buildings and roads soak up the sun's heat and release less of it than trees, grass and bodies of water do outside of city centers.
"In areas where these structures are highly concentrated and greenery is limited, 'islands' of higher temperatures relative to surrounding areas are created," according to the Environmental Protection Agency.
What effect does a UHI have on the weather?
According to the EPA, studies and data found that urban areas in the United States can experience temperatures of between 1 and 7 degrees Fahrenheit warmer than outlying areas during the day. At night, temperatures can be between 2 and 5 degrees warmer in the city than in the rural areas surrounding it.
WHY DOES THE AIR QUALITY GET SO BAD IN SUMMER?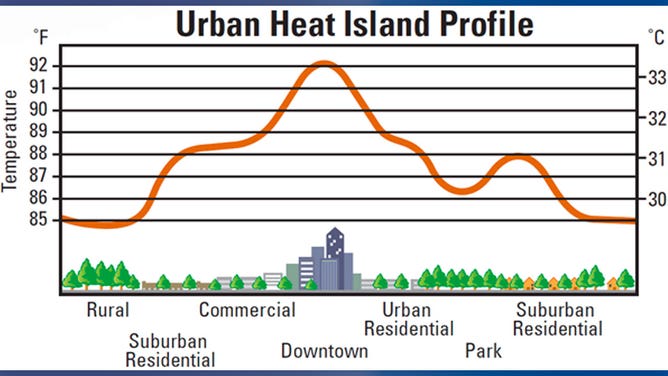 How are people affected by urban heat islands?
Living in a UHI can have many impacts on a person's health, according to the EPA. This includes increased risks of heat-related illnesses and poorer air quality.
HEAT MAPPING CAMPAIGN HOPES TO SPREAD AWARENESS ABOUT COUNTRY'S TOP WEATHER-RELATED KILLER
"Some people are more at risk of these health impacts, including children, older adults, people with chronic medical conditions, people of color, and lower-income individuals," according to the EPA.
The higher temperatures found in a UHI also lead to the creation of ground-level ozone, according to the EPA. This air pollutant can contribute to chronic breathing problems, like asthma.
How do urban heat islands factor into climate change?
According to the EPA, the increased temperatures in an urban heat island lead people to create a larger demand for electricity to run things like air conditioners and fans.
CLIMATE CHANGE MIGHT BE KEEPING YOU FROM A GOOD NIGHT'S SLEEP, STUDY FINDS
"If the electricity is generated from power plants using fossil fuels, this increases emissions of the greenhouse gases that lead to climate change," according to the EPA.
What can be done?
More planners are taking urban heat islands into account while building or rebuilding things like roads and structures, using five primary strategies, according to the EPA.
Increasing tree and vegetative cover.
Installing green roofs.
Installing cool (reflective) roofs.
Using cool pavements (either reflective or permeable).
Utilizing smart growth practices.
"Most mitigation activities have multiple benefits, including lower greenhouse gas emissions, cleaner air, improved human health and comfort, and reduced energy costs," according to the EPA.
EPA officials said some local governments are also using tax credits and updated building codes as mitigation strategies.