Heat mapping campaign hopes to spread awareness about country's top weather-related killer
More than 700 people die each year from heat-related deaths
Every year more Americans die from extreme heat than any other weather event, and a multi-agency campaign hopes to learn which communities are at most risk of seeing the scorching temperatures.
The National Oceanic and Atmosphere Administration is leading the charge for teams around the country to map and identify urban heat islands.
Experts say temperatures in urban areas can be 20 degrees hotter than in nearby neighborhoods, which puts low-income minority communities at the highest risk.
Volunteers in 14 U.S. communities and two international cities are participating in the summer survey.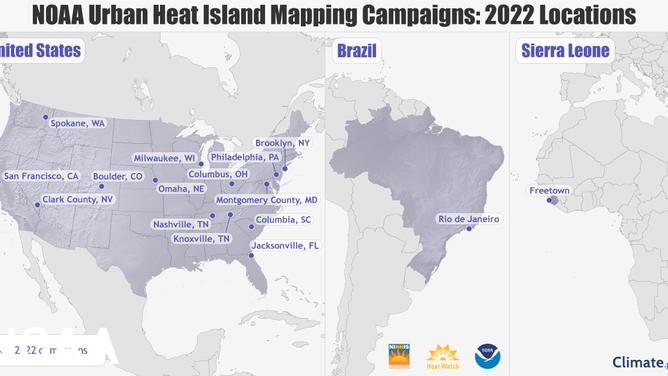 Each volunteer is given a device that easily attaches to a vehicle or a bike that takes and stores data on humidity and temperature.
The apparent low-tech method of determining how temperatures vary over a city is considered by experts to be more effective in identifying urban heat islands than satellite data which cannot replicate the localized results.
Results from the campaign aren't expected to be available before the fall, but Dr. Adam Rosenblatt, a participant of the survey and a biologist at the University of North Florida, hopes that when the data is released, it'll serve as important guidance for communities.
"The hope is that cities will use this to plan appropriate policies for the future and to increase the resiliency in the face of climate change," Rosenblatt said.
The professor led a group of 60 volunteers who measured temperature and humidity values throughout Jacksonville on June 18.

Experts at CAPA Strategies, LLC will examine the data for several weeks before releasing the results on what the heat sensors found.
Rosenblatt believes survey results could help identify areas that need more trees for shade, require updated building codes and prioritize funding for community cooling centers.
WHY CRIME HEATS UP DURING THE SUMMER
"We have relied on satellite observations, and they're great, but they're on a broad scale. With the data that we collected, we can tell on a block-by-block basis what the differences in temperature are," Rosenblatt said.
NOAA says cities from past campaigns have used maps to develop heat action plans, added cooling stations to bus shelters and educated residents and policymakers.
"Our nation faces a climate crisis that has exacerbated inequities for low-income communities and communities of color," NOAA Administrator Rick Spinrad said in a statement. "NOAA is helping communities measure their hottest places so that they can use this information to inform strategies to reduce the unhealthy and deadly effects of extreme heat and help us build a Climate Ready Nation."