Will Frank, a former Eastern Pacific hurricane, hit California? Here's why it won't
The 5-day forecast cone issued by the National Hurricane Center generally aimed Frank's predicted track in the general direction of the California coast, but it'll fizzle long before it nears the Golden State
SAN FRANCISCO – Social media was abuzz with rumors of possible weather impacts along the California coast as Tropical Storm Frank – now a post-tropical cyclone hundreds of miles offshore of San Diego – makes a turn to the north.
The five-day forecast cone issued by the National Hurricane Center generally aimed Frank's predicted track in the general direction of the California coast, especially if one attempted to extrapolate the track out even farther into the future along the same path.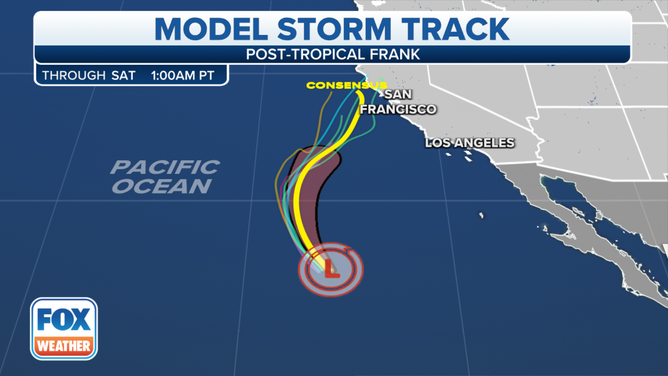 But not to worry, California. What's left of Frank will dissipate long before it could make even a hint of distant approach off the coast.
WHAT IS THE 'CONE OF UNCERTAINTY' IN HURRICANE FORECASTS?
For one, the ocean temperature is way too cool in that area of the Pacific Ocean to sustain any sort of tropical cyclone.
Tropical systems get their fuel from warm ocean waters that need to be at least 80 degrees to power significant storms. Those temperatures exist farther south in the Pacific, but not along the West Coast of the U.S.
WHY DON'T TROPICAL STORMS OR HURRICANES EVER HIT CALIFORNIA?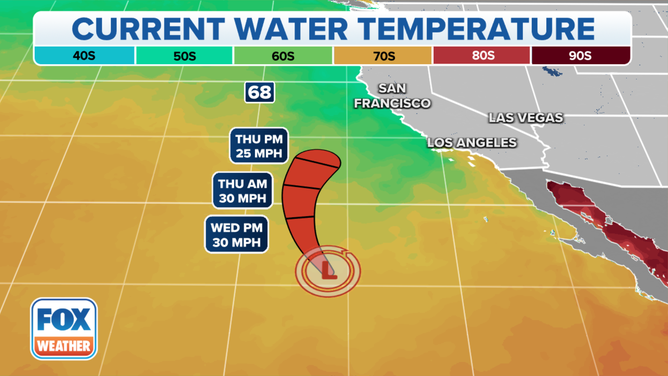 On Tuesday, Frank wandered into a region where water temperatures had dropped to 72 degrees, and the National Hurricane Center said the storm lost its tropical characteristics by Tuesday night over those cooler waters.
As a result, Frank was downgraded to a post-tropical cyclone, and any organized showers and thunderstorms associated with the storm will die out on Wednesday, leaving just scattered remnants behind. By Friday, what used to be Frank will be a fizzling trough of low pressure several hundred miles off the California coast.
"Tropical storm impacts from Frank are *not* expected here," wrote National Weather Service forecasters in San Francisco.
TROPICAL STORM FRANK DISSIPATES FAR OFF CALIFORNIA COAST AS GEORGETTE HANGS ON AS TROPICAL DEPRESSION
Frank will blot out the sun a bit, though
While no impacts are expected from Frank, some moisture from the post-tropical cyclone is helping put a damper on the summer sunshine. Both the Bay Area and Los Angeles areas reported cumulus clouds streaming into the area from the distant tropical system on Tuesday, with even a few rain showers and isolated thunderstorms detected well offshore.
The clouds knocked a few degrees off high temperatures Tuesday, and in Southern California added a bit of moisture to the showers streaming in via the monsoon in the Desert Southwest.
NOAA'S HURRICANE OUTLOOK FOR 2022
Tropical storms have hit California before – twice
While the Pacific Ocean off the California coast is inhospitable for sustained tropical system development, there are two instances in the state's history of such a storm surviving until landfall – about once a century.
The last and only tropical storm to make landfall in California since the dawn of the 20th century was on Sept. 24, 1939. A hurricane approached the Los Angeles area but lost hurricane strength just before making landfall at San Pedro as a tropical storm.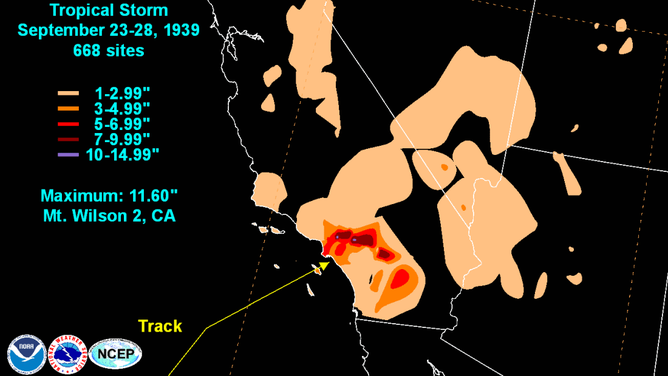 The tropical storm's winds were not the main issue, but its torrential rainfall caused the greatest September rainfall on record across Southern California.  
The other instance was in the 19th century. Meteorology researchers, piecing together what few weather records were available at the time and matching with stories in local newspapers, believe that in 1858 the San Diego area was likely hit with winds that would today be deemed a Category 1 hurricane – the only tropical system ever considered to have struck the U.S. West Coast at hurricane strength.
Here is how a California hurricane could happen
It won't be Frank, but could a tropical storm hit California again some day? FOX Weather Hurricane Specialist Bryan Norcross says there are theoretically two ways to get a strong tropical system as far north as Southern California.
"Either the water is exceptionally warm, or the steering currents are moving the storm so fast that it can survive for a while over quickly cooling water," Norcross said. "Or maybe a combination of both."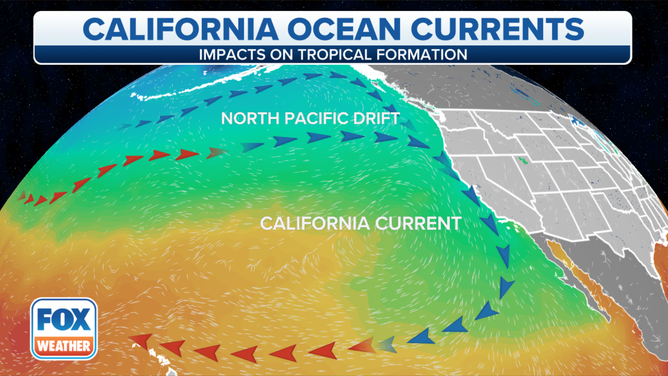 For the waters to become warm enough, you'd need two events to happen in tandem. First, it would help to occur during a moderate to strong El Niño year, which gives a warming boost to water temperatures across the Central and Eastern Pacific Ocean. That was the case in the 1858 and 1939 storms, Norcross said.
5 DIFFERENT NAMES FOR HURRICANES AROUND THE WORLD
Second, you need that cooling California current to take a detour.
"Sometimes for complicated and somewhat random reasons, (that current) will bend offshore allowing a tongue of somewhat warmer water to extend farther north right along the coast," Norcross said. "In El Niño years, there is warmer water on the east side of the tropical Pacific. Some of that tends to spread up the Mexican coast and can reach Southern California."
Be sure to download the FOX Weather app to track any storms in your area and receive potentially life-saving weather alerts issued by the National Weather Service. The free FOX Weather livestream is also available 24/7 on the website and app and on your favorite streaming platform. The FOX Weather Update podcast also provides weather information for the entire country.