Move over, Phil: Here are 9 other groundhogs that weigh in on the forecast
The groundhog prognosticator field is crowded every February second. Meet more rodents making the call to wrap up winter or delay spring. Whose Groundhog Day forecast will you trust?
Yet another year has come and gone with folks growing weary of a cold and dreary winter, but here come the groundhogs with their annual glimmer of hope.
And, February 2nd brings with it all the pageantry that a rodent can muster. Punxsutawney Phil maybe the household name for Groundhog Day, but it turns out that Phil has competition.
FOX Weather went underground to track down other fuzzy friends that throw their forecast out to the public just by poking their nose outside.  Here's our list of the most notable, memorable and just plain wacky groundhogs making a spring forecast.
Just a quick refresher: No shadow means an early spring. A shadow means six more weeks of winter.
Punxsutawney Phil - Punxsutawney, Pennsylvania
WILL THE GROUNDHOG SEE HIS SHADOW? PUNXSUTAWNEY PHIL REVEALS PROPHECY THURSDAY
The tradition started 136 years ago. Groundhog Day on Gobbler's Knob made the local paper. The next year residents made their way to the knob to celebrate, according to the Punxsutawney Groundhog Club website. 
Today, tens of thousands celebrate Phil "emerging" from hibernation for his prognostication. Organizers advise guests to arrive at 3:30 a.m. for the live music and pre-dawn fireworks show. How accurate is Phil? Click here to find out.
HOW TO WATCH FOX WEATHER ON TV
Staten Island Chuck – Staten Island, New York
Chuck made national news when he bit New York City Mayor Michael Bloomberg on the finger in 2009. Bloomberg reached into the groundhog's cage which did not work out well. Chuck lives at the Staten Island Zoo.
Then in 2014, New York City Mayor Bill de Blasio dropped the squirming rodent which died a week later. Zoo officials claimed the fall was not related to the death.
FORGET THE GROUNDHOG PREDICTION: 7 ANIMALS WHO WILL GIVE PUNXSUTAWNEY PHIL A RUN FOR HIS MONEY
Chuck, was actually Charlotte, Chuck's granddaughter. Chuck was secretly replaced after the biting incident.
Jimmy the Groundhog – Sun Prairie, Wisconsin
Jimmy bit Sun Prairie, Wisconsin Mayor Jonathan Freund in 2015 while the man leaned in to "hear" the groundhog's forecast. The mayor declared there would be an early Spring, but Jimmy's handlers said the official got it wrong.
FOX 6 later reported that the U.S. Department of Agriculture informed the town that capturing wild animals for the exhibit was against the law. PETA also sent a letter demanding Jimmy's immediate release. Town officials released him back into the wild.
Starting in 2016, a new Jimmy predicted weather from inside a cage.  
WHY DO WE HANG CHRISTMAS LIGHTS?
Potomac Phil – Washington
Potomac Phil is a bit less "lively" than his fellow rodents – he is stuffed. Yes, organizers help the taxidermied groundhog to the podium every year to predict not only the weather but political climate as well. The Dupont Circle Business Improvement District puts on the annual event in Washington, D.C. and calls Potomac Phil, the National Groundhog.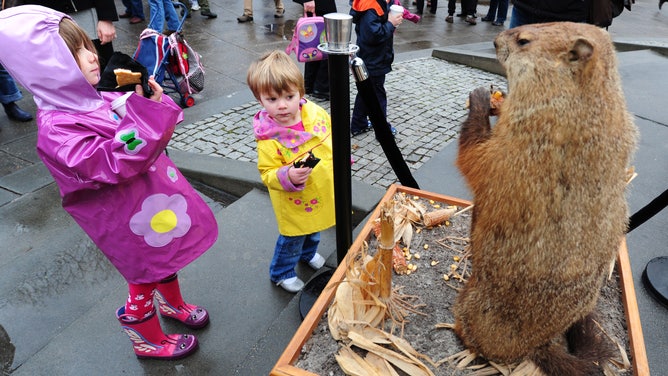 WHY DROP A BALL ON NEW YEAR'S EVE WHEN POTATOES, TACOS AND CHEESE ARE OPTIONS?
General Beauregard Lee – Jackson, Georgia
Beau holds an honorary doctorate from the University of Georgia for "Weather Prognostication" and another from Georgia State University in "Southern Groundology," FOX News reported. 
FIVE WEATHER STORIES THAT ARE AS AMERICAN AS APPLE PIE
Dunkirk Dave – Dunkirk, New York
Dave is the second-longest prognosticating groundhog, according to his website. Dave's handler, Bob Will, wrote on the site that as a teacher and wildlife rehabilitator, he would always bring a groundhog into his classroom for Groundhog Day. The local newspaper nicknamed the woodchuck "Dunkirk Dave."
7 THINGS TO KNOW ABOUT THE HISTORY OF EARTH DAY
Wiarton Willie – Wiarton, Ontario
Canada's Wiarton Willie began as a fur hat in 1957, according to Mac McKenzie, a Wiarton resident. He told a Toronto Star reporter that the fur hat in the snow was actually an albino groundhog looking for its shadow.
The town's Groundhog Day celebration grew in popularity along with Willie. 
Wiarton erected a statue of Willie.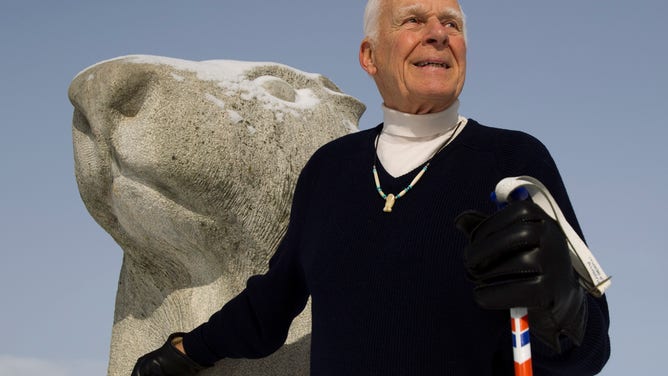 WHY DO WE CARVE PUMPKINS ON HALLOWEEN?
Woodstock Willie – Woodstock, Illinois
A town northwest of Chicago is home to another Willie. Bill Murray actually filmed the movie "Groundhog Day" in the town, according to FOX 32 Chicago.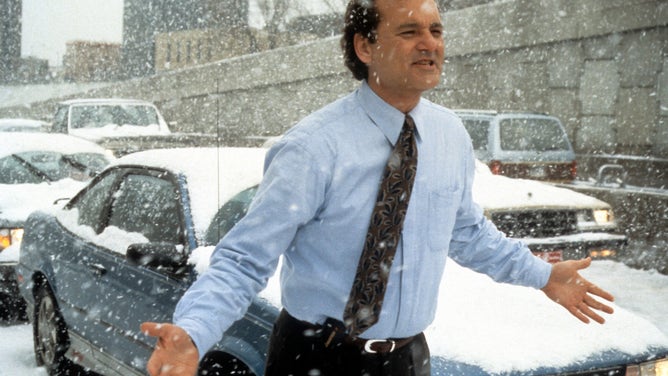 Buckeye Chuck – Marion, Ohio
Buckeye Chuck was named Ohio's official Groundhog Day prognosticator in 1979.
Stormy Marmot – Aurora, Colorado
Stormy Marmot is one of the few famous groundhogs west of the Mississippi. Don't be confused by the name. Groundhogs are also known as woodchucks, whistle pigs and marmots. Fitting with their name, they spend most of the time underground.