Why drop a ball on New Year's Eve when potatoes, tacos and cheese are options?
A look at some of the quirky New Year's Eve 'ball' drops across America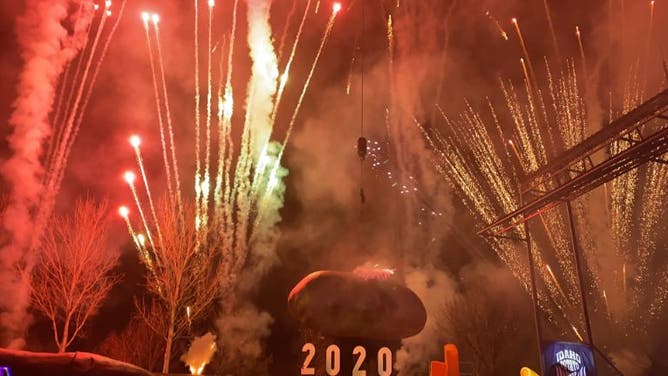 A glowing pickle, real fish, a few apples and a giant taco will be dropped on New Year's Eve across America to ring in 2022.
Time Square's ball drop gets a lot of attention. However, towns across the United States have added their twist to the midnight tradition with local flare. Some events like Atlanta's Peach drop were canceled this year due to rising cases of the omicron variant, while other cities took up safety precautions and went on with their traditions. 
Below is a look at the forecasts for cities across the country that drop something instead of a ball.

Pennsylvania deserves its own story for all the state's fun items dropped when the clock strikes midnight for quirky traditions.
Bethlehem, Pennsylvania, rings in the New Year with a two-day event known as Peepfest at the Steelstacks campus. The culminating event happens at the end of each day when a 400-pound Peep chick descends onto the stage, followed by a fireworks show.
Here's a look at last year's big chick:
Mechanicsburg, Pennsylvania, hosts its annual Wrench Drop, where a giant wrench is lowered at the stroke of midnight. According to the city, the tradition started in 2004 as an Eagle Scout project.
"The galvanized steel wrench commemorates the borough's founders — mechanics who settled in the area to make and repair wagons that were traveling west after crossing the Susquehanna River in the early 19th century," according to the Wrench Drop event website.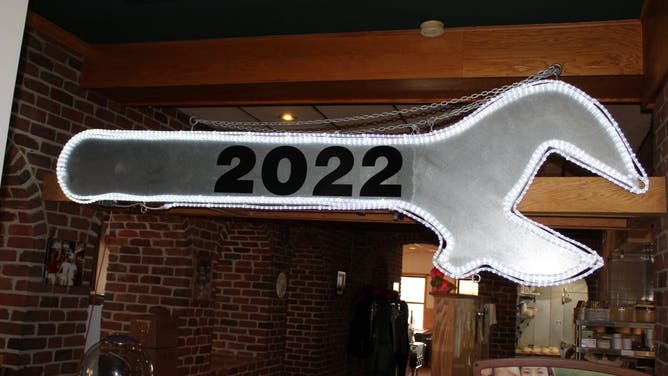 Meanwhile, Lebanon, Pennsylvania honors its tie to quality meats by dropping a hunk of bologna. According to Lebtown.com, the bologna is attached to a Lebanon County-themed disco ball with a meat hook designed and constructed by local fabricators E&E Metal Fabrication. Godshall's Quality meats donate the bologna. 
Shifting south, Raleigh, North Carolina, drops a giant acorn during its First Night Raleigh event. It will be warm for celebrations in North Carolina, with highs in the low 70s during the day and lows around 62 degrees.
You might think Mount Olive, North Carolina, would drop an olive, but actually, the town is home to the Mount Olive Pickle company. So the tradition is to lower a sizeable glowing pickle on the Mount Olive University campus. 
Fans of the chocolate-marshmallow goodness of a Moon Pie will get a kick out of Mobile, Alabama's annual Moon Pie Drop. At the same time, New Orleans lowers its city's signature Fleur-de-lis over Jackson Square. 
Florida offers a handful of competing options for the traditional ball. 
In the Panhandle, Panama City Beach drops a New Year's Eve beach ball. There are two events, one family-friendly drop with 10,000 beach balls at 8 p.m. on Dec. 31 and then again with a giant colorful beach ball at midnight on Jan. 1.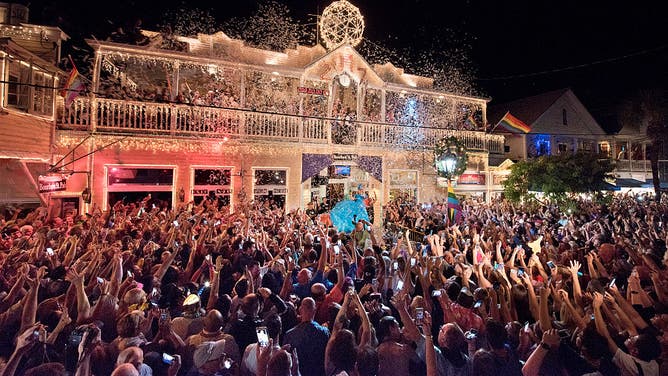 Even close to midnight, a light sweater will work for celebrations along the Gulf Coast, where temperatures will remain close to 70 degrees after nightfall.
In Key West, Florida, there is the lowering of a giant conch and then the famous "Red Shoe Drop" when a performer descends in a big red high-heeled shoe.
Sticking with the theme of delicious treats, Traverse City, Michigan, hosts a "CherryT Ball Drop," a play on words because the event raises money for charity. It will be in the low 20s, close to midnight, when the bright red glowing cherry is lowered over the world's cherry capital.
Several towns have chosen the apple to represent the start of the New Year. Manhattan, Kansas, hosts the Little Apple New Year's Eve event and Winchester, Virginia, also lowers an apple at midnight.
Ready to carb load into 2022? Whiting, Indiana drops a 10-foot illuminated Pierogi, and Boise, Idaho hosts the annual Idaho Potato Drop, which is just what it sounds like.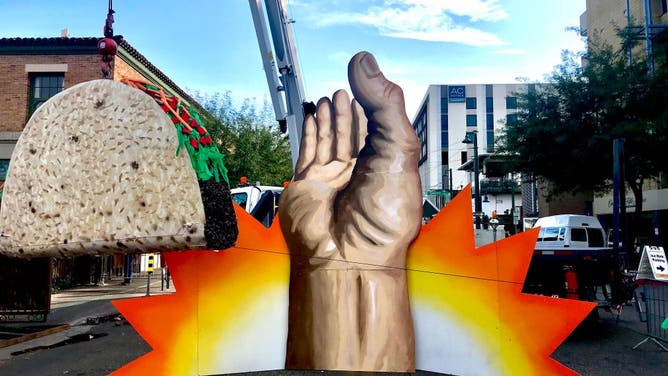 The 2021 Barstool Sports Arizona Bowl might be canceled this year due to COVID-19, but the annual taco drop in downtown Tucson, Arizona, will still go on. A giant taco will be dropped from Hotel Congress followed up fireworks. Local artist Joe Pagac created the taco. Officials with the Hotel Congress said the taco-holding hand pictured below wouldn't be part of this year's taco drop.
Also in Arizona (and also good on tacos) is the annual "Iceberg Drop" in Yuma. A giant green ball representing iceberg lettuce owns the show there.
New Mexico keeps New Year's Eve spicy with the annual Chile Drop in Las Cruces. The city hosts live music with local food trucks capping off the night by dropping a 19-foot chrome Chile with 400 feet of LED lights.
Plymouth, Wisconsin's New Year's Eve celebrates one of the best things in life: cheese. A large wedge of Sartori's award-winning gold cheese is lowered to ring in the New Year. New Year's Eve 2021 will mark 15 years of this cheesy tradition.
In the same state, Prairie du Chien hosts its annual Carp Fest, which ends with the dropping of real --but dead-- carp fish. According to the city, the multi-day event is family-friendly and involves a lot of cold-weather activities like sledding, snow bowl football and ice fishing. Temperatures will be in the single digits in Prairie du Chien late Friday night.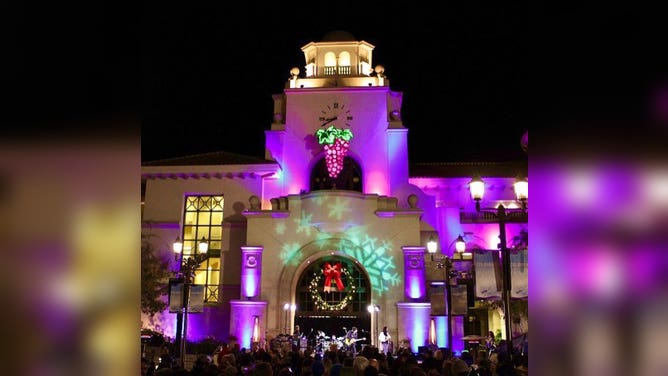 In Temecula, California, the wine county celebrates New Year's Eve with its annual grape drop that actually happens twice, once on eastern time and again on Pacific time. 
Wherever you'll be celebrating the New Year, download the FOX Weather app for the latest forecast.