Winter 2021-22 was one of warmest, driest on record for more than 100 cities across US
More than 100 cities from coast to coast reported near-record-high temperatures and near-record-low amounts of rain and snow
The winter of 2021-22 will be most remembered for how warm and dry it was across the United States. More than 100 cities from coast to coast reported near-record-high temperatures and near-record-low amounts of rain and snow.
For recordkeeping purposes, meteorologists and climatologists define winter as the three-month period from December through February, so that's what FOX Weather used in this analysis of winter temperatures and precipitation.
WHEN DOES WINTER REALLY START? IT DEPENDS ON WHO YOU ASK
Let's take a look at which cities had a record-setting winter, according to data provided by the Southeast Regional Climate Center.
Top-10 Warmest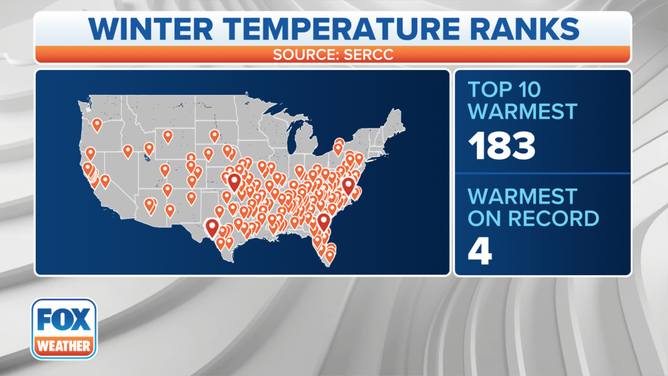 An astounding 183 locations had one of their 10 warmest winters on record in 2021-22. Of those, four saw their all-time warmest winter, including Del Rio, Texas.
It was the third-warmest winter in Jackson, Mississippi; the fourth warmest in Tampa and Fort Myers, Florida; the sixth warmest in Atlanta and Tupelo, Mississippi; the seventh warmest in Phoenix and Orlando, Florida; the eighth warmest in Paducah, Kentucky, and Colorado Springs, Colorado; the ninth warmest in Dallas/Fort Worth, Little Rock, Arkansas, and Charlotte, North Carolina; and the 10th warmest in Birmingham, Alabama, Daytona Beach, Florida, and Fresno, California.
Top-10 Coldest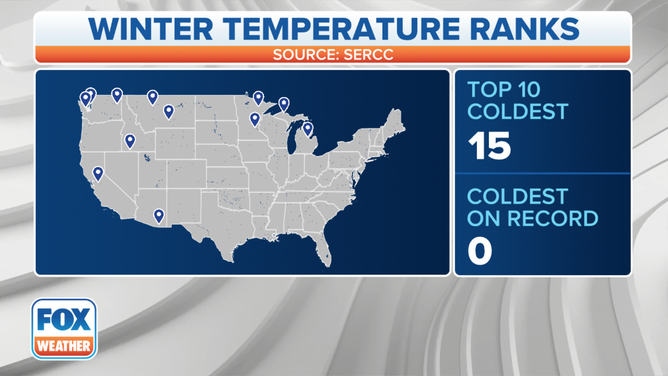 A far-less-impressive 15 locations saw one of their 10 coldest winters on record.
According to Shane Brown, senior weather data specialist at FOX Weather, no locations of note had a top-10 coldest winter in 2021-22.
SEVERE WEATHER WAS HARD TO FIND IN FEBRUARY, CONTINUING THE LULL THAT BEGAN IN JANUARY
Top-10 Wettest
There were 60 locations that had one of their 10 wettest winters on record when including precipitation from both rain and melted snow/ice. However, no city reported an all-time wettest winter.
It was the fifth-wettest winter in Lexington, Kentucky; the seventh wettest in International Falls, Minnesota, and Columbus, Ohio; the eighth wettest in Grand Forks, North Dakota; the ninth wettest in Paducah, Kentucky; and the 10th wettest in Dayton, Ohio, Evansville, Indiana, and Sault Ste. Marie, Michigan.
FOX WEATHER APP GETS A SPRING REFRESH
Top-10 Driest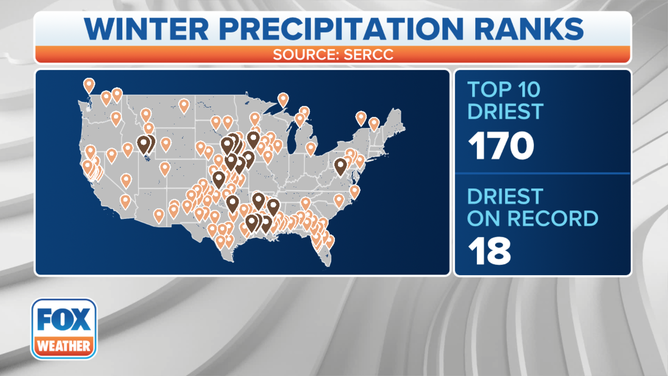 A whopping 170 locations saw one of their 10 driest winters on record when including precipitation from both rain and melted snow/ice. Of those, 18 locations either set or tied their all-time driest winter in 2021-22, including Lake Charles, Louisiana, and Beaumont/Port Arthur, Texas.
WARMER-THAN-AVERAGE SPRING PREDICTED FOR MUCH OF U.S., BUT MOST WIDESPREAD DROUGHT IN 9 YEARS FORECAST TO EXPAND
It was the second-driest winter in Norfolk, Virginia, Lincoln, Nebraska, and Baton Rouge, Louisiana; the third driest in Redding and Salina, California; the fourth driest in Sioux City, Iowa; the fifth driest in Midland/Odessa and Waco, Texas; the sixth driest in Dallas/Fort Worth and Roswell, New Mexico; the seventh driest in Pensacola, Florida; the eighth driest in New Orleans, Kansas City and Tampa, Florida; and the ninth driest in Topeka, Kansas, Amarillo, Texas, and Stockton, California.