Weekend set to bring welcome relief to historic heat wave in California but Friday's another scorcher
Excessive Heat Warnings remain in effect for 29 million in California and Nevada Friday, but as Tropical Storm Kay spreads clouds north into the state Friday and Saturday, record-breaking triple-digit temperatures will finally come to an end.
SACRAMENTO, Calif. – It's likely been a long time since a weekend has looked so enticing for millions in California and the Southwest eager to put a historic days-long extreme heat event in their rearview mirror.
But they must get through Friday first, and for 35 million, it's yet another day sweating under heat alerts. For nearly 29 million in California and southern Nevada, it's an Excessive Heat Warning which has been in effect for days as temperatures yet again zoom well past 100 degrees. And for many others, it's not only hot now, but smoky as wildfires rage nearby.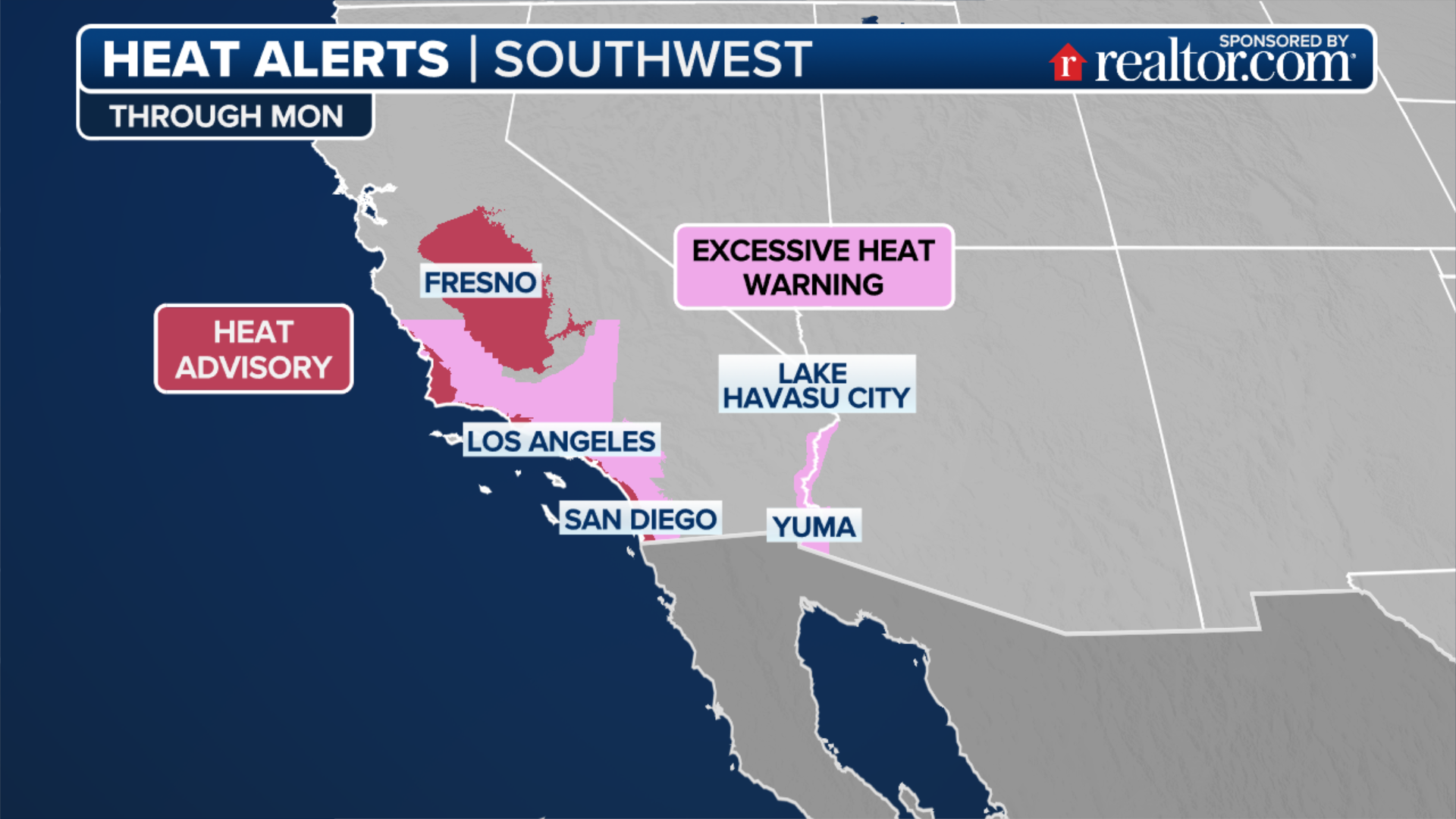 Southwest Heat Alerts
(FOX Weather)
---
Though in a sign of impending relief, those heat alerts cover 15 million fewer people than earlier in the week.
HOW TO WATCH FOX WEATHER ON TV
Sacramento has yet to spend a day in September without reaching 100 degrees and has spent three days over 110, including breaking all-time record highs of 114 to 116 degrees at the city's various reporting stations Tuesday. A brief "cooling" marine breeze brought temperatures to only 107 on Wednesday only to see temperatures climb right back over 110 again on Thursday.
Sacramento's forecast high is 106 on Friday, matching Fresno's high and several other towns in the inland California valleys, though some areas may now see a little less heat due to spreading wildfire smoke from several wildfires burning in California, including the Mosquito Fire in the Tahoe National Forest west of Lake Tahoe.
Highs will climb well into the 90s to over 100 in the Los Angeles area.
Southwest High Temps for Friday
(FOX Weather)
---
Tropical Storm Kay brings… relief?
In far Southern California, the story Friday is not intense heat but heavy rains and strong winds as the impacts from outer bands of Tropical Storm Kay move inland.
Clouds from Kay and even a few showers and thunderstorms will spread north across the inland California valleys Saturday, finally putting an end to triple-digit heat – though the heat will just spend the weekend moving north into the Pacific Northwest, where highs are expected to reach into the 90s and lower 100s.
Southwest High Temps for Sunday
(FOX Weather)
---
But for California, Tropical Storm Kay's effects will help usher in a refreshing and welcome pattern change that will have highs dropping down into the 80s by the middle of next week.