Wildfire ablaze near Uvalde, Texas as record heat threatens containment efforts
Crews are actively working to put out a fire northwest of Uvalde, Texas after it ignited Sunday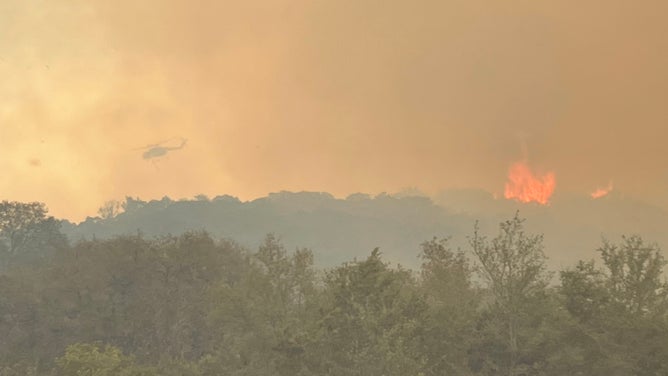 Crews are actively working to put out a fire northwest of Uvalde, Texas after it ignited over the weekend.

The Honey Creek Fire ignited Sunday in Uvalde County, burning more than 350 acres. As of Tuesday afternoon, it was only 25% contained.
Officials say that it's been hard to fight the fire due to the rough terrain and remote location.
"Road access is very limited," Luke Kanclerz, fire analyst with the Texas A&M Forest Service, said. "It is in a very rough part in terms of the terrain and topography. It's in that kind of the southern hill country of Texas, so very rocky."
And the consistent 100-degree heat hasn't helped the fight.
"It's just very challenging to get to, especially when it's compounded by this persistent triple-digit heat that we've been dealing with for some time," Kanclerz said.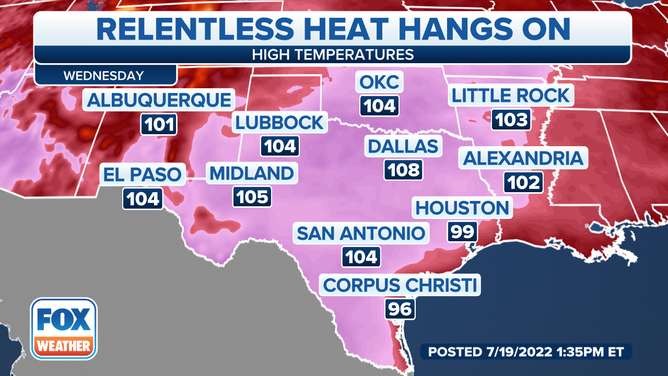 Kanclerz says not only does it put a strain on the firefighters, but the heat dries the moisture out of the vegetation, which causes it to burn more intensely.
WHAT YOU SHOULD KEEP IN YOUR EVACUATION 'GO' BAG DURING WILDFIRE SEASON
"Another factor that we're seeing is that because of the building drought, [. . .] we're seeing heat hibernate and hold longer," he said.
Officials are seeing this with the dozens of fires burning across the state.
In more urban areas, destructive wildfires are burning waterfront homes and lake houses in North Texas.
"We are experiencing dry fuels to a level that we haven't seen in the past ten years," said Adam Turner with Texas A&M Forest Service. "Any spark that lands in tall grass or even lands in some short grass right now is liable to spark."
'SHEEP FIRE'? 'PIPELINE FIRE'? 'HAYWIRE FIRE'? HOW WILDFIRES GET THEIR NAMES
Turner said this wildfire season could rival the one from 2011.
"In our region, wildfire is becoming a rapidly, ever-present word," said Turner.
Be sure to download the FOX Weather app to track the temperatures in your area. The free FOX Weather livestream is also available 24/7 on the website and app and on your favorite streaming platform. The FOX Weather Update podcast also provides weather information for the entire country.