Monday's destructive storms in Midwest, Ohio Valley traveled 1,400 miles to Florida, Alabama
The same cluster of storms that moved through Tallahassee, Florida, on Tuesday evening had previously hit Milwaukee 24 hours earlier
A cluster of thunderstorms that caused widespread damage across the Midwest and Ohio Valley on Monday completed a 1,400-mile journey that finally ended in Florida and Alabama on Tuesday.
This large thunderstorm complex originated in Wisconsin on Monday afternoon. It then traveled southeastward into the Ohio Valley on Monday evening where it became a derecho and spawned wind gusts as high as 98 mph in Fort Wayne, Indiana, and 84 mph in Chicago.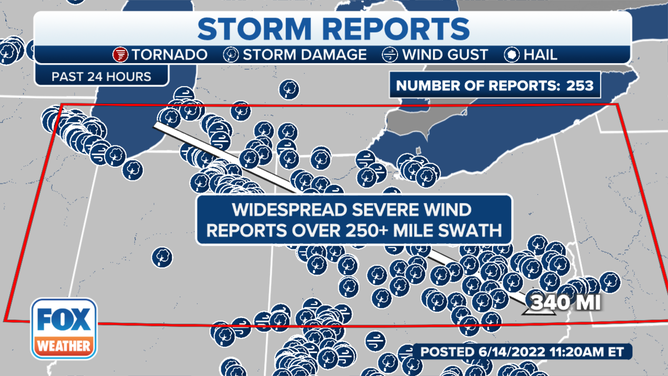 The storms continued to move toward the southeast overnight, moving into West Virginia, southwestern Virginia and western North Carolina, producing additional swaths of wind damage, though not to the extent of the damage across the Ohio Valley.
On Tuesday, this complex of thunderstorms was still on the move. It made a turn toward the south and southwest, sweeping through the Carolinas and Georgia during the afternoon, then into the Florida Panhandle and southern Alabama by early Tuesday evening.
HOW TO WATCH FOX WEATHER ON TV
Finally, on Tuesday night, the storms slid offshore into the northern Gulf of Mexico. You can see their entire 1,400-mile journey between Monday and Tuesday in the video at the top of this story.
While it might sound odd for a cluster of thunderstorms to persist for so long and cover so much real estate along their path, FOX Weather meteorologist Cody Braud says it's not as unusual as it seems.
"A setup like this is not rare at all," Braud said. "It's a very typical blocking high where all the storms rotate around the periphery of the high."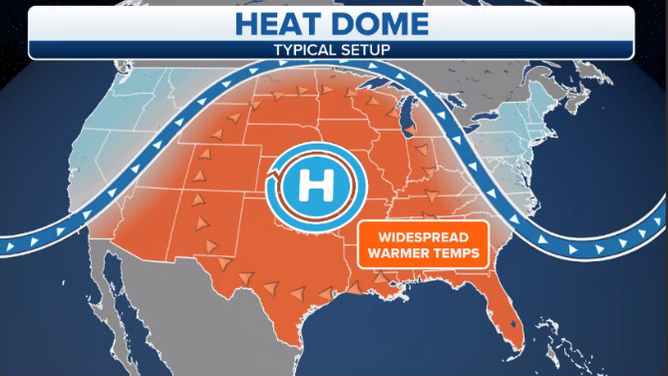 Basically, a large ridge of high pressure is parked over the central U.S. this week, which is responsible for a relentless heat wave that continues to send temperatures to dangerous, record-setting levels.
This high-pressure system acts as a steering wheel and directs any incoming weather disturbances around its periphery, which is exactly what happened earlier this week.
The thunderstorm complex was initially steered southeastward as it rounded the top of the blocking high, then turned toward the south and southwest as it came down its eastern side.
CLICK HERE TO GET THE FOX WEATHER UPDATE PODCAST
And that sent the same cluster of storms through Tallahassee, Florida, on Tuesday evening that had previously hit Milwaukee 24 hours earlier.