84-mph winds blast Chicago amid tornado-warned storm
Chicago O'Hare Airport reported a wind gust of 84 mph, while the highest report at Midway Airport was 69 mph
Damaging winds tore through the Chicago area Monday, with gusts over 80 mph knocking down trees and sending millions to shelter as tornado sirens wailed.
An EF-0 was confirmed by the National Weather Service from Schaumburg to Roselle after they completed a storm survey Tuesday. They noted the tornado was flanked on its western side by a swath of severe straight-line winds
While there were no reports of a touchdown, the storm displayed strong rotation for more than 60 miles and provided views of an ominous sky across northeast Illinois. 
Strong winds knocked out power to nearly 80,000 in Illinois.
Chicago O'Hare Airport reported a wind gust of 84 mph, while the highest report at Midway Airport was 69 mph.
Both O'Hare and Midway Airports issued ground stops as strong winds were recorded at the airports.
Just outside of Chicago in Maywood, there was a report of an entire roof knocked off a 3rd-floor apartment building.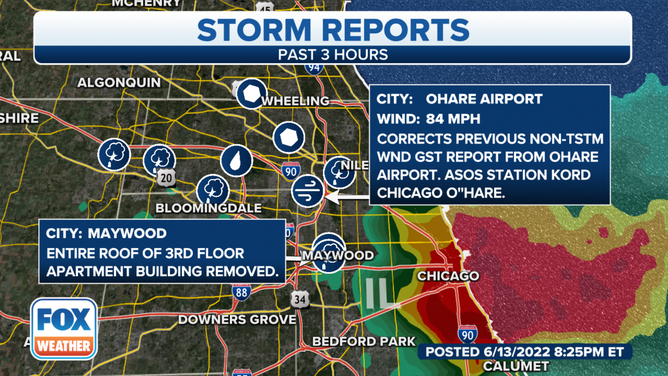 Cubs fans were forced to evacuate Wrigley Field as the tornado-warned storm passed overhead.
Fire crews worked to clear roads as snapped trees made many roads impassable.
Be sure to download the FOX Weather app to track any storms in your area and receive potentially life-saving weather alerts issued by the National Weather Service. The free FOX Weather livestream is also available 24/7 on the website and app and on your favorite streaming platform. The FOX Weather Update podcast also provides weather information for the entire country.