Severe wind reports for December skyrocket 1,700%
'These are spring and summer-like severe report tallies, and we are seeing them in the month of December'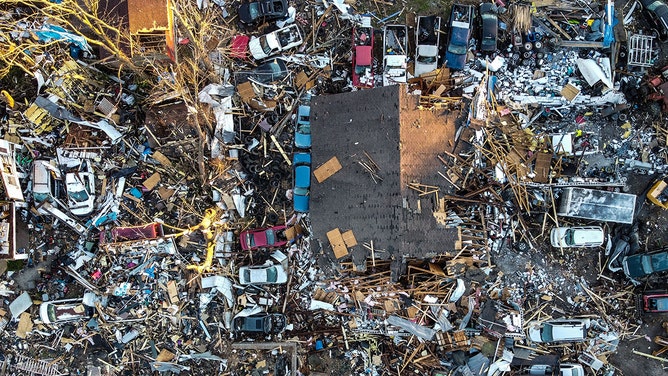 One look at December's wild weather pattern, and you might not think we were in winter.
Just 17 days into the last month of 2021, and there have already been multiple tornadoes, triple-digit wind gusts, dangerous dust storms, wildfires, record heat and intense snow squalls. 
December's severe wind reports have skyrocketed an astounding 1,700% above average, according to FOX Weather Senior Weather Data Specialist Shane Brown. 
Brown said there have been 907 reports so far compared to the to-date average of 57.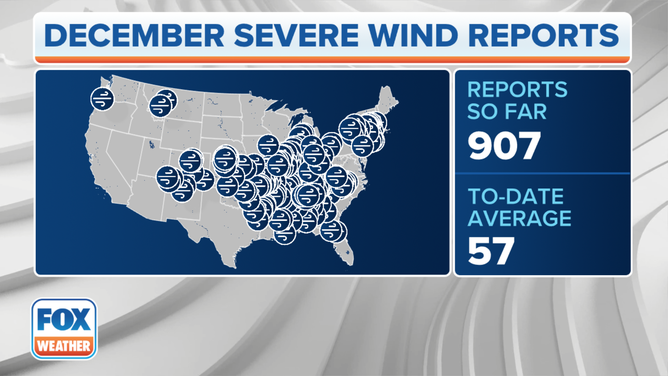 A majority of those reports occurred on Dec. 15 when the FOX Forecast Center confirmed a derecho was responsible for the destructive winds blasted across more than 600 miles of the Midwest. Winds gusts of more than 90 mph were reported in more than 30 locations across six states, including Wyoming, Colorado, New Mexico, Kansas, Nebraska and Missouri. The strongest gusts reached or exceeded 100 mph in parts of the High Plains of Colorado, Kansas and New Mexico. 
A total of 474 severe reports were calculated on that day alone.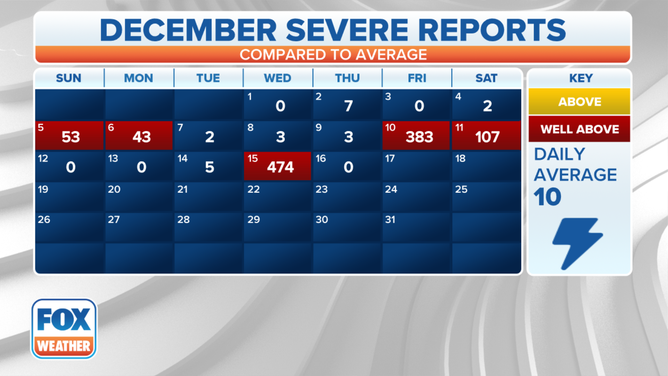 Five days prior on Dec. 10, another historic storm system struck the heartland killing more than 90 people and causing destruction for hundreds of miles. A total of 383 severe reports were calculated on that day alone.
"In a month where we would typically see just 10 reports per day on average, we've exceeded that on five days and by 10 times or more on three," Brown said. "These are spring and summer-like severe report tallies, and we are seeing them in the month of December."
And while it is not unheard of, it is incredibly rare. 
"Our bigger events this month – the 10th, 11th and the 15th – are no doubt record-breaking on all accounts be they duration, magnitude, intensity, length or otherwise," Brown said.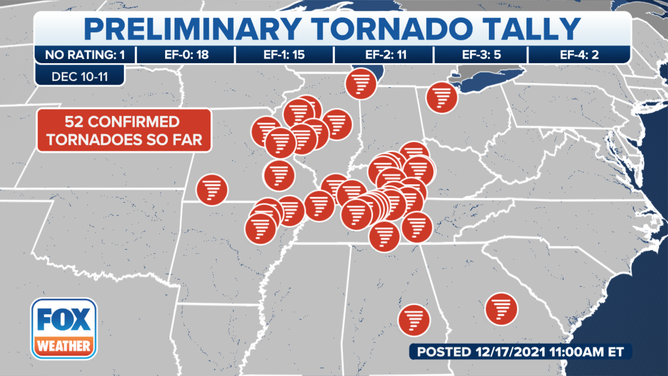 The National Weather Service confirmed at least 52 tornadoes struck during the Dec. 10 outbreak and field surveys could continue to find more evidence of twisters. A tornado blamed for at least five deaths in Arkansas and Tennessee was upgraded to an EF-4 and with winds of at least 170 mph. The other EF-4 tornado the supercell produced devastated the town of Mayfield, Kentucky.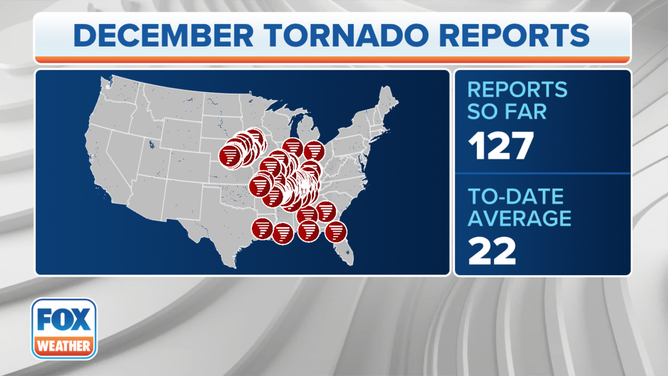 There have been 127 tornado reports for the month which is an average of 22 a day. It's something the NWS said is historic as they wait for a team of survey experts that specialize in high-end tornado ratings to arrive in communities devastated from the recent outbreak.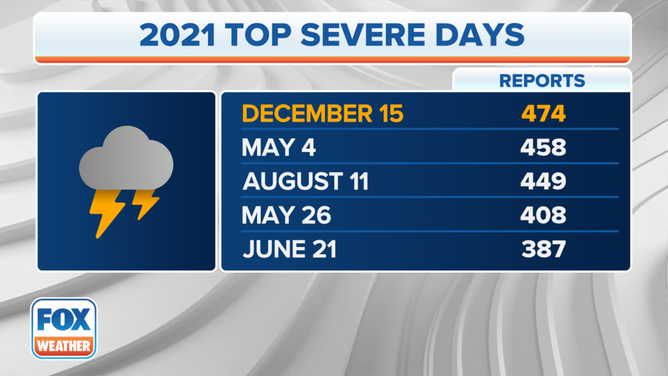 Looking back at the year's top severe weather days, Dec. 15 ranks No. 1, according to Brown. That is followed by May 4 when rain and thunderstorms affected the NWS Birmingham forecast area from morning to evening. It resulted in significant flooding, widespread straight-line wind damage and at least three low-end tornadoes.
While meteorologists can't predict what the last 14 days of the calendar will bring, one thing is for certain, December 2021 will be a month to reference for years to come.