Record snow could force hungry bears into California neighborhoods, officials warn
As hungry bears emerge from their dens after hibernation, they may be shocked to find feet of snow on the ground, covering their usual food. They will try to head for greener land at lower elevations and could end up in neighborhoods along the way.
Every spring, bears come out of hibernation and hunt for their first meal in four to five months. Historic snowfall in California, though, will make easy pickings impossible. Officials recently warned that this may cause the ravenous animals to find their food in neighborhoods instead of the woods.
"The grasses and other sprouts that would usually be greening up with the melting of snow won't be available until much later in the spring," California Department of Fish and Wildlife's Peter Tira said in a statement. "Bears will instinctively move to lower elevations to find those fresh greens, but the snow will make them search for easier routes like roads and trails."
He warned mountain communities, especially around Lake Tahoe, that the strenuous mountain travel could bring bears into urban areas.
RIDICULOUS PHOTOS SHOW AFTERMATH OF 12 FEET OF SNOW IN CALIFORNIA'S SIERRA NEVADA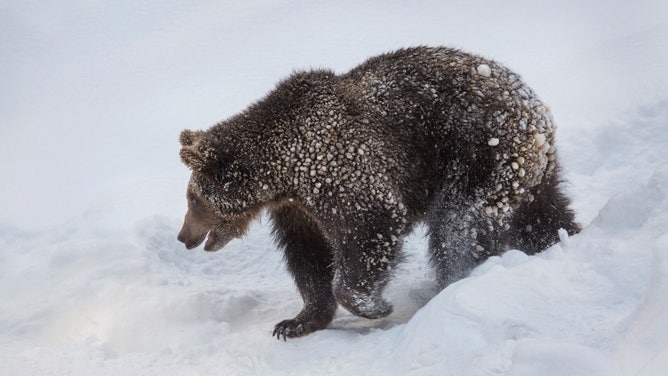 "Bears will start emerging from their dens this spring, could be any time," Tira said. "It won't be en masse. Some may emerge and then return to their dens. Given the wintry conditions, some bears may choose to prolong their torpor and return to their dens after seeing the environmental conditions on the ground and wait for conditions to improve."
Bears snowed in
The CDFW has seen a decrease in human-bear conflict reports compared to other winters. Tira said that corresponds with a decrease in bear activity during the snowy winter.
According to the National Park Service, bears that do emerge have lost hundreds of pounds – 15% to 30% of their body fat during hibernation. Wildlife officials said that these bears are stressed and weak and must endure the hardest part of their year. Harsh weather conditions and deep snows make the season even harder for them. 
HUNTING PERMITS COULD BE SLASHED AFTER SEVERE WEATHER PLAGUES WESTERN WILDLIFE
The NPS warned pedestrians, cyclists and drivers to stay away from bears on the road. They said the two-story snowbanks lining the roads make it hard for bears to get off roads. 
Hungry scavengers
Bears will be even more attracted to meals that humans left out. Tira said that he knows that people feel it is important to feed the birds with all the snow on the ground, but bears also love the seeds. He said now is the time to take bird feeders down and keep them down.
"We also know proper disposal of garbage can be difficult with snow piling up on the roads, but please take a few minutes to dig out your bear boxes, so garbage can easily be secured inside," Tira said.
PAW LICKIN' GOOD: THIS BEAR CAUGHT ON VIDEO BREAKING AND ENTERING FOR KFC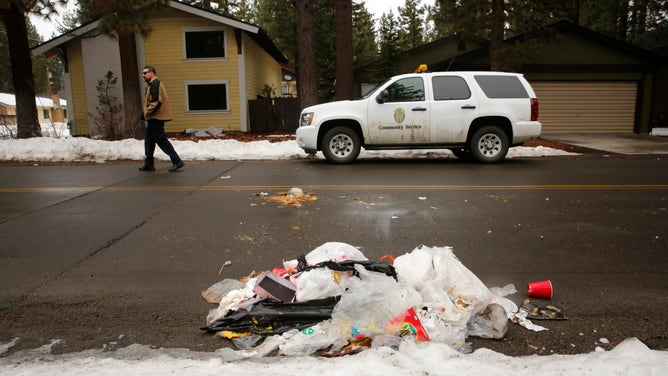 Take snacks out of winter emergency kits in cars, he said. 
Bears have an incredible sense of smell. The NPS said that bears are commonly thought to have the keenest sense of smell in the animal kingdom. According to the NPS, bears can smell food 1-2 miles away. Their polar bear cousins can hunt seals by smell from 40 miles away. A black bear's sense of smell is seven times greater than that of a bloodhound. Bears can even smell the food in a sealed can. 
This can cause bears to associate humans with easy-to-get meals and lose their fear of people. Bears can become aggressive, unpredictable and dangerous at that point. 
"These bears are at risk of being euthanized to protect people, getting hit by a car, and becoming an easy target for poachers," the NPS said on its website.
Tira asked everyone to give a bear some space because this winter has been hard for everyone in the mountains. He said any human-bear incidents should be reported.