Bear-ly recognizable: Live cameras show how the fuzzy creatures change after hibernation
According to the National Park Service, bears may lose 15-30% of their body weight during hibernation.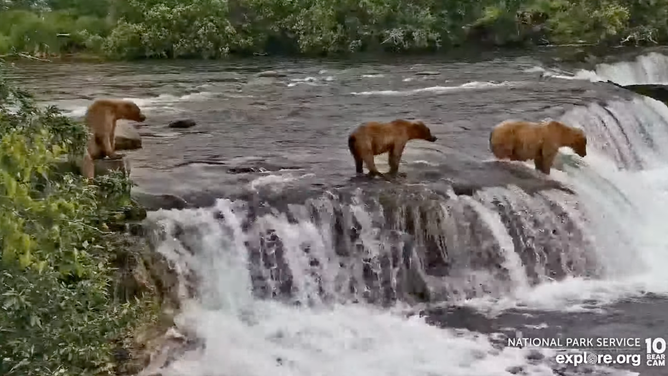 KING SALMON, Alaska – Our favorite fat bears are no longer the robust creatures we knew before hibernation.
The brown bears have returned to Brooks River in Katmai National Park in Alaska several hundred pounds lighter and can be seen on full display thanks to live cameras by Explore.org, the website that puts on the yearly Fat Bear competition.
Resident naturalist for the site, Mike Fitz, says that the bears have returned hungry and searching for food.
HOW TO WATCH FOX WEATHER ON TV
"Brooks Falls is the first place in the region where bears have access to salmon, and we can expect to see several dozen bears fishing there throughout late June and July," Fitz said.
One of the first to be seen on the live cameras was fierce Fat Bear 2021 competitor, Grazer and her two young cubs. They are seen standing in the shallow water of the Brooks River, looking for food.
According to the National Park Service, bears may lose 15-30% of their body weight during hibernation.
Fitz says the salmon will be plentiful for all the hungry bears this summer.
"With almost 72 million salmon predicted to return, we're on the cusp of the largest salmon run in Bristol Bay's history," Fitz said. "I expect to see a lot of fat, healthy bears in time for Fat Bear Week."
With the record number of salmon, the bears will have no problem beefing up in time for their end-of-summer bulk.
"As the summer transitions into fall, we'll see the bears grow in body size as they pack on the fat necessary to survive winter hibernation," Fitz said. "The largest bears at Brooks River, such as 747, will weigh more than 1200 pounds in September."
And salmon won't be the only thing on the bears' minds.
"It's also the mating season, so we're likely to see amorous male bears compete with each other for the opportunity to court females. The bear hierarchy at Brooks Falls is likely to be quite competitive too," Fitz said. "Grazer is typically very defensive while raising cubs and her offspring seem to understand that their mother usually doesn't back away from danger, even when she's faced off with a large adult male."
Explore.org is celebrating 10 years of bear cam and will be releasing historical moments from the cameras on their YouTube channel each week. 
Be sure to download the FOX Weather app to receive potentially life-saving weather alerts issued by the National Weather Service. The free FOX Weather livestream is also available 24/7 on the website and app and on your favorite streaming platform. The FOX Weather Update podcast also provides weather information for the entire country.