California's historic snowfall will lead to historic floods, officials say
After years of drought in California, this season's rain and snows seem reason to celebrate, but officials warn the danger isn't over.
California's snowpack is officially the greatest on record statewide, according to the California Department of Water Resources (DWR), but they warn of the equally impressive record snowmelt forecasted.
"This year's April one, snow result from our automated snow sensor network is actually greater than any other year that we have recorded since the snow sensor network was deployed roughly in the mid-1980s," Sean de Guzman, manager of the California Snow Surveys and Water Supply Forecasting unit for DWR said at a press conference. 
RIDICULOUS PHOTOS SHOW AFTERMATH OF 12 FEET OF SNOW IN CALIFORNIA'S SIERRA NEVADA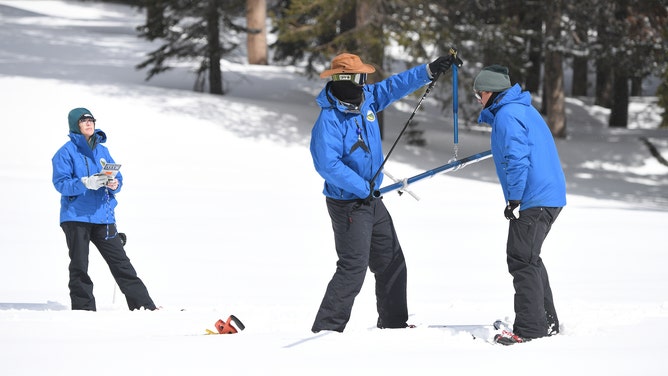 "It's looking like this year's statewide snowpack will probably most likely be either the first or second-biggest snowpack on record dating back to 1950," he continued.
Only the winters of 1983, 1969 and 1952 recorded snowpack over 200% averaged across the state. The Golden State's snowpack average is 237% of normal, locking up 61 inches of water in a frozen reservoir.
Almost 2 winters worth of snow statewide
Ninety stations report snow depth and its water equivalent across the state. Those in the southern Sierra are reporting three winters' worth of snow at 306%. The record low snowpack for April 1, the traditional peak of snowpack – a critical measurement –  was in 2015 at 5%.
SNOW CONSIDERED CRUCIAL TO LONG-TERM DROUGHT MITIGATION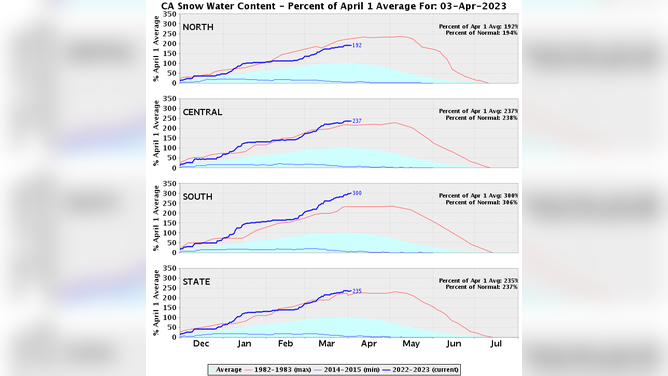 "We are just shattering records in the southern Sierra in terms of snowpack right now," said de Guzman. "Last April, there was maybe a patch of snow that we were able to measure. I think there were maybe a couple of inches."
De Guzman said this was the deepest snowpack he has ever measured. The tubes he and his team press through the snow are 20 feet long. He had to guide the other measurement teams on how to make the tubes longer for the first time.
70 FEET OF SNOW HAS FALLEN IN THE WEST THIS SEASON. HOW TALL IS THAT REALLY?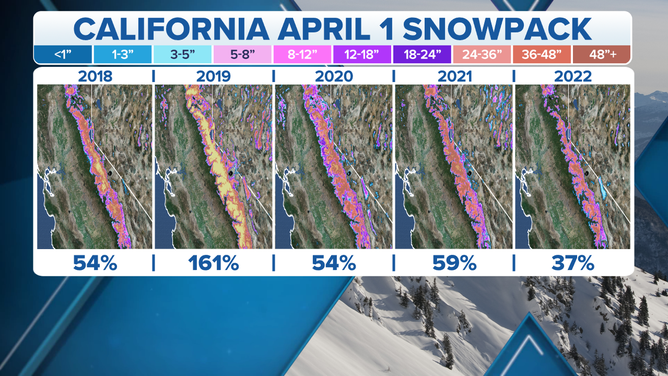 The DWR plans to measure snowpack in May, which is rare. April 1 is usually the last measurement.
"We will plan to be here in May, and the last time we did a snow survey in May was in 2020, and I think we had about an inch and a half of snow," said DWR Director Karla Nemeth at the press conference. "So you really get a sense of the extreme nature of our climate here in California." 
Record-breaking snowmelt and flooding
The parade of winter storms that pummeled the West Coast dropped all that snow and erased drought from almost 75% of the state. One year ago, 100% was in drought, with 93% reporting in the severe stages. But all that low-elevation rain saturated soils and swelled creeks and rivers, leaving snowmelt nowhere to go in the spring and summer.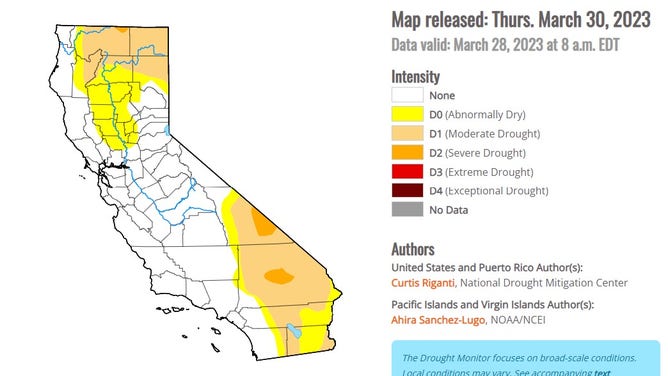 "California's dramatic improvement in water supplies from one year ago has unfortunately led to devastating flooding across the state," de Guzman continued.
His unit forecasted "record-breaking spring snowmelt" for some areas, more than two-and-a-half times an average spring. He called the spring snowmelt in an area of the southern Sierra "absurdly high" at 422% of average.
Drought and flooding at the same time
State reservoirs are already overfilled at 107% of the average. The DWR has actually been releasing water to prevent flooding.
CALIFORNIA'S HISTORIC WINTER TO FILL SOCAL'S LARGEST RESERVOIR PREVIOUSLY DRAINED DUE TO DROUGHT
Governor Gavin Newsom indicated that California was out of drought through an executive order, Nemeth said. Newsom did urge continued conservation.
"But we do have Californians that will continue to struggle with water supply, particularly those in the Central Valley and particularly those communities that are dependent on groundwater wells." Nemeth said. 
"It is possible that given the conditions in the Central Valley, particularly in the Tulare Lake Basin, that there will be simultaneously water supply challenges that come along with drought, but also water supply challenges that come along with very, very significant flooding," she continued. 
Mile after mile of the Central Valley are still underwater. Snowmelt will add to the flooding. 
TULARE RIVER EVACUATIONS AMID CALIFORNIA FLOOD THREAT
"Significant resources have been marshaled across state agencies to work with the local counties who have the responsibility to manage where floodwaters go," said Nemeth about the state scrambling to keep up with the water. "And as we know firsthand, the staggering amount of snowpack in that part of the state and the very intense runoff conditions that we anticipate are going to create significant challenges with long-duration flooding in that part of the state."
Newsom signed another order to increase groundwater recharge to mitigate flooding and store the water underground for future use in the drier months. It is part of his "hotter, drier climate strategy," said Nemeth.
"Just an incredible situation and a lot of work to do on managing what Mother Nature is giving us to protect the public," said Nemeth about the over a dozen atmospheric rivers providing the state copious amounts of water.
Days are getting longer, which triggers snowmelt. Nemeth said the speed of the snowmelt and the severity of the floods comes down to how quickly the state warms heading into summer.