70 feet of snow has fallen in the West this season. How tall is that really?
Western mountains were buried by record amounts of snow this winter. FOX Weather compared the mountain snows to other seasonal snow records across America.
Storm after storm pounded the West this winter. Lower elevations are measuring rain in feet, while ski resorts are measuring snow in stories. Let's take a look at how the record snow in western mountains compares to snow records across the U.S.
Snow at the peak of Mammoth Mountain for the 2022-23 season has measured 864 inches – nearly as high as an average seven-story building. The lodge at the Mammoth Mountain Ski Resort has seen an all-time record of 58.5 feet of snow this season.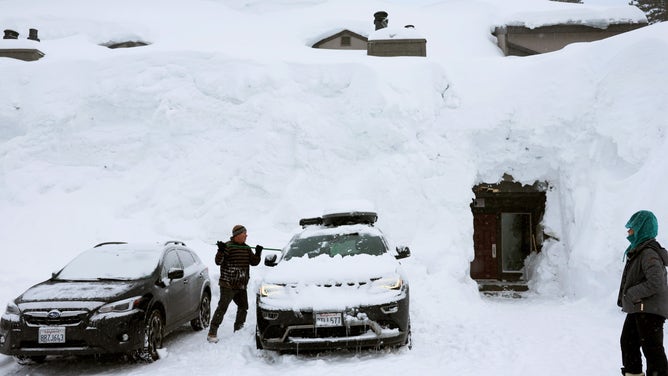 All the snow excited skiers, but too much of a good thing created problems for resorts. A resort near Lake Tahoe in the Sierra Nevada Mountains had to dig out its ski lifts. Looking at the photos, it is tough to imagine the gondolas would be 35 feet overhead during the summer.
SEE IT: 35-FOOT TALL SKI LIFTS BURIED IN CRAZY DEEP SNOW IN CALIFORNIA

Western snow in the 2022-23 season
A handful of other mountain areas already hit record levels too, and the snow is still falling. Alta and Solitude in Utah's Wasatch Mountains, only 30 miles outside of Salt Lake City, both broke all-time records. Alta's record stood for over 40 years.
Brighton, Utah, reports 64 feet of snow this season, while the average snowfall is 42 feet for the year. 
Dodge Ridge in California's Lake Tahoe region received 240% of their average snowfall. That is more than two winters-worth of snow.
It would take eight of the tallest man on Earth at 8 feet 11 inches, according to Guinness World Records, to reach the surface of the snow on the peak of Mammoth Mountain, California. You would have to pile up almost four two-story homes to peak through the snow.
RIDICULOUS PHOTOS SHOW AFTERMATH OF 12 FEET OF SNOW IN CALIFORNIA'S SIERRA NEVADA
Record snow around the US
FOX Weather went through the NWS weather reporting stations to see how 700-plus inches, 58 feet or six stories of snow compare to record snow years for places around the U.S.
Western mountains currently have more than double the record snow of the first-place area. Marquette, Michigan, received a record 319.8 inches of snow or 26.6 feet of snow in 2001-02. At 2.5 stories, that is still impressive snowfall but nowhere near what the mountains in the West currently have. Lake-effect and lake-enhanced snows account for the big totals in the Upper Peninsula city.
The record in Flagstaff, Arizona, is 233% of their average which is on par with Dodge Ridge's percent this year. The record in Buffalo, New York, largely due to lake-effect snow, is a little over twice their average for a year. Lake-effect snow is also behind the record in Syracuse, New York, which is 150% of the average during the winter of 1992-93.
On average, here are America's snowiest cities with more than 50,000 residents.
THESE ARE THE 7 SNOWIEST CITIES IN THE US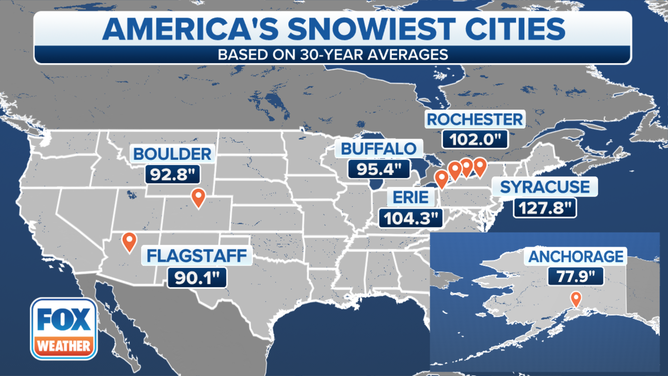 The outright snowiest place in America is Crater Lake National Park in Oregon's Cascade Mountains, where an average winter brings 38.6 feet of snow. The seasonal record was set in 1933-34 with 73.3 feet.
The place that had the absolute snowiest season in the U.S. was Mount Baker, Washington. Storms dumped 1,140 inches of snow during the 1998-99 season. That is a breathtaking 95 feet, almost the height of a nine-story building.
To put things in perspective, Mount Baker's snow would come two-thirds of the way up the Statue of Liberty's pedestal. Without the pedestal, Mount Baker's snow would come up just past her chin.