Pivotal factors of upcoming 2022 hurricane season explained
Hurricane forecasting has changed over the years, because now 'we believe in the models'
FOX Weather Hurricane Specialist Bryan Norcross knows a lot about tropical cyclones. The renowned meteorologist has covered these types of storms for more than 50 years.
Hurricane Camille made landfall in 1969 when Norcross was on the radio as a disc jockey, reading the first Hurricane Advisory.
Over the years, his focus has always been on keeping people safe by providing the best hurricane-forecast information possible when the season ramps up during the summer.
"This is kind of an auspicious year. It's 30 years since Hurricane Andrew hit South Florida. And for those of us that were in South Florida for that, it's something we will never, ever forget."
BRYAN NORCROSS, RENOWNED METEOROLOGIST AND HURRICANE SPECIALIST, JOINS FOX WEATHER
In 1992, Norcross was the first meteorologist in Miami to sound the alarm about the severity of Category 5 Hurricane Andrew and spent 23 hours on television covering the monster cyclone.
"We got about 100-mph winds, but it was, at that time, the most expensive natural disaster in the history of the United States times about four. It was just so off the charts as an unbelievable storm," Norcross said.
In 2012, he raised the alarm on another powerful cyclone – Superstorm Sandy, which caused tremendous devastation along the New Jersey, Long Island and other coastlines in the Northeast.
WHY THE SCIENCE OF SUPERSTORM SANDY WAS BOTH NORMAL AND ABNORMAL
In New York City, flooding was the primary concern. Aside from LaGuardia Airport, subways were also completely flooded, and the high tide around The Battery happened at the wrong time.
"It actually turns out that if Sandy had come in about six hours either side, it would have been worse," Norcross said.
The critical infrastructure around the Bronx, the food supply for New York and the sewer systems would have been interrupted.
As we head into this year's hurricane season, Norcross, a Florida State University graduate who also holds an honorary doctorate in public service from Florida International University, will discuss more on the legacy of Hurricane Sandy and what we learned for future storms.
Hurricane forecasting has changed over the years
"It's very different now because now we believe in the models. Back then, we didn't," Norcross said.
While seasonal forecasting has become better over the years, it's still not great – especially in April. A seasonal forecast by Colorado State University is expected to be released Thursday. It was invented in 1984 by pioneering hurricane forecaster William Gray, an emeritus professor of atmospheric science at Colorado State University.
THE HISTORY OF THE PIONEERS BEHIND THE ATLANTIC HURRICANE SEASON FORECASTS
Looking back on last year's hurricane season, it was super busy.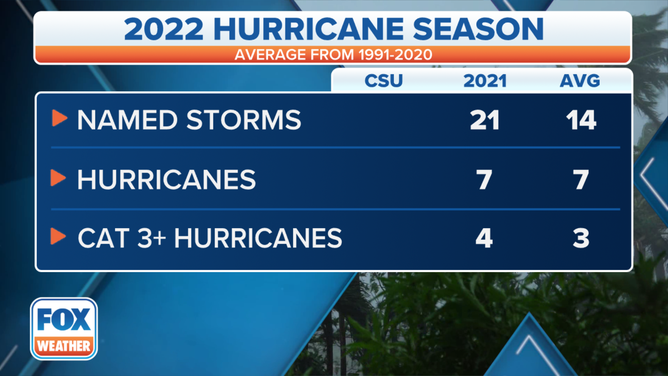 "It was like one after the other, after the other, after the other," Norcross said. "We went from August into September. And then it pretty much stopped when we got to October."
There were 21 named storms last year, but six of those early in the season were poorly organized and weak. In total, seven hurricanes formed, of which four were Category 3 or higher.
7 THINGS WE'LL REMEMBER ABOUT THE 2021 ATLANTIC HURRICANE SEASON
State of El Niño and La Niña
When looking at the factors this time of year, which Colorado State will be examining in its forecast, the Pacific Ocean and the Atlantic Ocean are pivotal.
"There's an area in the Pacific that is an area of interest that scientists measure El Niño and La Niña. And the question is, 'Is this going to be cool or not?'" Norcross said.
If this area has significantly cooler-than-average waters, it creates upper-level winds that are more favorable and conducive to storms developing in the Atlantic.
"Right now, it's cool, so we'll keep an eye on that," Norcross said.
When looking at the Pacific temperature predictions from different computer forecast models, almost all the output indicates somewhat cooler waters, and the consensus among them is just a little cooler than average.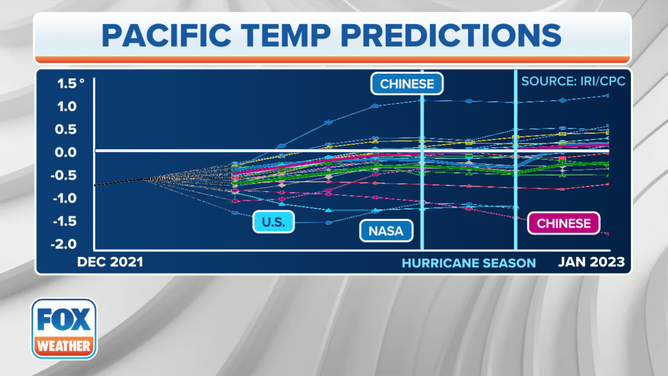 "We call that a generally slightly cool to neutral condition. But a few of the forecasts are very cool," Norcross said.
The Atlantic Ocean is ranging from slightly warmer than average to just slightly cooler. And when you combine those two things, this season looks like last season, Norcross said.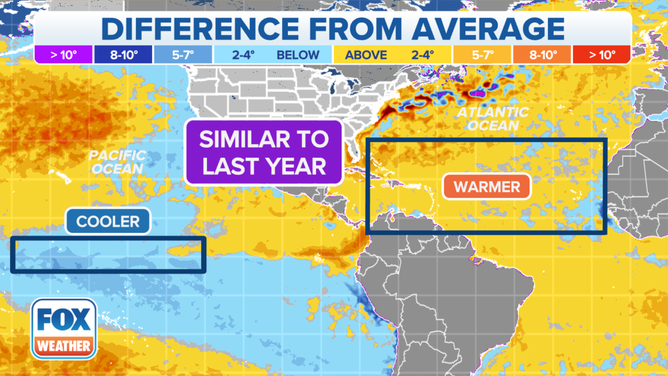 "I expect we're going to see numbers similar to that – 21, maybe a little bit less, maybe 18, 19, 20," Norcross said.
FOX Weather will get the official word from Colorado State University on Thursday.