Nearly 200 million lightning strikes hit US in 2022. How many hit your state?
2022 was a busy year for tracking lightning across the U.S. -- and the globe! One volcanic event last January registered the greatest concentration of lightning ever recorded on Earth.
LOUISVILLE, Colo. – 2022 brought not only hundreds of millions of lightning strikes across the U.S., but a violent volcanic eruption in January triggered the most extreme concentration of lightning ever detected, according to Vaisala's annual lightning report.
The report tallies cloud-to-cloud, and cloud-to-ground lightning strikes across the nation, using their National Lightning Detection Network (NLDN), and across the globe, using their Global Lightning Detection Network (GLD360).  Both instruments can detect lightning strikes 24/7, every day of the year.
And in mid-January, those instruments were as busy as they've ever been when the Hunga Tonga-Hunga Ha'apai Volcano exploded to life in Oceania.
A large eruption that spanned Jan. 13-14 created around 200,000 lightning events -- "an unprecedented amount for such a short-period eruption," the Vaisala report stated.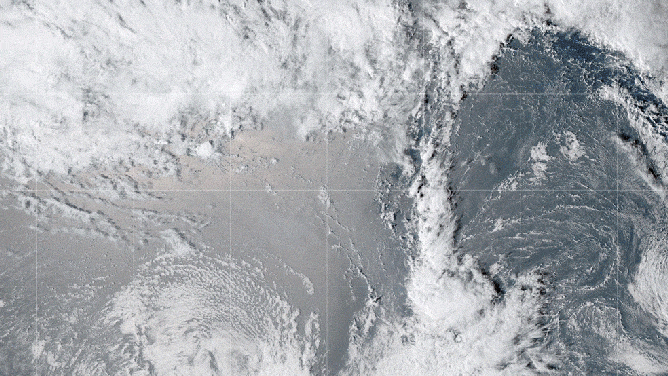 TONGA VOLCANIC ERUPTION TRIGGERED 50-FOOT TSUNAMI WAVES, AT LEAST 3 DEAD
Yet it was only a precursor to the Earth-shaking event that would occur the next day when a cataclysmic eruption sent shock waves and a tsunami around the world. During Tonga's volcanic eruption, sensors detected 400,000 lightning strikes over a six-hour period including more than 25,500 lightning strikes in just 5 minutes.
WATCH A VOLCANO MAKE ITS OWN WEATHER
During the peak of the eruption, half of all global lightning was concentrated around the volcano's crater, becoming the greatest concentration of lightning strikes ever recorded, according to Vaisala.
Texas is no Tonga, but it gets a lot of lightning too
In the U.S., nearly 200 million lightning strikes (198.2 million) were detected by Vaisala, the highest count since 2019 and a jump from around 194 million last year.
2021 LIGHTNING REPORT: US STRUCK BY 194 MILLION BOLTS OF LIGHTNING
Texas once again was the state with the most lightning strikes recorded at just under 27.7 million strikes -- a consistent top ranking due to its size and prime geographic location for frequent and severe thunderstorms. But it's a big drop from 2021 when the state was hit with 41 million strikes.
Texas was among 21 other states that experienced a below-average lightning count in 2021; many of those states are also in the Midwest, where drought conditions persist. Lack of thunderstorms were a main factor in record-low levels of the Mississippi River in 2022.
"Much of the Mississippi River basin saw below-average lightning as the drought worsened," said Chris Vagasky, meteorologist and lightning expert at Vaisala Xweather. "And the lowest water levels in decades on parts of the Mississippi River had significant impacts on agriculture and river transportation."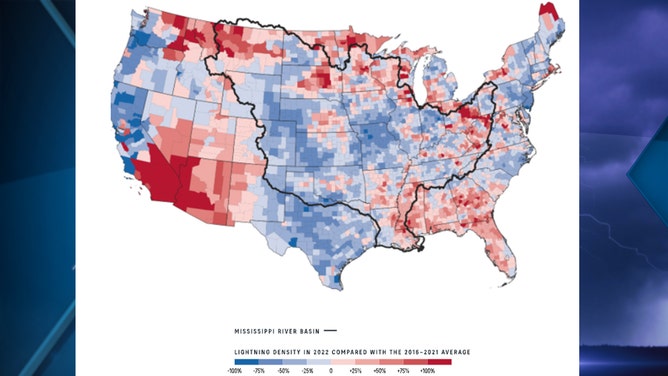 The list of the top four states that received the most lightning strikes in 2022 was unchanged from the previous year, with Florida (18.7 million), Louisiana (11.6 million), and Oklahoma (11.4 million) holding firm. Mississippi moved into 5th place with just under 10 million lightning strikes.
Washington, D.C. had the fewest strikes at just over 7,200 while Rhode Island was second-to-last at 10,916.
Florida still the lightning king for density
Those previous rankings are weighted by geography -- the larger the state, the more real estate to host thunderstorms.
If we track lightning by density and convert from square kilometers to square miles, Florida becomes the clear winner with 285 lightning strikes per square mile in 2022. Louisiana was second at 221 strikes per square mile, with Mississippi (206), Oklahoma (163) and Arkansas (157) rounding out the Top 5.
On the other hand, the Pacific Coastal states took up the bottom spots, only interrupted by Maine at No. 48. Unlike the warm waters of the Gulf of Mexico and Atlantic Ocean that fuel thunderstorms much of the year, the Pacific Ocean is considerably cooler along the West Coast, tempering the large difference in temperatures needed to trigger thunderstorms.
LIGHTNING SAFETY: WHEN THUNDER ROARS, EVEN TAKING OUT THE TRASH CAN TURN DEADLY
Frigid Alaska averaged only 0.18 lightning strikes per square mile – or put the other way, one lightning strike every 5.5 square miles in 2022.  Oregon and Washington essentially tied for the next two lowest spots at 2.5 lightning strikes every square mile.
Vaisala also compiled which city was the "lightning capital" of each state for 2022. Nationally, the community known as Four Corners, Florida -- situated about two miles west of Disney's Animal Kingdom resort near the Disney World resort area -- had the greatest lightning density of any neighborhood, registering over 1,200 lightning strikes per square mile!
Greensburg, Louisiana came in second at just over 1,000 lightning strikes per square mile. Ariel, Mississippi was third at 974 strikes per square mile.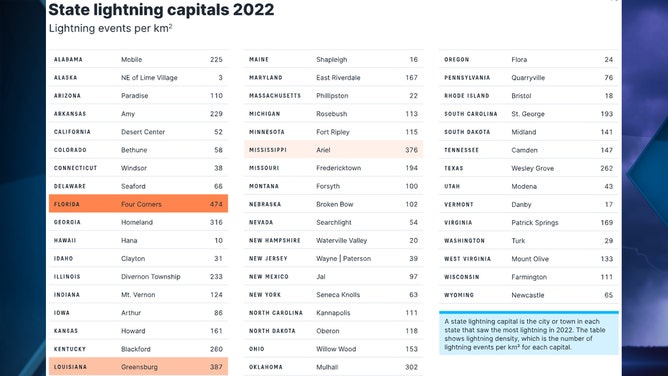 Lightning happens on every day of the year, but spring and summer are their most common dates, as you might expect being in the heart of severe weather season.
1 STRIKE, 'YOU'RE OUT': STUDY FINDS DANGEROUS LIGHTNING CLOSE BY IN 1 OF EVERY 14 MLB GAMES
In 2022, May 21 ranked as the date with the most lightning, tallying over 3.3 million strikes across the U.S. May 5, June 14, April 13 and July 5 round out the Top 5.
Over 1,000 strikes in a blizzard-fueled 'thundersnow'
But it doesn't have to be a warm, muggy day for a lot of lightning.
Vagasky found there were around 1,100 lightning strikes during the nearly four-day-long thundersnow/blizzard event that hit the eastern Great Lakes area in the week before Thanksgiving.
Closer to Buffalo, where 80 inches of snow fell in the south part of town, Vaisala measured 184 lightning strikes within 28 hours at a wind farm near town -- about as many as the previous 10.5 months combined.
DEBUNKING 7 MYTHS ABOUT LIGHTNING
Vagaksy says wind turbines can trigger lightning when winter storms move overhead, and since lightning can damage turbine blades and hubs, accurate lightning data can help operators know when to inspect and maintain turbines.
Vagasky says Vaisala will continue to monitor for lightning to help keep people and property safe.
"Thunderstorms are life-threatening. Lightning can start wildfires, cause power outages, and damage infrastructure," Vagasky said in concluding the study. "Monitoring lightning in real-time and analyzing long-term trends is essential for protecting life and property and understanding changes to our climate."