Hope remains as volunteers help flooded Kentucky town back on its feet
Volunteers descend on Jenkins, Kentucky, bringing along food, water and hope to the flood survivors
JENKINS, Ky. – Mud and rubble still cover the streets of Jenkins, Kentucky.
The sleepy Appalachian town was devastated by floods late last week, when 7-10 inches of rain fell across parts of the Bluegrass State between Tuesday and Thursday.  
At least 37 people lost their lives during the storm, leaving behind survivors who are now picking up their lives, one piece of muddy debris at a time.
2 REMAIN MISSING IN EASTERN KENTUCKY AS EXTREME HEAT, FLOODING COULD SLOW RECOVERY EFFORTS
"I've never seen it this bad in my life," said flood survivor Luther Tackett, as he looked at a tattered road destroyed by floodwaters.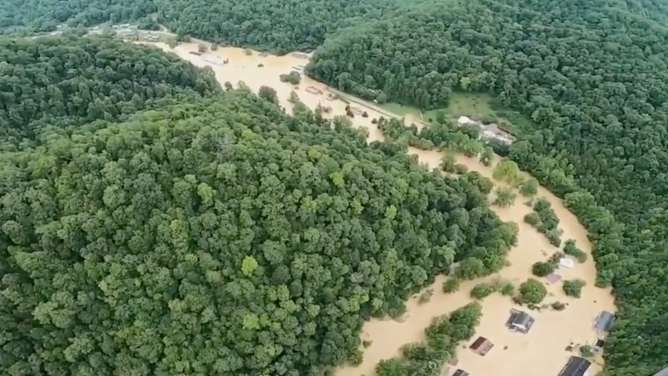 FOX Weather multimedia journalist Robert Ray visited Tackett and other members of the Jenkins community to check on the ongoing recovery efforts.
In downtown Jenkins, people can be seen cleaning up businesses, emptying the buildings and setting aside items along the mud-washed streets.
"The progress they made has been slow because of the tragedy and the severity of the flood, but every little step means something to these people," said G.C. Kinser, former mayor of Jenkins.
KENTUCKY CHURCH YOUTH GROUP EAGER TO REBUILD AFTER CATASTROPHIC FLOODING
Dozens of volunteers have descended on the mountain town, delivering cases of water by way of all-terrain vehicles and providing food by cooking burgers on an outdoor griddle.
"Most of us live in poverty," said Tackett. "Sometimes you think you get forgot about, but these people showing up, it's wonderful."
Ray spoke with one of those volunteers, J.R. Smith with Alabama Aide.
"We have been down here two days, and we have delivered over 700 meals today," Smith said. "We delivered 600 yesterday going up through the hollers."
KENTUCKY FLOODING: FEMA WARNS ACCEPTING GOFUNDME MONEY MAY THWART GOVERNMENT AID
On the horizon is a weather forecast that may make recovery efforts even more challenging, as more rain is expected to fall upon the eastern Kentucky region over the weekend.