Puerto Rico continues its slow recovery, five years after Hurricane Maria
About 2,975 lives were lost after Hurricane Maria
Hurricane Maria struck the island of Puerto Rico in September 2017, becoming the third-costliest hurricane to hit the United States – it also cost the lives of 2,975 Puerto Ricans.
Five years after the storm, recovery efforts are still ongoing, along with analyses of just how much the storm devastated the U.S. territory.
FOX Weather Correspondent Nicole Valdes shines a light on Hurricane Maria's impact in the episode "FOX Weather Reports: Ruin and Resurrection: The Fury of Hurricane Maria," which premieres this Thursday on FOX Weather at 10:00 p.m. ET.
HOW TO WATCH FOX WEATHER ON TV
According to the National Weather Service, damage from the storm included a loss of 80 percent of Puerto Rico's utility poles, plus all transmission lines. This led to power outages for the island's entire population of 3.4 million residents.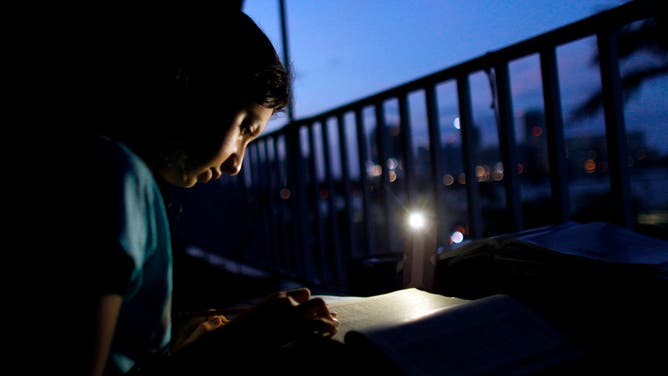 In Valdes's "FOX Weather Reports" episode, she speaks with community members who experienced the widespread power outages – some of whom were without power for 85 days after the storm passed. Without power, many residents also lost access to water, as electricity was necessary for powering their water supplies.
By the end of January 2018 – about four months after Maria hit – electricity had only been restored to approximately 65% of Puerto Rico, said the National Weather Service.
The National Oceanic and Atmospheric Association (NOAA) estimates that the damage Hurricane Maria caused in Puerto Rico, along with the U.S. Virgin Islands off its eastern shore, totaled to about $90 billion.
For context, the costliest hurricane to have hit Puerto Rico before Maria was Hurricane Georges in 1998. The damages caused by Georges were about $5 billion (in 2017 dollars).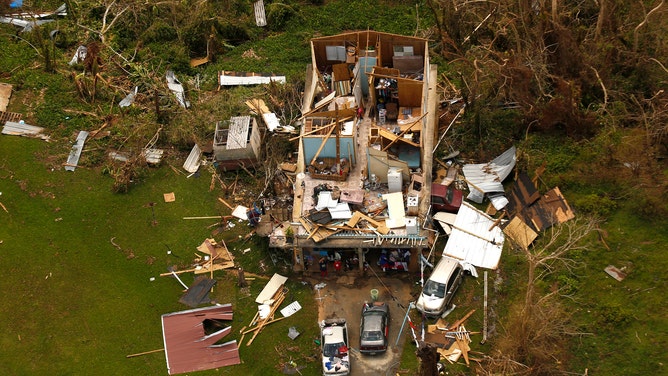 U.S. federal aid was sent to Puerto Rico to help with the recovery efforts. However, concerns were raised about how that aid was used, as many residents continued to experience hardships caused by the storm long after it had passed.
REPORTING WITH HEART: FOX'S GERALDO RIVERA AND NICOLE VALDES ON COVERING THE AFTERMATH OF HURRICANE MARIA 
In March 2019, the U.S. Office of Inspector General opened a review of the Housing and Urban Development's disbursement of an estimated $20 billion intended to assist with relief after Hurricane Maria and Hurricane Irma, which struck a few weeks earlier.
Valdes dives into the issue from the perspective of Puerto Ricans in "FOX Weather Reports: Ruin and Resurrection: The Fury of Hurricane Maria." She even speaks with community members about the FBI announcing the arrest of two Puerto Rican mayors who had accepted bribes during the country's period of recovery.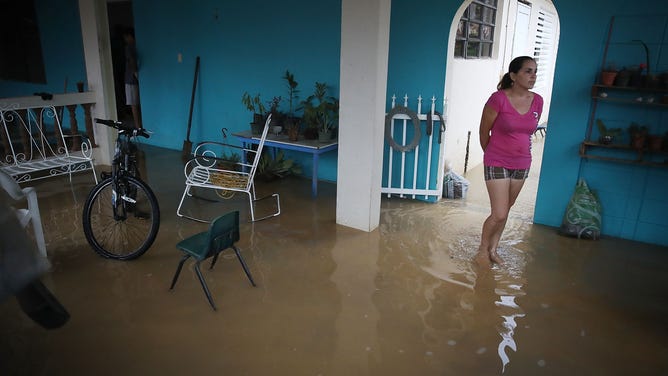 The damage caused by Hurricane Maria has brought attention to some ongoing struggles in Puerto Rico – such as old infrastructure, the country's mounting debt, and a recent economic crisis – as they have contributed to the island's slow recovery.
The people most affected by these struggles are the Puerto Rican people, who are doing what they can to make a difference on the ground.
For example, among the community members and politicians Valdes visits in the documentary, are volunteers from Puerto Rico Rise Up.
They tell her about their efforts to make their communities safer and provide what they need to be prepared in the event of another hurricane. By the time Valdes and her FOX Weather crew interviewed them, they had delivered 80,000 boxes to food to more than 300,000 people.
To learn more about stories of survival after Hurricane Maria, watch the premiere of "FOX Weather Reports: Ruin and Resurrection: The Fury of Hurricane Maria," on FOX Weather at 10:00 p.m. ET on Thursday, July 28th and catch it again on Saturday, July 30th and Sunday, July 31st at both 8:00 p.m. ET and 10:00 p.m. ET.