Hawaii pineapple farm donates pineapples, delivers supplies to wildfire survivors
The team spent days cutting up fresh pineapple to give to first responders, shelters and restaurants that have been converted into soup kitchens. They've also delivered prescriptions, water and other supplies for survivors.
HALI'MAILE, Hawaii - Team members of Maui Gold Pineapple are providing disaster relief in the form of fresh fruit and other supplies after wildfires devastated a number of communities in Hawaii.
The team spent days cutting up fresh pineapple to give to first responders, shelters and restaurants that have been converted into soup kitchens. They've also given a number of whole pineapples to wildfire survivors.
"We have donated tons and tons, probably 30 or 40 tons of pineapple, just whole pineapples, which lights up people's eyes," said Todd Domeck, owner of Maui Gold Pineapple and the Hawaii Farm Project.

Domeck noted how the fruit were initially transported by boat due to road closures on the island. Now that roads are reopening, his team is looking to donate more.
MAUI FOCUSES ON RECOVERY DESPITE STARK REMINDERS OF DEVASTATION
"The pineapple has always been a symbol of hospitality for decades," Domeck said. "It's what you think about when you think about Hawaii, pineapples and coconuts."
"So it's something that we can give," he added. "Inside of our company and outside, we're kind of looking at it as a symbol of hope right now"
Delivering hope and supplies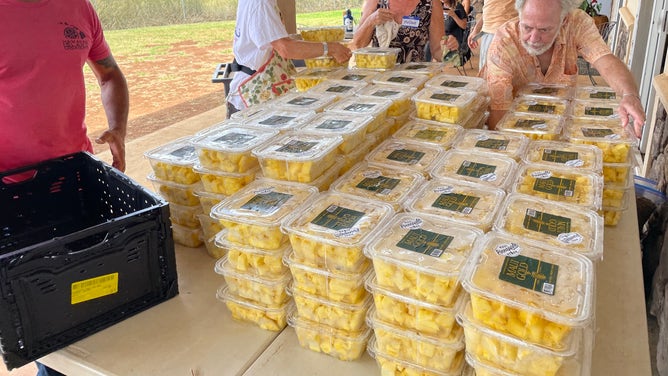 In addition to delivering pineapples, the Maui Gold team has been delivering essential items around Maui.
For example, Domeck noted how employees who've remained in Lahaina are using company resources and vehicles to have prescriptions for insulin filled and delivered.
"They've all really chipped in," he said. "The individuals have been just shining stars in this community."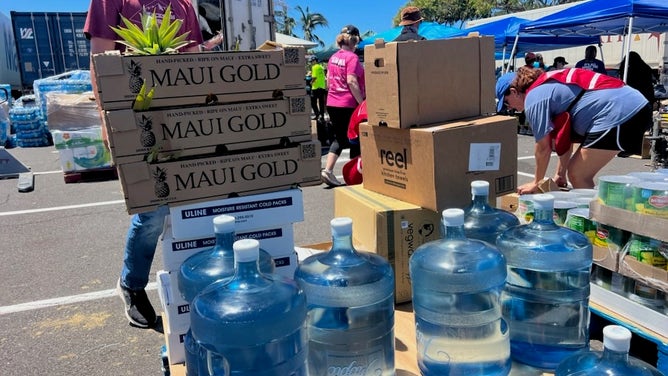 The team also partnered with another local business, Maui Reef Adventures, to use a 50-person raft to load up supplies and deliver them around the island for several days.
WORLD'S LARGEST SIREN SYSTEM STAYED SILENT DURING DEADLY HAWAIIAN FIRES
"Honestly, whenever we hear someone needs something, we just go buy it and get it to them," Domeck said. "From clothing and diapers, baby food, whatever it is, we go get it for them."
Challenges faced by Maui Gold team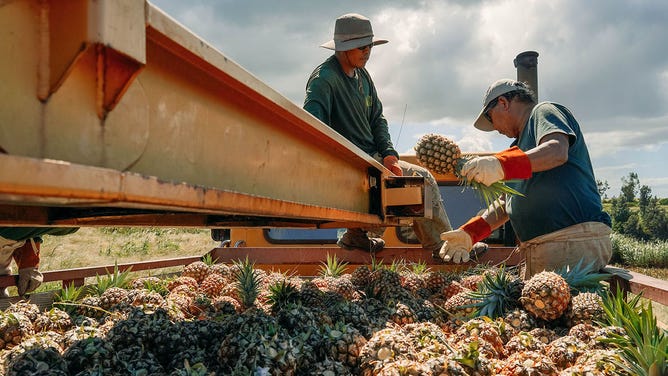 This outpouring of generosity comes as the Maui Gold team is facing their own hurdles.
Domeck noted how the pineapple farm, while largely unscathed by the Upcountry Fire, had its reservoir destroyed by firefighting helicopters using that water, leaving the farm unable to irrigate their crop.
Additionally, the Maui Gold office, storefront and inventory on historic Front Street in Lahaina were decimated in the Lahaina Fire, he added. Eight employees lost their homes during the disaster, with a couple of them losing their pets to the blaze, as well.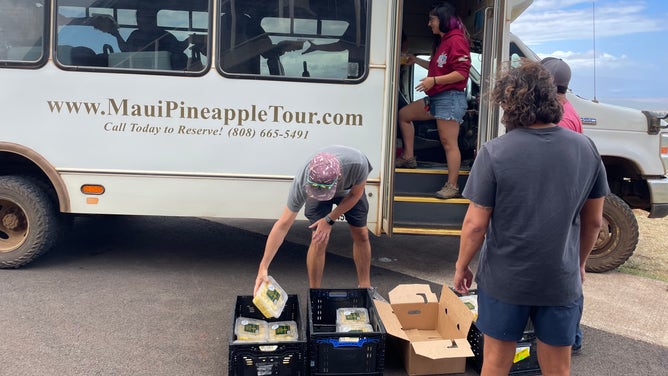 "I'm always, always impressed by our team, but I'm extra impressed," Domeck said. "You've got folks that have lost everything, but they're still volunteering to help other people."
PETS RESCUED BY HAWAII WILDFIRES HAVE PAWS 'BURNED TO THE BONE' WHILE THOUSANDS STILL REPORTED MISSING
Due to the cascading economic losses for the island of Maui, Domeck said many of their jobs – including his own – are compromised after the wildfires destroyed restaurants and other businesses that purchased their pineapples.
Hope for the Maui ohana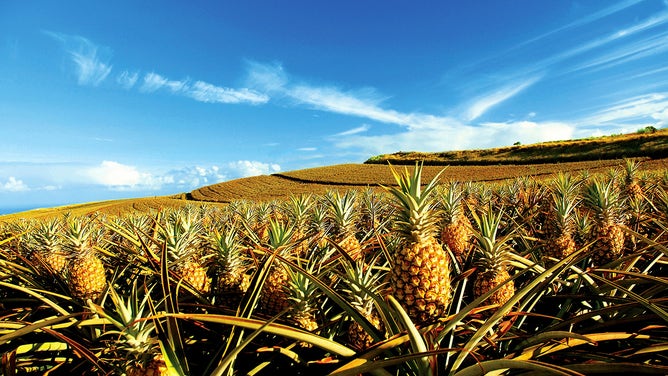 Despite their losses and the uncertainty they face, the team still continues to serve their Maui ohana, or family.
"We wouldn't be Maui Gold Pineapple without our beloved Maui ohana," Domeck said. "Helping our community is at the core of everything we do."
"We are devastated at the loss of our Front Street store and offices in Lahaina, as well as the destruction at multiple farms," he added. "The pineapple farm is what we have left, so we're giving what we have in order to support our community."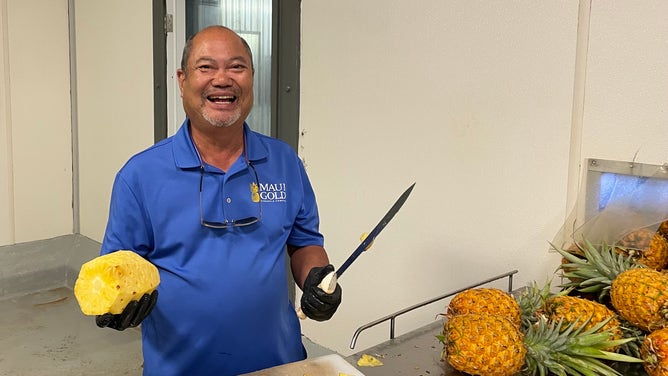 For those looking to support Maui Gold Pineapple and its disaster relief efforts, known as the Pineapple Pledge, Domeck asked that they purchase pineapples through the Maui Gold website. 
All funds received from pineapple sales will be used to keep Maui Gold employees working to carry out Pineapple Pledge initiatives, with a portion of sales also going to other local relief organizations.