Death toll from Hawaii fires soars to over 100 as cadaver dogs scour through ashes
Authorities are still searching for the missing in Lahaina, located on the west side of Maui. The area has seen a lot of damage, with officials having searched only about a quarter of the affected parts where an estimated 12,000 people once lived.
LAHAINA, Hawaii – The death toll from the devastating fires that rampaged through Maui a week ago continues to rise from the deadliest U.S. wildfire in more than 100 years.
Hawaii Gov. Josh Green warned that the fatalities could double in the next 10 days. As of the latest update, 106 people have been confirmed dead, and search operations for the missing are ongoing.
"All that area they got to plow up, they can't do it now because they don't know how many bodies are in there. They don't know what's left," President Joe Biden said Tuesday. "Imagine being a mom or dad wondering where your child is. Imagine being a husband or wife, a mother or father. It's really tough stuff."
Almost 500 federal personnel have been deployed to Maui to help communities and survivors get back on their feet. 
FEMA search and rescue teams are sifting through the ashes within a 5-mile area that has been burned, according to Biden, with only about 27% of the area searched for victims.
"It's painstaking work. It takes time, and it's nerve-wracking," he added. "Most of the debris can't be removed until it's done."
On Monday, workers moved body bags into refrigerated storage containers adjacent to the Maui Police Forensic Facility, where human remains are stored in the aftermath of the wildfires in Wailuku, Hawaii. 
4 FAMILY MEMBERS DIE IN HAWAII WILDFIRE: 'IT'S LIKE A GUT PUNCH'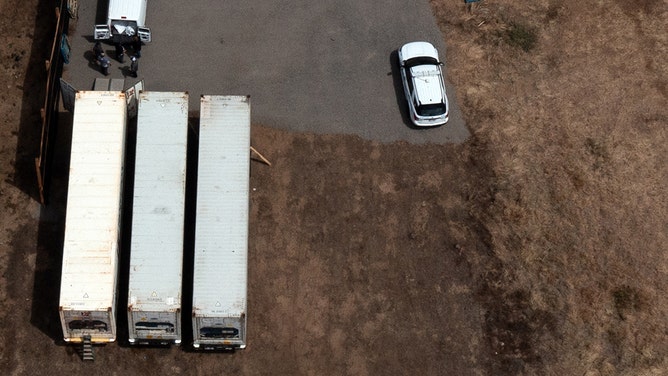 Upcountry/Kula fire now 65% contained
Of the three fires that burned, officials say the Kula fire in Upcountry Maui destroyed over 500 structures and charred nearly 700 acres. Officials projected Kula's rebuilding costs to be at least $434 million. As of Monday evening, the fire is 65% contained, burning an estimated 678 acres through rugged terrain.
"It's hard to digest and hard to accept," said Kula resident Amanda Hardwick. "And I think it's easier as the days go on."
AERIAL FOOTAGE SHOWS SHEER DESTRUCTION AFTER DEADLY HAWAII FIRES ACROSS MAUI

Police instructed Hardwick and her family, including three young children, to evacuate last week, and they did so safely. At the time, her parents were visiting, and her mother-in-law was staying with them.
"And I know, too, that there are so many people that have lost so much more than we did," she said. "Everything we've lost is just material. But my family made it out safe and sound and everyone's accounted for. 
Ultimately, that is what matters most to Hardwick.
"So, I'm happy to have what I do have, and life is the most important thing," she adds.
HAWAII BRUSH FIRES BY THE NUMBERS: THE SCOPE OF THE CATASTROPHIC DAMAGE
Search for missing in Lahaina continues
Authorities are still searching for the missing in Lahaina, located on the west side of Maui. The area has seen a lot of damage, with officials having searched only about a quarter of the affected parts where an estimated 12,000 people once lived.
According to officials, the Lahaina fire is 85% contained and has scorched an estimated 2,170 acres. There are no active threats at this time. 
However, identifying the deceased individuals has proven to be an arduous task, with only three out of the 99 people found identified through fingerprint analysis. Residents on the island have been encouraged to give DNA swabs to help identify loved ones.
"The scale of destruction is incredible," Hawaii Gov. Josh Green said. "So our hearts are broken even a little bit more than when we were together 48 hours ago with the extra fatalities."
Green reported over 2,200 structures in Lahaina were destroyed, with residential properties comprising almost 90% of the total.
HAWAII WILDFIRES ANOTHER BILLION-DOLLAR DISASTER, MAJOR BLOW TO STATE'S ECONOMY, EXPERTS SAY
Along with police and search and rescue teams, 254 Army National Guard, Air National Guard and Army personnel are on the ground helping out. 
Meanwhile, there still needs to be an official answer to why these fires started. Hawaiian Electric is now responding to criticism and a class-action lawsuit after they didn't shut off power ahead of the windy and dry conditions.
"We will be doing our own investigation. The state will be doing an investigation. We will cooperate fully in that," said Shelee Kimura, president and CEO of Hawaiian Electric, which serves 95% of Hawaii's population on the islands of Oahu, Hawaii, Maui, Lanai and Molokai. "I think we all believe it's important to understand what happened. And I think we all believe it's important to make sure it doesn't happen again."
Drinking water in Lahaina and near the Upcountry Fire has been deemed unsafe due to the presence of contaminants.
Governor hopeful to create memorial
Hawaii's governor also hopes to honor the memory of those lost in the recent fires, and the significance of Lahaina, the first capitol of the Hawaiian Kingdom. 
"In discussions last night, amongst colleagues of mine, people I trust, we're hopeful to create a memorial for the people of the state of Hawai'i in this site," Green said Monday evening. "We'll also invest state resources to preserve and protect this land for our people; not for any development, for our people locally."
The governor, along with Maui County Mayor Richard Bissen and other officials, also addressed the community with their concerns amid the recovery process.
Residents have told authorities that they have been approached by people posing as real estate agents with ill intentions to buy fire-damaged home sites, according to the governor's office.
"I've reached out to the Attorney General to explore options to do a moratorium on any sales of properties that have been damaged or destroyed," Governor Green said. "Moreover, I would caution people that it's going to be a very long time, before any growth, or housing can be built. And so, you would be pretty poorly informed if you try to steal land from our people and then build here."
Green went on to say that he is "challenged by other laws, federal and otherwise, that don't let us restrict who can buy in our state."
"But we can do it deliberately during a crisis, and that's what we're doing," Green said. "So for my part, I will try to allow no one from outside our state to buy any land until we get through this crisis and decide what Lāhainā should be in the future."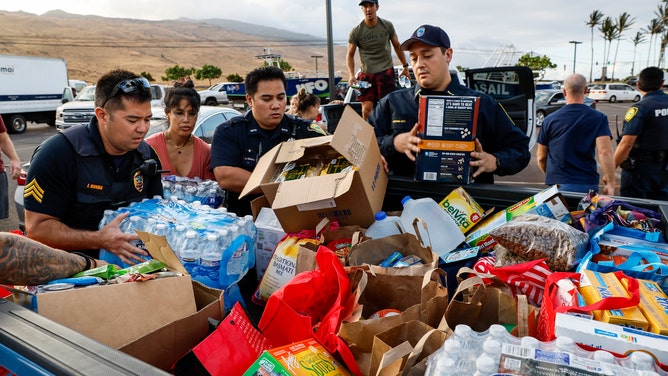 Obama appeals for aid for victims
Former President Barack Obama posted a video on social media as he appealed for aid after seeing the images coming out of Maui.
As he expressed his sadness at the devastation caused by fires, he also called for action to rebuild communities in Hawaii, where he was born and raised.
"The thing about it is though, thoughts and prayers in a moment like this are not enough," Obama said. "We have to step up and we have to help those families and we have to help Lahaina rebuild."
Rep. Jill Tokuda, who represents Maui in Congress, joined Obama in gratitude for the first responders and citizens who have helped in the recovery efforts. She described her recent trip to Lahaina as "absolutely devastating."
"It's going to be a long fight for so many," she said. "But we are here for them."