'Sunny day' flooding has already doubled for some coastal cities and more is on the way
NOAA report says cities on East and Gulf coasts can expect to see more high-tide flooding as sea levels continue to rise
Water-covered coastal roads, flooded underpasses and basements inundated with several inches of water are just some impacts of tidal flooding. According to a new report, these types of floods are happening more often and will increase in frequency in the future.
William Sweet, an oceanographer at the National Oceanic and Atmospheric Administration, said the majority of East Coast and Gulf Coast locations are already seeing a doubling of the rate of flooding from just 20 years ago.
"These numbers are growing, and they're growing rather quickly," Sweet said. "In fact, they're accelerating."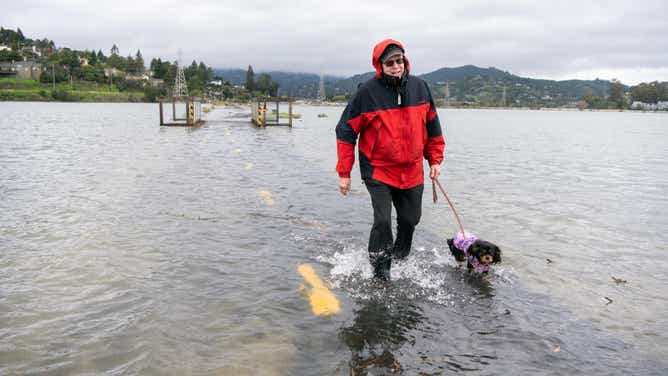 NOAA's 2022 State of High Tide Flooding report showed that cities with tidal gauges on average flooded four times between May 2021 and April 2022. Three cities experienced record flooding. 
Most reports were of what is known as "sunny-day" flooding, meaning it was not associated with a storm. It is also called nuisance flooding or king-tide flooding.
"It occurs when tides reach anywhere from 1.75 to 2 feet above the daily average high tide and start spilling onto streets or bubbling up from storm drains," the authors wrote in the report. "As sea level rise continues, damaging floods that, decades ago, happened only during a storm, are expected to happen more regularly, such as during a full moon or with a change in prevailing winds or currents."

"The real news is sea-level rise impacts are occurring now," said Sweet. "And we're trying to get ahead of it, ahead of this curve a little bit."
Some coastal areas across New York, New Jersey, Delaware, Virginia, North Carolina, South Carolina, Mississippi and Texas saw more than 10 nuisance flood days. Reedy Point, Delaware, counted a record six days, while Springmaid Pier, South Carolina, tied its 2021 record with 11 days. A U.S. military base in the Marshall Islands had a record four flood days.
STORM SURGE, RISING SEA LEVEL POSE THREAT TO SOUTH CAROLINA, GEORGIA COASTLINES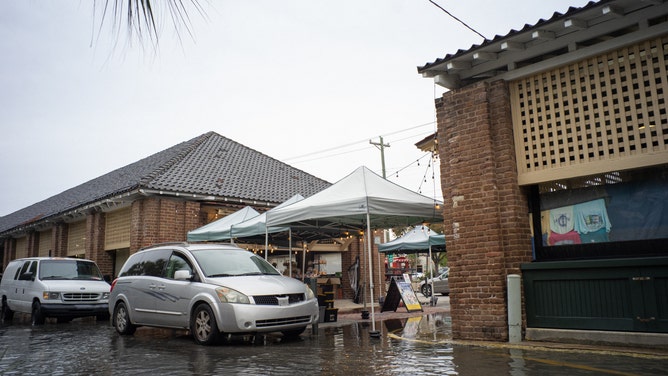 How can we battle flooding?
NOAA hopes to prompt communities to implement infrastructure changes to be proactive instead of reactive, as well as aid in budget planning. 
"There's a cost to respond to flooding," Sweet said. "You've got to pay people to get out there on the streets. You've got to rent pumps. There's time. So there's a cost." 
DEATH VALLEY WRINGS OUT FROM HISTORIC 1-IN-1,000-YEAR RAIN EVENT AS MONSOON SLAMS SOUTHWEST
By 2050, some coastal cities could flood for a third of the year
The report, along with the 2022 Sea Level Rise Technical Report, showed flood days could double or triple during the next 30 years. 
"By 2050, high tide flooding on a national scale is expected to be between about 45-70 days/year on average," the authors of the technical report wrote.
HOW TO WATCH FOX WEATHER ON TV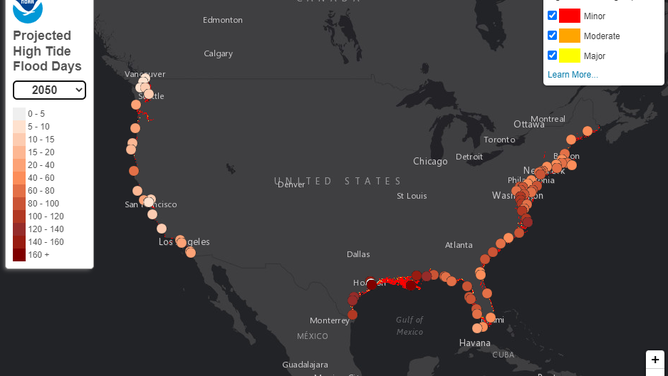 According to the reports, the sea level is forecast to rise 10-20 inches over the next 30 years. This is the same amount of rise that scientists reported over the past 100 years. Here's a breakdown of the outlook by region:
East Coast: 10-14 inches
Gulf Coast: 14-18 inches
West Coast: 4-8 inches
Caribbean: 8-10 inches
Hawaiian Islands: 6-8 inches
Northern Alaska: 8-10 inches
Moderate or damaging flooding would be 10 times more likely, and major or destructive flooding and loss of life would be five times more likely.
LAS VEGAS STRIP FLOODS AGAIN AS WETTEST MONSOON SEASON IN 10 YEARS SOAKS REGION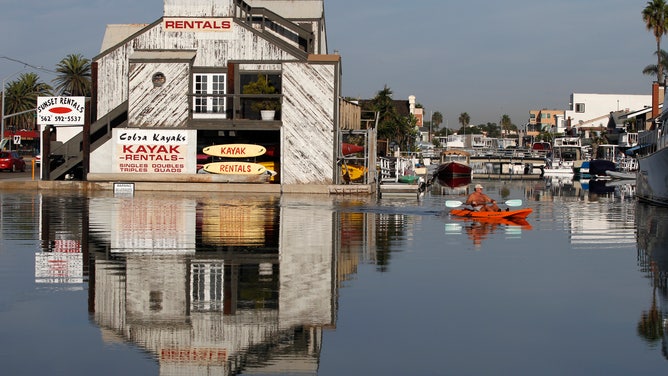 The reports did not take into account the forecast amount of sea level rise of 1.5 to 5 feet by 2100 due to greenhouse gas emissions. That amount assumes nations will continue to curb emissions. Without a reduction, scientists suggest a rise of 3.5-7 feet. As the community learns more about ice sheets, the sea-level rise forecast will be adjusted.
La Niña helps quell tidal flooding in Pacific
The West Coast and Pacific islands fared well in 2022 and had fewer flood days than in previous years. NOAA's forecast calls for 2023 to follow a similar pattern due to La Niña, a meteorological phenomenon, which generally means lower Pacific sea levels.
FORECASTERS ADAMANT ABOUT LA NINA'S CONTINUATION DESPITE RECENT CHANGES IN OCEAN TEMPERATURES
The FOX Weather app is a great resource that can be used to alert you of any watches or warnings issued for your area. The free FOX Weather livestream is also available 24/7 on the website and app and on your favorite streaming platform. The FOX Weather Update podcast also provides weather information for the entire country.