Elderly man rescued after a week trapped in car by California snow
As a California mountain snowstorm closed a major highway, an 81-year-old man's detour took him on an unfamiliar road and ended up getting stuck in the snow for a week with no way to communicate with the rest of the world.
BISHOP, Calif. -- What should have been a 4 or 5-hour drive for a California man, turned into a 7-day ordeal trapped in snow. Rescue crews initially mistook the partially buried car for a rock, but the window opened, and a hand waved, the victim's brother told local media Patch.com.
'QUITE CATASTROPHIC': CALIFORNIA MOUNTAIN RESIDENTS PLEAD FOR MORE HELP AS FEET OF SNOW REMAIN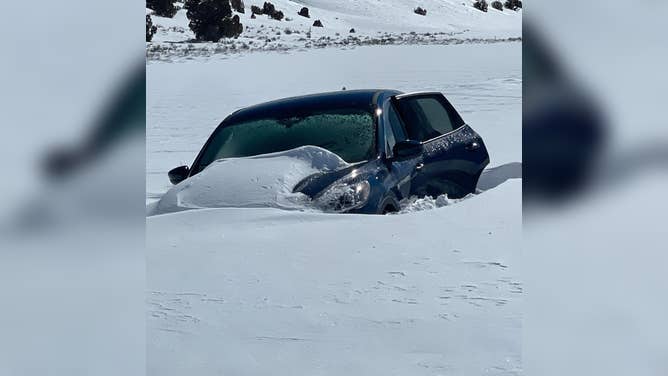 As one of a series of major winter storms approached, an 81-year-old man took his Ford Escape from Big Pine in Eastern Central California to head to Gardnerville, Nevada near Lake Tahoe on Feb. 24. Unfortunately, snow and ice closed Highway 395 – the major freeway.
He told his family that he was taking smaller Highway 168 instead. But with the snow and wind knocking down visibility, he apparently veered onto a different road. His car became undriveable in the snow about 15 miles from the start of his journey.
TRAVELING THIS WINTER? HERE'S WHAT TO KEEP IN YOUR CAR IN CASE YOU GET STUCK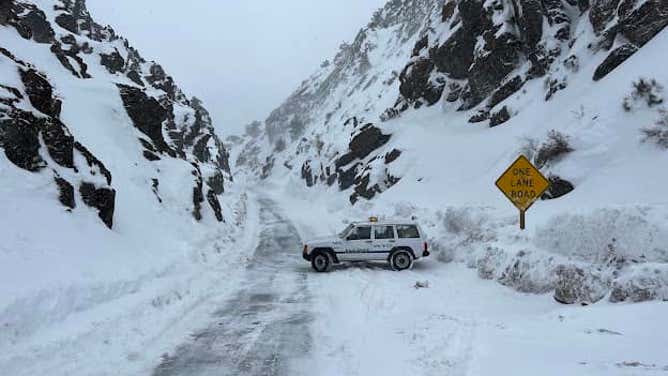 HERE'S HOW TO SURVIVE IF YOU GET LOST IN THE WOODS THIS WINTER
Other travelers on the same route the next day said veering onto that wrong road was easy to do and are amazed he was found alive.
"We almost didn't recognize the intersection because (Highway) 168 was so snowy you couldn't tell which way the road turned, especially if you weren't super familiar with that route," a local resident commented on Facebook. "The day before, I'm sure it looked much more passable. All to say this would have been a really easy mistake to make given the conditions."
RIDICULOUS PHOTOS SHOW AFTERMATH OF 12 FEET OF SNOW IN CALIFORNIA'S SIERRA NEVADA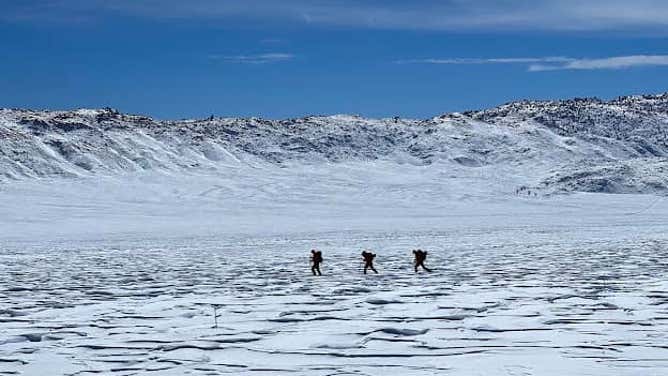 After 4 days, family declares him missing
After four days without a word, the man's family called the sheriff to report him missing on Feb. 28. Heavy snows and strong winds kept search crews grounded on March 1.
In that time though, a California Highway Patrol forensics team located a ping from the missing man's cell phone from the previous Friday. The ping's location gave search and rescue a new place to look.
After several passes, a "rock" in the distance turned out to be the blue SUV. This photo shows just how easy the vehicle would be to miss:
YET ANOTHER ATMOSPHERIC RIVER TAKES AIM AT SNOW-WEARY CALIFORNIA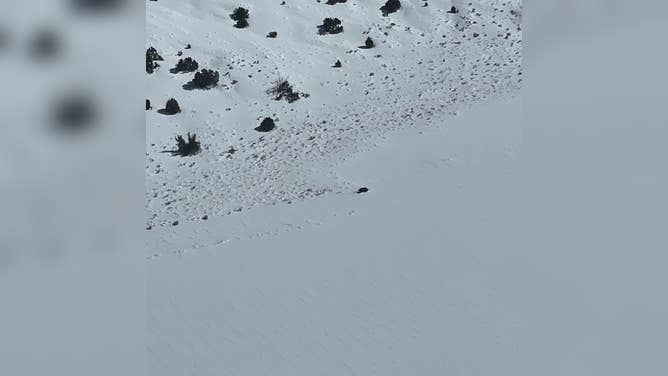 HOW TO WATCH FOX WEATHER ON TV
The CHP said they identified the car but had to go back for refueling leaving the stranded man alone again before returning.
Found alive on Day 7
The victim told his brother that he survived on snow and croissants, according to Patch. Round after round of snow partially covered the car, and nighttime temperatures dropped into the teens.
The snow was too deep to land the helicopter. So, a rescuer had to drop down from a line and pull the missing man from the car and hoist him back into the chopper.
Inyo Search and Rescue loaded the victim into an ambulance and sent him to the hospital. Medical personnel gave him the thumbs up and discharged him that evening.