More than 20 million under increased fire threat levels through weekend
Gusty winds, hot temperatures and dry conditions means sparks can spread quickly
The combination of gusty winds, low relative humidity and dry vegetation are creating the perfect combination for fires to quickly spread from the Desert Southwest through Texas and into the Plains on Sunday.
The Storm Prediction Center said critical fire weather will exist from eastern Colorado and New Mexico into western Texas.
In those areas, meteorologists warn wind gusts could top 40 mph and humidity values could drop below 10% during the afternoon.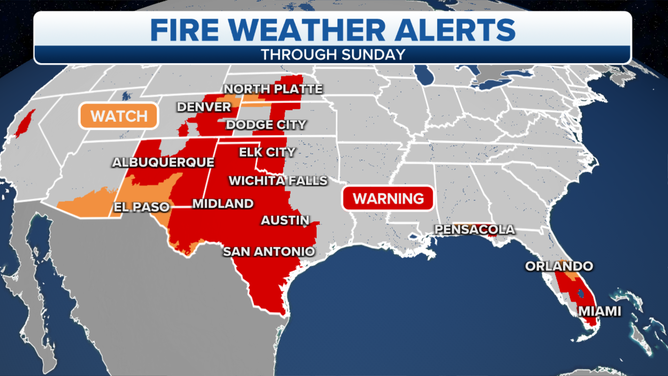 Given the ongoing extreme to exceptional drought in place and lack of recent meaningful rainfall authorities are warning residents against preforming burns.
HOW TO WATCH FOX WEATHER ON TV
Firefighters fought several large wildfires in the Plains on Saturday, including on Joint Base Camp Bullis in Texas.
The Texas A&M Forest Service reported the Training Area 23 Fire burned more than 2,800 acres and was 40% percent contained with the help from both air and ground crews as of Sunday morning. 
The National Interagency Fire Center reports that year-to-date, the U.S. has already seen around 20% more acres burned than during the 10-year average.
Climate outlooks indicate the dry weather will continue through April and could last into the summer because of La Niña.
The National Significant Wildland Fire Potential Outlook shows areas under the threat of significant wildfires expanding in coverage through the summer.
Fire weather conditions will continue to start the workweek.