Crime on the rise in tornado-struck Mayfield, Kentucky
Over $120,000 in cash was seized from six people that were arrested for stealing tornado-damaged cars, copper, and other items from Mayfield, Kentucky
MAYFIELD, Ky. -- A week after the worst tornado disaster Kentucky has ever seen, residents are digging out. But there is an ugly side of what can happen after disaster strikes.
On Friday, six people were arrested for stealing tornado-damaged cars, copper, and other items from storm-ravaged Mayfield, Kentucky -- one of the hardest-hit towns.
According to the Graves County Sheriff's Office, crystal methamphetamine and over $120,000 in cash were seized. The caravan of suspects was stopped and arrested at the intersection of US 45S, and Pritchett Road, with all of the stolen property.
Trooper Sarah Burgess with the Kentucky State Police said it was one of the more significant looting incidents they have seen since an EF-4 tornado created a path of destruction through the heart of Mayfield.
SURVEILLANCE CAMERAS CAPTURE DESTRUCTION OF BANK BY MAYFIELD TORNADO
Attorney General Daniel Cameron and the Princeton Police Department announced the arrest of four Michigan men on Thursday for allegedly stealing property from tornado-damaged residences and vehicles in Princeton, Kentucky.
"Yes, we are down; yes, we are hurting; but we are not defeated and we are not broken. Together, we will dig out; together, we will clean up; and together, we will rebuild both structures and lives," Kentucky Governor Andy Beshear said.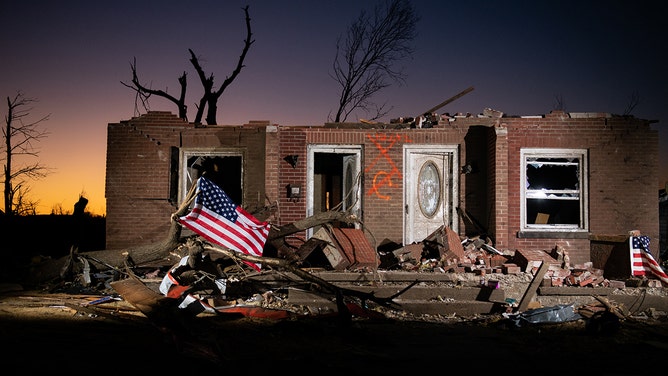 The governor said the death toll from the storms now stands at 78. Two new deaths have been confirmed, one in Lyon County and one in Warren County. All missing people have been accounted. 
And the deadly tornadoes that ripped through America's heartland are continuing to be historic in so many ways.
More than 1,300 state workers are onsite in Western Kentucky, including 640 National Guard members and more than 600 employees of the Kentucky Transportation Cabinet.
In addition, 100 Kentucky State Police troopers and personnel and more than 20 individuals from the Division of Forestry are assisting.
Kentucky state parks continue to lodge more than 600 displaced Kentuckians. Nearly all seven state parks are at capacity.
The recovery process for many in Kentucky will be slow and difficult. Several businesses are still struggling, some saying they will not rebuild.
The tornado could be the most expensive in United States history. Based on some preliminary reports from FEMA, agencies estimate damage in the billions, but the estimates are still ongoing, and we will likely not know how much it will cost for months.