Mayfield tornado upgraded to EF-4, traveled nearly 166 miles across Kentucky, NWS says
The tornado hit the Mayfield, Kentucky, area on Friday, Dec. 10.
The Mayfield, Kentucky, tornado has been given a preliminary damage rating of EF-4 with winds that topped 190 mph, the National Weather Service said Wednesday afternoon. 
The long-track tornado traveled an astounding 165.7 miles from Fulton County to Muhlenberg County in western Kentucky on Friday evening.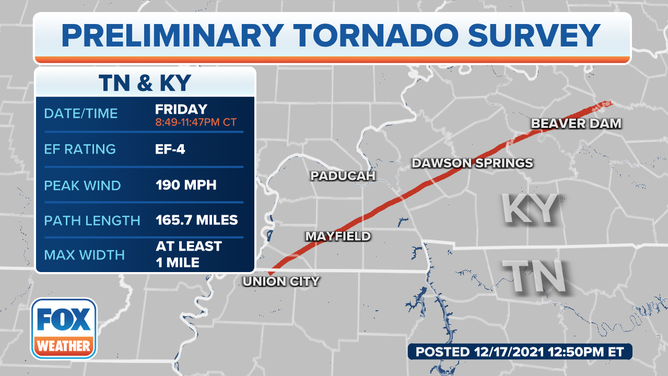 The NWS initially gave the tornado a rating of EF-3, but they brought in a team of experts specializing in high-end tornado ratings to help further their investigation. 
The Mayfield tornado was one of 52 confirmed tornadoes to hit the heartland during the outbreak.
IT'S BEEN MORE THAN 8 YEARS SINCE AN EF-5 TORNADO LAST STRUCK THE U.S. AND THAT'S THE LONGEST SPAN ON RECORD
The EF-4 tornado left the town of Mayfield unrecognizable to some who have lived there for years. 
The tornado destroyed a candle factory, killing at least eight people.