Bermuda braces for impacts from Hurricane Fiona
Hurricane Fiona is currently churning toward Bermuda as a Category 4 with the potential to strengthen.
Hurricane Fiona is forecast to come about 100 miles west of Bermuda after leaving behind a trail of devastation in Puerto Rico and the Dominican Republic.
Hurricane Fiona first crashed into the extreme southwestern coast of Puerto Rico on Sunday afternoon as a Category 1 storm, blasting parts of the island with 70-80 mph winds and rainfall measured in feet. 
After making landfall in Puerto Rico, Hurricane Fiona also barreled toward the Dominican Republic and made a second landfall there early Monday morning.

As its path continued, on Tuesday, Hurricane Fiona blasted the Turks and Caicos Islands as a Category 3 storm. 
Many people in Bermuda are now crossing their fingers that they will not experience the full wrath of the strengthening Category 4 storm.
HOW TO WATCH FOX WEATHER ON TV
FOX Weather multimedia journalist Robert Ray spoke to locals and tourists about how they are preparing for Fiona, which is expected to bring 40- to 50-foot swells and impact Bermuda starting on Thursday and into Friday.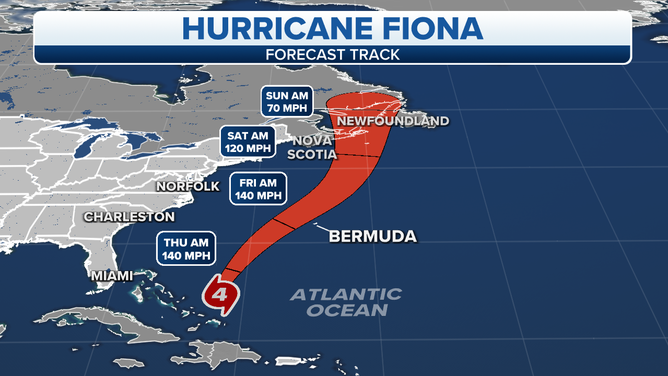 Many residents and tourists have already left the island, and airlines have shut down their operations to and from the island starting this afternoon. Ray reported that some hotels have shut down their operations for the next few days, waiting for Fiona to pass. 
In fact, the Bermuda government is urging people to reconsider their travel options in Bermuda.
However, others shared a different level of concern.
Ray reported that his flight from the United States to Bermuda was full. He also spoke with a tourist who arrived on the island on Friday and who had no plans to leave.
Some locals shared a similar sentiment and noted their focus on storm preparations.
"We're just going to get the outskirt [of Fiona] -- some, like more or less," said one resident. "We're going to get some little lightning and thunder and a little more rain and stuff."
"Get yourself some batteries and water and couple cans of stuff," he added. "If the generator's running, now you should be okay."
Another Bermuda resident noted the importance of preparation.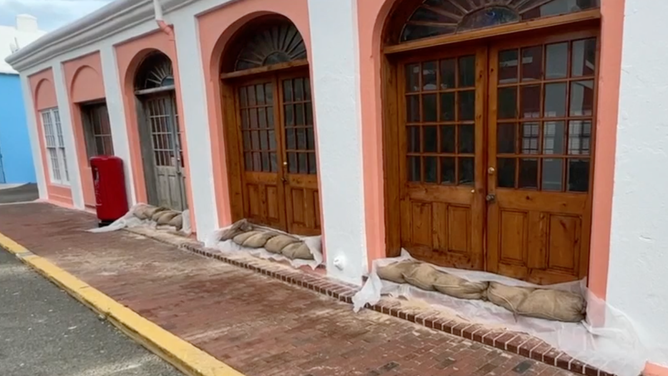 "We're lucky in that we have water for our home use is under our house in a tank," said Susie Hall. "So as long as you have a bucket and a rope and you can dip your tank to use it for your household needs, you're all set to go." 
"Everybody's pretty well-prepared – they've got either gas stoves or they got a gas barbecue so, we're always ready," she added. "But the infrastructure here is admirable, I have to say."
Bermuda, being out in the middle of the Atlantic, may seem vulnerable to hurricanes. However, only six have ever made landfall on the island nation since record-keeping began in the 19th century, and the last direct hit from a hurricane occurred in 2003, according to Ray.
Fiona is forecast to continue north or north-northeastward beyond its close brush with Bermuda and threaten the Canadian Maritimes from late Friday into the weekend.